2019 Lexus IS 350 4-Dr Sedan Review by David Colman - It's E15 Approved
A polished driving experience that exceeds expectations
By David Colman
Special Correspondent to THE AUTO CHANNEL
If you're looking for a 5 passenger luxury sedan with sporting attributes, you would naturally think of the BMW 3 Series as the benchmark of the segment. Perhaps you wouldn't even consider the Lexus IS 350 as a legitimate contender to that storied BMW. While you might be right to select the BMW over the Lexus in terms of outright performance, you'd be overlooking one very salient attribute of the Lexus that differentiates it from the BMW: Reliability. In its 2019 study of luxury car brands, the latest J.D. Power Vehicle Dependability Study places Lexus at the head of a list that includes 31 brands. BMW trails in 7th place. This marks the 8th consecutive year that Lexus has placed number one in this survey.
The minute you climb aboard the IS 350, you begin to appreciate the care taken by Lexus in assembling this sedan. Attention has been paid to even the most inconspicuous details, like the padding that cushions the well of the interior door pull handle. Likewise, every surface you touch is covered with high quality leather, brushed aluminum or matte finished composite material. From the silky drop of the glovebox door to the custom fitted feel of the F Sport seats, the IS 350 makes a lasting impression about Lexus build quality. Even this mid-priced Lexus offering, with a base price of just $41,930, upholds the lofty aspirations of the Lexus model line, which ranges to well over $100,000 in price.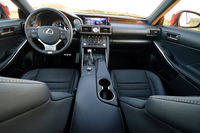 While Lexus luxury comes as no surprise here, the polished driving experience of the IS 350 does exceed expectations. The billet solid chassis of the this 3rd generation IS, which was introduced in 2017, gives the driver trustworthy feedback on mountain roads. In part this handling precision is due to the $3,195 F Sport Package. In addition to a pair of body hugging front sport seats, the extra money here is spent on split 5-spoke alloy rims equipped with staggered summer Dunlop Sport Maxx 050 performance radials (TW 280) sized 225/40R18 front, 255/30R18 rear. F Sport specification bumps handling up several notches by providing a limited slip rear differential, which balances rear wheel traction. Also included are F Sport springs and shocks which operate in adaptive variable mode controlled by driver input. A selection dial on the center console covers every setting from Eco to Sport+, with each incremental choice producing a distinctly different feel at the steering wheel and from the suspension. I generally opted for Sport+ which provided instant steering and throttle response with a moderately choppy ride. On freeway jaunts, Eco setting made for notably plusher passage.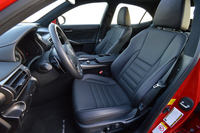 All models of the IS 350 utilize a 3.5 liter V6 primed by dual overhead cams and 24 valves to produce 311hp. But you have two optional driveline choices when selecting your IS 350. Lexus offers an all-wheel-drive variant which is coupled to a 6-speed automatic gearbox. Our rear wheel drive test model, however, bolted an 8 speed "Sport-Direct Shift" transmission to the V6, a combination that proved exceptionally smooth and powerful. Helping in the acceleration is the dual-gated nature of the 8-speed. If you flip the console lever left into its manual gate, you can control engine output via paddles behind the optional ($150) F Sport perforated leather, heated steering wheel. In manual mode the "Sport-Shift Direct" gearbox responds instantly to paddle command. If you have selected Sport+ mode from the available driving mode choices, the instrument panel reconfigures itself from a somnambulant black and white landscape to an eye popping race look that features an oversized red zoned tachometer and matching speedometer.
The IS 350 handles so nimbly because it is comparatively small. For example, at 184 inches in length, it is a full foot shorter than the Camry-based Lexus ES, and 8 inches shorter than the Lexus GS. In fact, the IS 350 is just 1 inch longer than the BMW 3. This compact size restricts cargo volume to just 14 cubic feet, and makes rear seating for 3 adults rather tight. In the front row passenger seat, we noticed that accommodations were also confining. To the left of the seat, a pair of cover-less cup holders leave you no place for your elbow, which ends up inserted in those empty receptacles. On the right, an aluminum faced cross brace on the door panel contacts your knee uncomfortably.
All in all, the IS 350, when augmented with the F Sport Package, makes a surprisingly responsive sports sedan that will provide fewer mechanical problems over the long run than any other competitor. If you don't believe me, just ask the folks at J.D. Power.
2019 LEXUS IS 350 4-DR SEDAN

ENGINE: 3.5 liter V6, 24 valves, DOHC, Direct Injection, dual variable valve timing
HORSEPOWER: 311hp
TORQUE: 280lb.-ft.
FUEL CONSUMPTION: 20 MPG City/28 MPG Highway
PRICE AS TESTED: $52,163
HYPES: Nimble, Understated, Luxurious
GRIPES: Center Armrest Needs Redo
STAR RATING: 9 Stars out of 10