2019 Mazda CX-9 Signature AWD Review by David Colman
8.5 Stars out of 10
By David Colman
Special Correspondent to THE AUTO CHANNEL
Mazda's top line SUV is the three row CX-9 which is available in 4 increasingly expensive model ranges. The least expensive Sport starts at $33,275, followed by the Touring at $36,325, the Grand Touring at $41,835, and finally, the $46,365 Signature which we spent a week driving. So fully equipped is the Signature that only 3 optional items (illuminated door sill plates $100; Machine gray paint $300; cargo mat $100) boosted the delivered price to $47,385. If you're in the market for a premium Japanese sports utility, the CX-9 Signature merits attention. Unlike so many imported products, this one is Japanese from stem to stern, with 90% of its content coming directly from Mazda's Hiroshima assembly factory. The Japanese predilection for simplicity of design, elegance of finish, and quality of merchandise shines through every aspect of the Signature CX-9.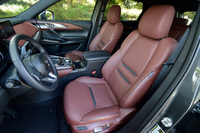 While so many other Japanese manufacturers seem to have lost their way stylistically, Mazda has never deviated from their simple design mantra that stresses less is more. For that reason, you will appreciate the CX-9's pleasing confluence of curves and arches, an integrated design brief that stresses fluid motion even at standstill. Unlike American manufacturers, who seem fixated on appending huge chromium grills to their SUV radiators, the CX-9 solves the intake problem with a refined looking trapezoid which flows seamlessly into LED headlight receptacles. Understated as well is the interior of this Mazda, with lovely auburn colored Nappa leather seats at all 7 seating positions. All seats boast horizontal leather inserts in charcoal leather. The driver's seat provides 2 position seat memory and power lumbar support. Both front seats are heated, as is the multi-function steering wheel. A particularly luxurious touch is the application of real Rosewood to the dash and door panels of the Signature version.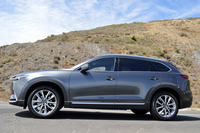 In keeping with Mazda's racing-bred full line commitment to premium handling, the CX-9 is equipped with an unexpected bounty of suspension assets not usually found in full size SUVs. Independent front and rear suspension systems top the list of goodies, with front and rear stabilizer bars insuring that the CX-9 will never heel over when pressed through turns. The Signature package adds G-Vectoring Control to maintain equanimity when you feed in the throttle. With standard all-wheel-drive motivating 20 inch alloy rims shod with Bridgestone Ecopia HL 422 all-season tires (255/50R20), the CX-9 promises to be a dependable assist on ski trips and winter weather outings.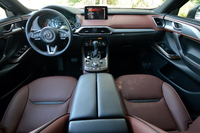 If there is a slight chink in the armor, it would be found under the hood, where a turbocharged inline 4 makes just 227hp on premium fuel, somewhat less on regular gas. With a curb weight of 4,585lbs., the CX-9 chalks up a weight to power ratio of 20.19lbs/hp. Although the 6-speed automatic transmission does a satisfactory job of harnessing engine output - especially if you shift gears manually - the CX-9 is definitely not an acceleration leader in the 3-row SUV field. Further complicating manual override is a lack of paddles to effectuate quick gear changes. For that chore you must rely on the manual gate of the floor mounted shifter.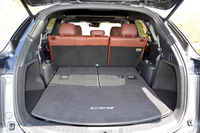 The Skyactive engine's torque output of 310lb.-ft. means you can depend on this rig for light duty towing chores. Trailer stability control is standard, and the CX-9 is rated to tow 3,500lbs. When all rear seats are folded flat, interior cargo space measures 34 cubic feet. We found rear lift-over height to be unobjectionable, but sliding a bicycle into the cabin via the rear gate proved difficult thanks to the restrictive width between the rearmost interior pillars. We got the bike in OK, but it proved to be an unexpected struggle. We also noted that neither of the split folding 60/40 rear seats could be utilized for a passenger with the bike inside the cabin. In a recent test by Car&Driver, Ford's 2020 Explorer substantially exceeded the interior storage space of the CX-9.
But the responsiveness of this Mazda is attributable to its comparatively svelte dimensions. It's 3 inches narrower and 2 inches lower than the Explorer. This reduced center of gravity accounts for the CX-9's livelier driving behavior. If you're willing to forego some interior storage for better road manners, the CX-9 will do you proud.
2019 MAZDA CX-9 SIGNATURE AWD

ENGINE: 2.5 liter inline 4, turbocharged
HORSEPOWER: 227hp
TORQUE: 310lb.-ft.
FUEL CONSUMPTION: 20MPG City/26MPG Highway
PRICE AS TESTED: $47,385
HYPES: Relaxed Styling, Relaxing Interior
GRIPES: Love to See a V6 Here
STAR RATING: 8.5 Stars out of 10