New Truck Review: 2019 Toyota Tacoma TRD Pro 4x4 Dbl Cab by David Colman - It's E15 Approved +VIDEO
Wanna run hot and look like a rock star? Buy this truck.
By David Colman
Special Correspondent to THE AUTO CHANNEL
You won't find much new at Tacoma headquarters this year unless you happen to be an off- road enthusiast. With the exception of our TRD Pro test truck, the Tacoma line remains largely unchanged for 2019. But if you find the notion of plunging into the scenery appealing, then you'll be ecstatic to discover what Toyota has done to upgrade their sportiest version of the compact Tacoma pickup. The TRD Pro model (base price $45,665) looks like it has all the tools in place to tackle the Baja 1000. Its most obvious attribute is visual - a $699 optional "TRD Pro Graphics Package" which splashes a wild array of stripes and lettering over every visible surface of this Tacoma. Wanna look like a rock star? Buy this truck.
TRD, which stands for Toyota Racing Development, appears no fewer than 16 times both inside and out. Everything from the gigantic front skid plate to the other worldly Desert Air Intake ($725) is branded with either the TRD or TRD Pro notation. In combination with our test truck's scintillating Voodoo Blue paint, the TRD Pro leaves a lasting impression of competition bred potency.
However, the visuals do not deceive, because this Tacoma is no paper tiger. Everything from the tires to the wheels to the suspension to the drivetrain is race bred. The TRD Pro rides on special issue 16 inch black alloys shod in Goodyear Wrangler Kevlar all-terrain tires (265/70R16). The suspension has been fitted with TRD-tuned Fox 2.5 Internal Bypass shocks with remote reservoirs supplying fluid to the rear shocks. TRD fits the front half of the underside with a massive logoed skid plate that has been designed to incorporate a front jacking point as well as a removable access cover for engine oil changing. The suspension system is so handsomely conceived and detailed that it seems a shame to actually muddy it with jaunts into the wilderness.
A standard TRD muffler contributes a mellow blat to the exhaust note of the Tacoma's 3.5 liter V6, which produces 278hp and 265lb.-ft. of torque thanks in part to dual variable valve timing. The reasonably thrifty V6 (20MPG overall) sends its part time 4x4 drive to those beefy Goodyears through a 5 speed automatic gearbox complete with manual override gate. You control shifts with a TRD logo shift knob. The drive train consists of an electronically controlled transfer case, and a locking rear differential. A multi-terrain selector located on the overhead windshield panel offers dial twist settings for the following conditions: mud & sand, loose rock, mogul, rock & dirt, and rock. A Crawl Control switch, adjacent to the terrain dial, allows you to engage crawl mode. To dictate speed in off road situations, simply turn the terrain dial left or right.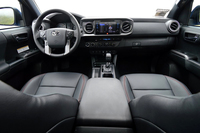 In addition to its off road prowess, the TRD Pro is well equipped for trailering duty, with these standard features: receiver hitch, coolers for engine oil and power steering, 130 amp alternator, 4/7 pin connector, and trailer sway control. Maximum tow weight for the V6 Tacoma is 6,500lbs. The Tacoma's bed measures 5 feet, with a composite liner, 120v power outlet, and a deck rail system with 4 adjustable tie down cleats. The tailgate benefits from a damper which cushions its drop rate, but offers no power assistance for closure. We discovered that both the engine hood and the tailgate are quite heavy and difficult to lift. We also found that the standard smart key system does not automatically lock the tailgate. Locking the gate requires you to remove a metal key embedded in the remote access keyfob and physically insert it into the tailgate lock. Although Toyota provides 2 small locking D-rings ($55 option) in the rear floor of the bed, plus 2 fixed catches at the front of the bed, none were large enough to accommodate the cable of a moderate sized ABUS bike chain.
The Tacoma TRD Pro cuts a statuesque pose. It stands tall enough to require you to slide the last 4 inches when you disembark from your lofty perch in the cab. But unlike so many tricked out trucks you see these days, this one is no poseur. Toyota equips it will all the real deal goods you might spent years accumulating in the aftermarket. Even a set of Rigid Industries LED Fog Lights are embedded in the lower front valance to augment the illumination provided by the projector beam headlights. Toyota has outdone the old hot rod customization routine by providing everything you need to look good and run hot in this one very slick package.
2019 TOYOTA TACOMA TRD PRO 4x4 DBL CAB

ENGINE: 3.5 liter V6, dual VVT-i, TRD Exhaust
HORSEPOWER: 278hp
TORQUE: 265lb.-ft.
FUEL CONSUMPTION: 18MPG City/22MPG Highway
PRICE AS TESTED: $48,413
HYPES: IntelliChoice 5-yr retained value: 70%
GRIPES: Sluggish Handling and Power Delivery
STAR RATING: 9 Stars out of 10