2019 Lexus RC F 2-DR Coupe Review by David Colman - It's E15 Approved
10 out of 10 stars...It just doesn't get any better than this!
By David Colman
Special Correspondent to THE AUTO CHANNEL
Ten years ago, Lexus tentatively introduced their F Line of performance enhancements. The first recipients of these improvements were comfy Lexus family sedans and coupes that benefited more from an image makeover (with racy spoilers and wheels) than a real performance upgrade. Although the Lexus F Line was inaugurated to steal buyers away from BMW's famous M brand, in the beginning, mostly cosmetic F Line offerings fell far short of the hard core M suspension and tuning tweaks available from BMW. But over the past decade, the tables have turned. BMW has applied the M designation to so many model lines that this once significant letter brand has become lost in the shuffle. Meanwhile, Lexus has gone full steam in the other direction, with a decade of real performance upgrades culminating in the 2019 RC F. We spent an invigorating week exploring the limits of high performance with this addictive piece of equipment.
Although Lexus still catalogues various F Line accessories for different models, they have concentrated recent high performance efforts at building "F" models from the ground up. While the RC F may resemble the more prosaic RC coupe, the F version is significantly different. Under the hood lies an absolute beast of a V8, displacing 5 liters. With 32 valves, direct and port injection, plus variable intake and exhaust valve timing, this engine melts the pavement with 467hp and 389lb.-ft. of torque. To assist you in maximizing power application to the rear wheels, Lexus has coupled this V8 to an Aisin 8 speed "Sport Direct-Shift" transmission which you control via sizeable "F Spec Paddle Shifters." Lexus gives you the choice of 3 drive modes. "Eco," which is useful when loafing along at speeds, facilitates 25MPG highway gas mileage. The "Normal" setting encourages sprightly performance without resorting to a jiggly ride and an over sensitive throttle pedal. Choose the full "Sport" setting and you eliminate any vestige of comfort in favor of smash mouth brutality. Each setting brings its own instrumentation to the dashboard display. In Sport setting, the tachometer is redlined at 7500 rpm.
Unlike so many overpowered American muscle cars that cheap out on brakes and suspension, this Lexus comes equipped with premium grade stuff. Start with the superb Michelin Pilot Super Sport tires (255/35R19F;275/35R19R) which carry a hard won "AA" traction rating along with a reasonable TW 300 tread wear rating. These radials come mounted on blacked out 7spoke alloy rims. Not just any wheels, mind you, but exceptionally expensive forged BBS rims. Behind these rims lie Fuji Blue Brembo ventilated front (14.9") and slotted rear (13.5") disc brakes, with massive 6 piston calipers anchoring the front and 4 piston calipers stopping the rear. Proprietary F Spec suspension components include double wishbone front struts plus multilink rear struts. Power is transmitted to the rear wheels via a premium Torsen differential that limits the prodigious wheelspin the V8 is capable of producing.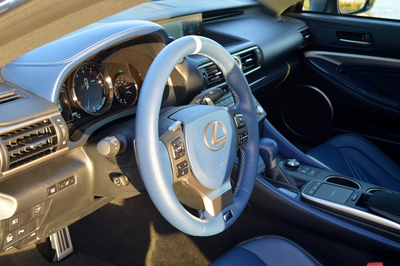 Over any stretch of backroad, the RC F well show its heels to everything from a BMW M4 to a turbocharged Porsche 911. Yet the beauty of this coupe lies in the utter ease witch which it converts from pavement gobbler to easy rider. Let the 8-speed do its thing in "D," leave the suspension in comfort mode, and sit back and listen to that sweet engine quietly burble on overrun. This coupe may be a beast when you snap it to attention, but it's always ready to show you its kinder, gentler side.
I can't say enough about the stunning attention to detail Lexus has provided with the $9,000 "10th Anniversary Special Edition," which is as much a treat for your rump as it is for your eyeballs. Start your gaze with the wonderfully understated matte paint finish called "Nebula Gray." In contrast to the satin exterior tone, the interior explodes with color. Fuji Blue graces everything from the brake calipers to the steering wheel rim to the seating surfaces. It's even woven into the carbon fiber that covers much of the interior. The attention to detail is mind boggling, with bands of white and blue stitching covering everything from the seat seams to the shift boot. Our test RC F also featured a snazzy carbon fiber roof and rear wing package that added $5,500 to the bottom line. The 10th Anniversary seats were exceptionally comfortable and supportive, and the 17 speaker, 835 watt Mark Levinson Audio ($2,725) made every day just that much better.
2019 LEXUS RC F 2-DR COUPE

ENGINE: 5 liter V8, DOHC, 32 Valves, Direct and Port Injection, VVT-iE and VVT-i
HORSEPOWER: 467hp
TORQUE: 389lb.-ft.
FUEL CONSUMPTION: 16MPG City/25MPG Highway
PRICE AS TESTED: $84,560
HYPES: Satin Rocket Ship
GRIPES: Only Had It For A Week
STAR RATING: 10 Stars out of 10