Infiniti Q50 Red Sport 400 (2017) - Long Term Review by Rob Eckaus
By Rob Eckaus
San Francisco Bureau
THE AUTO CHANNEL
When shopping for a practical car, yet wanting a performance aspect, what compromises do you make? What if your annual miles are twelve thousand to a high as twenty thousand per year? Higher horsepower versus fuel consumption? What about fuel tank capacity for convenience? What about insurance costs? Meanwhile the payment on the car is a monthly visitor to your psyche as it depreciates at a greater rate as the miles pile up.
Will the tires cost $750 to replace every 12-18 months or $1400 if you drive with passion? What if you choose super soft compounds for better braking, handling and acceleration? Offset tire sizes can't be rotated, meaning new tires may be needed in sets of two versus four, with more frequent purchases and installation intervals. Not to mention no rebate specials unless four tires are purchased at the same time.
Settling on a price range, the shopping started on Autotrader and the recurring search result with all the factors accounted for was an Infiniti Q50 Red Sport. A 400hp, 26mpg, 20 gallon gas tank equipped sport sedan. With an MSRP of $52k, this dealer demo was under $42k. Since my wife had a wonderful experience of reliability and wear with a 2009 Infiniti G37 Coupe Journey, confidence of a happy long-term existence was high. Yet with a production V-6 record turbo rpm of 220,000, the I opted for the factory extended warranty.
First the fun part, the 400 horsepower 3.0 liter twin turbo V-6 is a smooth power plant with a selectable driving mode for throttle response. And that's the beauty, it's a hair trigger, near instant power delivery at low rpm which makes for an extremely satisfying driving experience. Lag is virtually non-existent and the 19", 265 width rear run-flat Dunlops light up easily from a roll after the initial step-off. Forget the Eco and Snow/Ice modes, they just kill the driving experience. There is an all-wheel drive version that provides better traction, but like this rear-wheel drive model, it doesn't offer a limited slip differential. A disappointing shortcut.
The exhaust has a slight burble at start-up and a faint hum at wide open throttle but it no way is it part of that aural excellence that makes a gas engine so enjoyable. Infiniti does offer a sport muffler dealer option but it should be cockpit adjustable or just spruce it up a bit. At least the transmission, steering and suspension all have configurable settings that can be saved in the "Personalized" mode. It has to be manually selected every time at start-up. You know, for fuel economy reasons. More silliness.
Styling is on the mellow side of the aggressive scale. The 19" wheels have a dark finish with red brake calipers, standard performance fare. The low hood contributes to good outward visibility but the chrome touches try to bring it back to the luxury side despite the black canards in front. It really needs a blackout package.
The Dunlop tires are inferior despite being double the cost of non-runflat performance tires. They ride a little harsh and the front right tire was cut by the wheel rim on the inside after hitting a pothole, resulting in a sidewall bulge. The fifty percent discount for the pro-rated replacement cost as much as if I had bought new. What a pain.
Later the rears were replaced with slightly taller Michelin P285/35/19s with the Dunlops still in front. The subtle weight shift with the taller-than-stock rear tires, different tread compound, pattern and larger tread width delta has made the steering more darty at times. Changing fronts to slightly taller and wider Michelin Sport AS3s in 255/40/19s should remedy it.
Performance testing by the magazines had quarter mile times in the very low 13 second range and I achieved a 13.0 at 110mph bone stock, nearly a full tank of gas in quite warm weather. That was also with a soft 2.2 60ft launch. Clearly a 12 second car. Overall gearing is shorter than expected, turning 2600rpm at 85mph. The highest speed allowed by the cruise control is 89mph, which is a perfect compromise of speed and mid-20s fuel economy. One trip with the two of us and weekend luggage saw 28mpg at 78mph.
The non steer-by-wire steering has a fairly quick ratio which is nice and light in the comfort mode. Feel isn't great but it does stiffen appreciably in Sport and Sport+ modes. It may not handle like more focused competitors, but its certainly better than the common commuters floating around on public roads with narrower, harder, all-season tires. And far quicker to boot. The seats are superbly comfortable for long distance driving as well as a quiet interior for serene drives at speed.
This 2017 model lacking a boost gauge, coolant and oil temperature gauges further point to the mainstream aspect versus data intensive performance. However these are offered in newer models as part of a configurable display. The lack of Apple CarPlay may be a bigger deal to some with the older models like this 2017 but the voice command for phone and navigation works reasonably well.
The common complaint among owner enthusiasts is the infotainment interface but the only issues I have is the fingerprints on the lower touch screen and a phone call will take over the upper navigation screen until you select another function and then go back to navigation while talking. There is always room for improvement, some of it should be offered as a quick programmable upgrade by the dealer. Oddly the trunk lid is a little heavy to open, and I popped the license plate light out of the socket with my finger accidentally while opening the trunk. In over 20,000 miles and 1.5 years, this is the only problem I've had inherent to the car.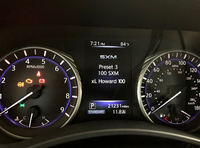 The center dash display is easy to manipulate views and to read. The audio and phone controls on the left of the steering wheel and cruise on the right with the center display selection are easily learned. The shifter paddles are large and well-designed in feel and appearance but manually shifting doesn't provide any advantage, there's still some delay in upshifts and downshifting doesn't provide a lot of engine braking unless high into the rpm range.
The automatic power retracting seat and raising steering wheel is great for ingress and egress but surprisingly, power ventilated seats were not available in the Q50 line-up at the time. It is partially alleviated by the cool down that occurs with the remote start. Tip: Tint all windows as well as a darker sunroof tint with clear for the windshield for heat reduction.
Currently red stitching with quilted leather seats along with a black headliner are offered for a more upscale appearance as opposed the ubiquitous light grey headliner seen everywhere, across multiple manufacturers.
There is a chassis control function that is supposed to manage throttle response based on navigation map of the road but it doesn't work when the throttle map is in sport mode. Needless to say I've never experienced that chassis control feature since the engine is always in sport mode. Also, I always opt for the Limited option in terms of releasing information to Infiniti. Aren't we tracked enough by our phones?
The Infiniti Q50 Red Sport is a pretty compelling blend of practicality, luxury and performance. Even in the MSRP range of $52,000, it wins out on the horsepower comparison. It's tough to make a bad decision at that price point, but this was a very satisfactory one.