2019 Genesis G70 RWD 3.3T Dynamic Edition Review by David Colman - It's E15 Approved +VIDEO
A spectacular performer for a pittance of a price
By David Colman
Special Correspondent to THE AUTO CHANNEL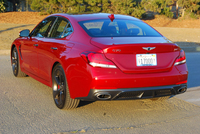 Better hurry down to your Genesis dealer. Because they're only making 400 copies of the Dynamic Edition G70 3.3-liter twin turbo for 2019, and you'll definitely want to own one. If you've been following the script, Genesis is the luxury brand recently hatched by parent company Hyundai. Last year, Hyundai introduced their hyper performance all-wheel drive (AWD) Stinger hatchback. Now they've developed the four-door Genesis G70 sedan, based on the Stinger platform, and powered by the Stinger's potent V6 turbo motor. But for driving enthusiasts, the news gets even better because the G70 ditches the Stinger's understeer prone AWD in favor of a much sportier handling rear-wheel drive (RWD) configuration. Then, to top off this already delightful confection, Genesis introduces the new model with an exclusive package of performance enhancements and cosmetic tweaks entitled "Dynamic Edition." If this sports sedan carried a German label, it would cost close to $100,000 and require vigilant and expensive maintenance. Under Genesis administration, the Dynamic Edition G70 lists for just $50,250, without so much as one optional surcharge.
To understand why this sedan goes like stink, let's briefly examine the architecture underlying the sleek body wrap. Up front, an independent strut axle stiffened by an anti-roll bar cooperates nicely with the multilink rear suspension which is also leveraged by a rear antiroll bar. Brembo 4 piston front brakes work with Brembo 2 piston rear discs to produce instant braking. These brakes proved almost too effective since we managed to lock them prematurely a couple of times. A 70mph to 0 stop takes just 164' to accomplish. Helping immeasurably in the braking and cornering department are a set of high adhesion (Traction AA, TW 300) staggered Michelin radials (225/40ZR19 front; 255/35ZR19 rear) rated "Z" for operation above 149mph. These specific tires (Pilot Sport 4S) are the only brand and type specified by Genesis for installation on the Dynamic Edition's black 19-inch sport alloy rims. Thanks to the stiff suspension and the sticky Michelins, the Genesis will circulate the skidpad at a neck stretching 0.95g.
The intercooled twin turbo mill features an alloy block and heads, and produces 365hp at 6000rpm, and 376lb.-ft. of torque at just 1,300rpm. The low threshold for maximum torque results in an explosive acceleration curve, with the admittedly heavy (3,847lb.) G70 recording a 0-60mph time of 4.7 seconds and a speed of 106mph in the standing start quarter mile. Genesis funnels power to the rear wheels via an 8-speed automatic transmission equipped with paddle shifts and rev-matching capability. Unfortunately, this gearbox does not offer a manual-only shift gate, so you must intervene via the paddles every time you want to select a specific gear range.
This Genesis operates in four distinct modes: Eco, Comfort, Sport and Custom. Sport Mode tightens steering feedback from the rack mounted, motor driven power steering unit that offers variable gear ratios. The suspension also hunkers down on the bump stops, lessening tilt and sway as you attack back road apexes. The Dynamic Edition includes a limited slip, torque-vectoring rear axle that corrects your path in the middle of a turn if you have entered too aggressively. In fact, this torque-vectoring operates by clamping the inside brake as you turn in order to realign your path. This intervention results in a slight but noticeable lurch that can feel quite disconcerting when you are already near the limit of adhesion.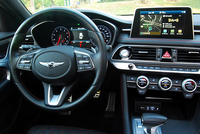 The interior treatment of the Dynamic Edition is nothing short of spectacular. The black Nappa Leather front and rear seats feature red stitched sport quilting that is visually arresting. The seats feel as luxurious as they look. The fronts are heated and ventilated, and offer double memory positions. The driver's seat provides 16-way power adjustment with 4 stages of power lumbar, while the front passenger seat is 12-way adjustable with 4 power lumbar settings. The ante in back is acceptable, but not as stellar as the accommodations up front. In particular, the substantial vertical B-pillar impedes access to the rear seat. But comfort is assured once you're in place back there, thanks to AC/Heat outlets and a fold down cupholder equipped arm rest.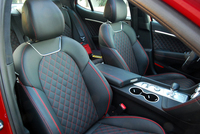 All in all, the Dynamic Edition of the new G70 is a spectacular performance offering for a pittance of a price. Yes, it has a few minor operational foibles. And yes, you can choose a lesser G70 for just $34,000 base price if you're willing to accept a meager 4-cylinder engine producing 255hp. Me? I wouldn't be caught dead in any Genesis G70 that didn't light off with a 365hp explosion.
2019 GENESIS G70RWD 3.3T DYNAMIC EDITION

ENGINE: 3.3-liter V6, intercooled, twin turbocharged, alloy block and heads
HORSEPOWER: 365hp@6000rpm
TORQUE: 376lb.-ft.@1300rpm
FUEL CONSUMPTION: 18MPG City/26MPG Highway
PRICE AS TESTED: $51,245
HYPES: Slingshot Motor, Highly Refined Handling
GRIPES: No Manual Shift Gate, Restricted Rear Entry
STAR RATING: 10 Stars out of 10