Auto Channel Exclusive: 2019 MAZDA6 Signature Review by David Colman
A stellar touring machine with BMW/Audi-like performance
By David Colman
Special Correspondent to THE AUTO CHANNEL
The MAZDA6 line for 2019 runs the gamut from the utilitarian Sport model (base price: $23,800) to the luxurious Signature version (base price: $35,100) that we drove for this review. Three intermediate models are also available. In ascending order of expense, these are the Touring, Grand Touring, and Grand Touring Reserve. But if you can afford to buy the top echelon Signature version, you will be amazed by what you receive in amenities, build quality and driving pleasure for a still affordable price. While lesser Mazda6 variants make do with a normally aspirated 187hp engine, the Signature ups the power ante with a dynamic pressure turbocharged version that ups output to 227hp with 310lb.-ft. of torque.
Coupled to a paddle-shifted 6 speed automatic transmission with sport mode, the Signature cuts the 0-60mph run in 6.4 seconds and tops out at 149mph. To handle that speed potential, Mazda equips this sleek looking sedan with 19 inch alloy rims shod with Falken Ziex ZE001 R/S radials measuring 225/45R19. In addition, the Mazda6 has the proper suspension underpinnings to make it a fine handling sports sedan: independent front and rear suspension plus stabilizer bars at both ends. Finally, the Mazda6 comes with standard G Vectoring Plus for 2019, an added stability enhancement that will keep you pointed in the right direction under duress.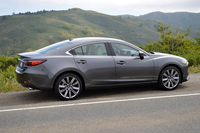 Unlike so many sedans these days that drape advanced technology beneath hideous exterior surfaces, the Mazda6 presents an affable combination of eye-pleasing French curves. This simplicity reflects the refined design ethos of this company. Mazda proudly points out that their stylists "use more clay than any other manufacturer." Where other companies rely exclusively on computerized design technology, Mazda artists "still start their design with a block of clay." The interior of the Signature is as restful and handy as your living room. Gauges are oversized and easy to read, the heating and cooling functions are controlled by sizeable knobs rather than screen gestures, and the simplified layout of the dashboard generates a sense of tranquility rather than apprehension. Mazda attributes this equilibrium to their "human centricity" design language.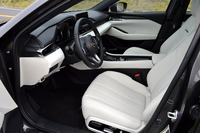 To this end, the Signature's ventilated and heated, parchment colored Nappa leather front seats encourage proper posture and weight distribution, which results in less fatigue over long drives. Ventilation wicks away warm air to keep you dry and cool after long hours in the saddle. In addition to the Nappa trimmed seats, the Signature's other distinguishing feature is its gun metal grill, which worked particularly well with our test car's optional ($300) Machine Gray Paint. This sedan is so serenely capable on the highway that you will find yourself reaching distant destinations without the usual fuss. Aiding the cruise range is a generous 16.1 gallon fuel tank which should take you 500 miles before replenishment is needed.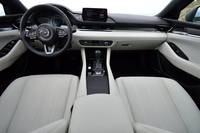 Many top echelon vehicles today include head-up displays and the Signature is no different in this regard, with a windshield projector that shows posted speed limit, traffic signage, and your actual speed. What is different here is that the system depicts information not visible on your instrument face - such as your selected following distance when cruise control is engaged. I first noticed that this information was missing from the actual dashboard when I toggled the cruise control button to select 1,2 or 3 car lengths of following distance but could find no confirmation of my choice on the dashboard. Much later in the drive I realized this crucial bit of information was visible - barely - on the head up display only. The problem is that I was wearing Polarized sunglasses which virtually obliterate the head up display. Such crucial information as following distance needs to be duplicated on the dashboard as well as projected on the windshield.
Another minor irritation was the infotainment system's inability to play pre-recorded music from a USB device like a plug in IPod. We resorted to the IPod after the complimentary SIRIUSXM 3month free trial mysteriously ended after just one month of service, leaving us with the AM/FM blues. Bear in mind, however, that if you prompt the system with any Bluetooth device, Apple CarPlay, Android Auto or Siri, you're back in the music business here. But stone age IPod peasants needing a USB connection are curtly informed that all such receptacles are not for playback, but "For Charging Your Devices Only."
Aside from these disconcerting idiosyncrasies, the Mazda6 proved to be a stellar touring machine, with enough sporting mettle to please and pacify even the BMW/Audi enthusiast crowd.
2019 MAZDA6 SIGNATURE

ENGINE: 2.5 liter inline 4, DOHC, 16 valve, Turbocharged
HORSEPOWER: 227hp
TORQUE: 310lb.-ft.
FUEL CONSUMPTION: 23MPG City/31MPG Highway
PRICE AS TESTED: $36,520
HYPES: Slick Looks, Even Slicker Passenger Packaging
GRIPES: Give Us USB Music Access
STAR RATING: 9.5 Stars out of 10