2019 Hyundai Tucson Limited FWD Review by David Colman - It's E15 Approved +VIDEO
It's handy dandy but puzzling
By David Colman
Special Correspondent to THE AUTO CHANNEL
For 2019, horsepower is up but torque is down in the new 2.4 liter version of the Tucson. Hyundai has replaced the previous 1.6 liter turbocharged engine with a non-turbo straight 4 (Theta 2.4GDI) that makes 181 hp, 5 hp more than the old turbo motor. However, torque is down from 195 lb.-ft. to 175 lb.-ft. The torque drop is more significant than the horsepower increase. When called upon to make freeway merges, the 2.4 motor strains to comply with lots of extra noise but little extra speed. Bear in mind that the new 2.4 liter engine is the more powerful variant available, since the base motor (2.0 liter 4) makes just 164hp and 151lb.-ft. of torque.
Accentuating the performance drain for 2019 is the loss of the old model's 7 speed twin clutch automatic transmission in favor of a new 6-speed automatic. Although the 6 speed does offer Shiftronic gear changing via the console stick (no paddles), the loss of the extra gear (compared to the old Tucson) adds to the acceleration shortfall. In 2 wheel drive form, the Tucson we drove weighs in at a hefty 3,475 pounds, which means each horsepower is responsible for motivating 19.1 pounds of SUV. This is a power to weight ratio that does not favor rapid response. But for such a comparatively heavy crossover, the Tucson does post a respectable 25 MPG in overall driving.
Most buyers of this vehicle, however, will not often prod the accelerator hard enough to notice the loss of those 20 foot pounds of torque. That's because the Tucson is endowed with so many comfort and safety features that you will marvel that its base price is just $28,900. There's really no need to amplify that base price with expensive options, because they're all included by Hyundai in the mix if you order the Limited model. Our test vehicle's sticker added just $135 for carpeted floor mats to make the total sales price, including $1,045 for inland freight and handling, a low $30,080.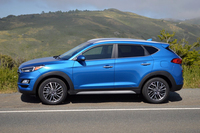 The Limited's standard 7 x 18 inch alloy rims are shod with Michelin Cross Tour rubber (225/55R18) that promise long tread life with a wear rating of TW 580. This Tucson provides advanced safety technology with lane keeping assist, driver attention warning, blind spot collision warning as well as rear cross traffic alert. In practice, we found that the blind spot warning buzzer activated well before driver intervention was necessary. So we decided to mute the feature, an act easily accomplished by the push of a button just left of the steering wheel. Some of the features you would never expect to find on an SUV in this modest price range are automatic on/off headlights, hands-free smart liftgate, and proximity key entry with push button start. In particular, we enjoyed the benefit of the dual temperature control which allowed driver and passenger to select their preferred temperature range. One oddity about the vent system we noticed is the slide control that directs air up or down. If you move this control from side to side, it does not direct the airflow in either direction. Rather, it shuts off or opens the airflow. This device proved mystifying for awhile.
Equally puzzling was the lack of an on board navigation system. At one point we were lost in the suburbs in need of some directional help when we went searching for the navigation button on the otherwise complete infotainment center. It was not to be found, though later we discovered a "Navigation" button among the controls located above the rear view mirror. Unfortunately, this call button only allows you to run your phone's navigation through the car's video system. Since we don't carry a navigation cell phone, we were out of luck.
The Tucson is handy in ways you might not expect. Light towing chores, for example. You can pull a trailer (unequipped with brakes) weighing 1,600 pounds, or a trailer with brakes weighing 2,000 pounds. Inside the airy cabin, you'll find enough room to carry 5 adults and their belongings, or slip 29.5 cubic feet of goods aboard after dropping the rear seats flat. The interior layout of the Tucson is practical and sensible, with prominently located buttons for important climate and safety functions. But practicality does have its limits, and the Tucson interior could use a little color dynamism. As it stands in Limited form, the interior is a sea of black seats, dash and door panels unrelieved by even a hint of color. This stands in stark contrast to the stunning exterior shade of our test SUV. Done in metallic Aqua Blue, and enhanced with silver roof rails and matching silver rocker panels, the clean lined new Tucson cut a most dashing profile.
2019 HYUNDAI TUCSON LIMITED FWD

ENGINE: 2.4 liter inline 4, direct gas injection (DGI)
HORSEPOWER: 181hp
TORQUE: 175lb.-ft.
FUEL CONSUMPTION: 22 MPG City/28 MPG Highway
PRICE AS TESTED: $30,080
HYPES: Practical and Economical to Buy and Operate
GRIPES: Bring Back the Turbo
STAR RATING: 8 Stars out of 10