2020 Kia Soul GT-Line 1.6 Turbo Review by David Colman - It's E15 Approved +VIDEO
Satisfying the racer and the scrooge at the same time
By David Colman
Special Correspondent to THE AUTO CHANNEL
It's a bird! It's a plane! It's Super Soul! That's right, Kia's favorite, indefinable, indefatigable Car/Truck/SUV is back for another run in 2020 with its third generation Soul. This time they've gussied up the quasi- toaster with a new "GT-Line" sports version which promises even further identity confusion. But it's all good because the vehicle that looks like the box it came in now offers serious driving chops. As the GT's window sticker suggests, "Compare GT-Line 1.6 Turbo Features." Heading the formidable list is a 1.6 liter, direct injection, 4 cylinder, turbocharged motor that will break the front wheels loose with 201 peaky horsepower. Next in order of importance comes a 7-speed dual clutch transmission equipped with paddle shifters and sports mode. Concluding the performance enhancements are a set of 18 inch, ten-spoke alloy rims fitted with moderately hard (TW500) Goodyear Eagle Touring radials (235/45/R18).
Of course, those items hardly begin to encompass the lengthy list of other amenities included in the GT-Line package. Since listing them all would take up the remainder of this review, we'll just hit the highlights. Safety nannies are now standard (forward collision avoidance-pedestrian, blind spot collision warning, rear cross traffic collision warning), as is navigation (with 10.25 inch display screen), power sunroof (toaster slot?), push button start, heated front seats and steering wheel, head up display, Harman-Kardon premium audio, and the one item you simply cannot live without - "Speaker Lights with Ambience Themes." In all, the window sticker itemizes 20 separate items next to the word "INCLUDED" in the base price of $27,490. Try and match that giveaway at your local BMW, Audi or Mercedes dealer.
Even better than the bargain aspect of a fully loaded Soul is the fun factor produced by driving it. This extremely efficient box is actually sports car quick in a straight line, clipping off 0-60mph times of just 6 seconds. Even if you opt for the base level, 147hp Soul, you'll still reach 60mph from a standing start in just 8 seconds. The GT's dual clutch gearbox, however, is a huge improvement over the CVT unit in the base model Soul. We especially enjoyed the immediate response of the 7-speed when shifting up or down manually. The joy of driving this unprepossessing box is best experienced on a twisting back road, where the firm shock absorbers and minimal chassis flex allow you to appreciate the real soul of the SOUL GT. Just be sure to dial up the "Sport" mode from that button on the center console before you start attacking the twisties.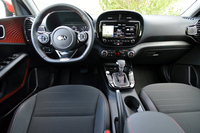 Given the Soul's rather high center of gravity, you will note a bit of chassis bobbing in rapid transitions from side to side. But the firm, nearly harsh ride quality tames even the most violent of directional changes. The GT's enveloping, grippy, "Sofino" trimmed front sport seats do a reputable job of keeping you planted squarely behind the button festooned, thick rimmed leather steering wheel. You can visually identify the new GT by its GT-Line front and rear bumper fascias, as well as its GT-Line red accented side sills. Interior design tweaks reinforce the exuberant styling of the exterior. Red stitching abounds on most visible seat and dash seams. Armored shields around the interior door handle look intriguing, with scalloped plating that is finished in a burnt orange shade that compliments the exterior color of "Inferno Red."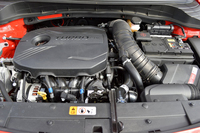 Although the job description of the Soul is rather difficult to define (sports car? sports truck?), there will be no difficulty in filling up this shipping box with stuff. Dropping the back seat flat offers 24.5 cubic feet of storage space which is easily accessed through the tall tailgate thanks to the Soul's 63 inch roof height. Not only is this vehicle , at $28,710 extremely affordable, but exceptionally practical as well. If you select the GT-Line Turbo you will also appreciate this engine's limited thirst for fuel: 29 MPG (Overall). Since the non-turbocharged X-Line model (Base price: $22,485) only delivers 30 MPG overall, the much more fun to drive Turbo extracts little monetary penalty for the extra 54hp it provides.
Kia has old over a million Soul vehicles in North America since inception in 2009. This 3rd generation, especially in GT-Line guise, is the best example to date, with enough personality to satisfy the racer and the scrooge at the same time.
2020 KIA SOUL GT-LINE 1.6 TURBO

ENGINE: 1.6 liter inline 4, direct injection, turbocharged
HORSEPOWER: 201hp
TORQUE: 195lb.-ft.
FUEL CONSUMPTION: 27MPG City/32MPG Highway
PRICE AS TESTED: $28,710
HYPES: Quick, Economic, Spacious
GRIPES: Torque Steer, Jerky Boost
STAR RATING: 10 Stars out of 10