2019 Lexus LS 500 Review by David Colman - It's E15 Approved
An exceptional touring sedan
By David Colman
Special Correspondent to THE AUTO CHANNEL
How do you turn a $75,000 Lexus into a $111,000 Lexus? You add the most expensive single option package I have ever encountered. If you tick the box for the "Executive Package with Kiriko Glass," you will add $23,100 to the bottom line in one fell stroke. If you're curious about the contents of said package, rest assured it includes a number of items common to luxury cars of this class, such as quilted stitch, semi aniline, perforated leather seats, ultrasuede headliner, reclining outboard rear seats, and four zone climate control. But the package exceeds the bounds of automotive normalcy with its inclusion of a 28-way power adjustable driver's seat with massage function, and power seat belt receptacles that rise to facilitate buckle insertion. Most of all, this Executive Package rings the gong with its hand pleated door panels which are festooned with ornate medallions of Kiriko (cut crystal) Glass. The net effect of such Victorian finery is simply mind boggling.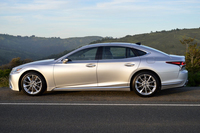 Beneath all the design studio flourishes lies an exceptional touring sedan. Its rightful home is the fast lane of the interstate highway system. That's where this 5,000lb. behemoth is most comfortable, wafting along in ultra silence at lofty cruising speed, ultra secure thanks to the expanded footprint laid down by its optional ($2,450) 20" diameter forged wheels shod with substantial Bridgestone Turanza EL 540 radials (245/45R20). In this fifth generation LS, Lexus has replaced the marque's standard 4.6 liter V8 powerplant with a smaller displacement 3.5 liter V6. To compensate for the size reduction, the new V6 utilizes two turbochargers to generate 416hp, an output in keeping with prior LS power ratings. Also assisting in distribution of power is a new 10 speed automatic transmission which offers manual override in addition to sequential up and down shifts. Unfortunately, Lexus has saddled this gearbox with a truly annoying gear selection mechanism that defies logic and often leaves you finding Neutral or Reverse when you seek Drive. On the positive side of the control ledger, the LS 500 provides a drive mode selection system that allows you to toggle between the following useful options: Eco/Normal/Sport S/and Sport+.
With that much engine under the hood, that much rubber on the road, that many gear ratio options, and that many drive mode possibilities, you might think the new LS 500 would make a fairly nifty sports sedan. Sorry to dash those hopes, but this brute is just too big for any sporty antics. In addition to its two and a half-ton curb weight, its 206 inch length, 123 inch wheelbase, and 75 inch width preclude nimble operation. Even parking can be a challenge, since you can't judge where the front or rear ends are from the driver's seat. The included parking assist (with auto-braking) helps you find the physical limits of this limousine, but when you're trying to place its bulk on a curvy road, judicious discretion is required. While Lexus is to be commended for extracting 30 MPG (highway) out of the LS 500, the V6, despite twin turbochargers, never delivers the explosive rush of the sadly departed V8.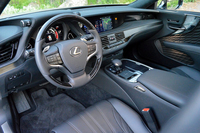 With the possible exception of a motor home, I can't think of a single vehicle better suited to cross country driving forays. This is an exceptionally easy car to conduct over long distances. That's because it demands very little of your attention thanks to its myriad of standard safety measures, including such unusual extras as road sign assist, smart stop technology, and several new offerings from Lexus Safety System+ 2.0 - such as cycle and pedestrian detection, lane tracing assist, and lane departure alert with steering assist. As we approach the age of the self-driving car, rest assured that Lexus technology is leading the charge into the future of driving.
However, on a long trip in the LS 500, I would much prefer to hold court in the incredibly spacious and comfortable back seat. This sheltered enclave provides its inhabitants with a complete dashboard of their own, with numerous climate and lighting options to investigate and control. The reclining and heated rear seats offer magnanimous legroom, plus power privacy shades for catching a nap. The optional ($1,940) Panorama Glass Roof is dark enough to keep rear seat passengers shielded from the sun, but translucent enough to afford sweeping upward vision. In fact, the exquisitely sumptuous back seat of the Executive Package LS 500 makes a prima facie case for the need to hire a chauffeur.
2019 LEXUS LS 500

ENGINE: 3.5 liter V6, twin turbocharged, direct cylinder injection, 24 valves, DOHC
HORSEPOWER: 416hp
TORQUE: 442lb.-ft.
FUEL CONSUMPTION: 19MPG City/30MPG Highway
PRICE AS TESTED: $111,925
HYPES: Ultra-Luxe Interior Furnishings
GRIPES: Discombobulated Shift Mechanism
STAR RATING: 9 Stars out of 10