2019 Honda HR-V AWD Touring Review by David Colman +VIDEO - It's E15 Approved
Slow but steady - will it win the race in the market place?
By David Colman
Special Correspondent to THE AUTO CHANNEL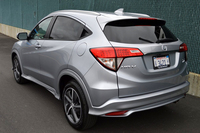 With refreshed front and rear fascias for 2019, Honda's diminutive Fit-based crossover looks like it's ready to pounce. Along either side of the central grill opening, the Touring model we drove (Honda designates it TRG) sported multiple clusters of LED headlights and fog lights. Also new for 2019, are LED tail lights which add a bright exclamation point to the TRG's revised tail design. Each headlight features 8 bulbs, while each fog light contains 5 bulbs. In addition to the LED firepower, the TRG sports unique 17x7 inch alloy rims, leather trimmed seats, an 8-way power driver's seat, and a navigation system with voice command. The TRG version of the HR-V is the only model fitted with standard All Wheel Drive (AWD). In all, Honda offers 5 versions of this mini SUV, starting with the baseline LX, Sport, EX, EX-L and TRG. Prices range from $25,500 for the LX to the $28,540 base price of our test vehicle. EX versions can also be ordered with AWD as an option.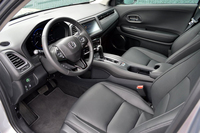 The smallest SUV from Honda is just 169 inches long. That's a full foot shorter than its bigger sibling, the CR-V. But dimensions can be deceiving, so don't dismiss the HR-V as too small to get the job done. In fact, its interior space and layout is brilliantly arranged. You can pack a full sized bicycle into the HR-V without any fuss. This Honda allows you to drop the rear seats flat in a matter of seconds. Each side of the 60/40 split rear seat includes a bridging flap that automatically extends to create a flat loading floor. In folded mode, the HR-V presents a startling 58.8 cubic feet of cargo space. I found it ever so much easier to transport my bike in the HR-V than in SUVs weighing twice as much and costing three times more than this Honda. Now that's bottom line practicality.
Another bottom line you'll appreciate here is fuel mileage. With an EPA highway estimate of 31MPG, the HR-V is capable of covering nearly 400 miles on a single tank of 87 octane when the 13.2 gallon tank is full. This petite SUV is at its best on the freeway, where speed ranges remain fairly constant. We had the chance to take a 60 mile freeway cruise where we put the HR-V's standard Adaptive Cruise Control (ACC) and Lane Keeping Assist (LKA) to work for an extended period of time. The ACC did a reputable job of maintaining my pre-set speed of 65mph, slowing as necessary for traffic, then regaining speed when conditions permitted. My only job was to pre-set the car-length spacing (1,2 or 3) to the vehicle in front of me. From then on, the HR-V took good care of the boring details.
If you really want to lean on the Honda to do more drudge work, press the LKA button on the steering wheel and leave most of the course corrections to the HR-V. LKA uses the painted road lanes to guide you, minutely correcting the steering wheel as the freeway twists and turns. It operates as long as it senses you have your hand on the steering wheel, but if you let go of the rim, it flashes a warning on the instrument panel urging you to regain hold. If you don't do so, LKS disengages its guidance. Combined with ACC, LKA made a tiresome freeway trip that much less demanding. The HR-V isn't self-driving but it's usefully self-correcting.
For 2019, Honda has discontinued availability of the manual transmission formerly offered in this model range. The HR-V's 141hp engine is barely adequate to the acceleration needs of this 3,045lb vehicle. Elimination of a manual transmission underlines the performance shortcomings of the 1.8 liter 4 cylinder engine, which produces only 127lb.-ft. of torque. Honda now offers only a continuously variable transmission (CVT) with 7 artificially stepped ranges to modulate engine speed. The steering wheel offers small plastic paddles so you can bump engine rpm up or down at will. No matter how adroitly you play these paddles, the HR-V is just plain slow in a straight line, with the 0-60mph run taking close to 10 seconds. While this shortcoming remains acceptable at freeway speed, on a back road, the HR-V is tardier than a VW bus full of hippies. Unfortunately, that shortcoming negates the HR-V's otherwise stellar handling. On its 215/55R17 Michelin MXV4 tires (TW 500), the stiffly sprung Honda chassis generates cornering bite that far exceeds the meager potential of the engine/transmission package.
2019 HONDA HR-V AWD TRG

ENGINE: 1.8 liter inline 4, VTEC
HORSEPOWER: 141hp
TORQUE: 127lb.-ft.
FUEL CONSUMPTION: 26MPG City/31MPG Highway
PRICE AS TESTED: $29,585
HYPES: Spacious, Intelligent Interior Options
GRIPES: Give It a Turbo
STAR RATING: 7.5 Stars out of 10