2019 Mazda3 Hatchback Premium Package AWD by David Colman
LEARN MORE: Mazda Story Archive 1995-Present; reviews, Specs, Company News, Concepts, Executives, Recalls, More
Sensible offering for ethusiatic and safety-minded drivers
By David Colman
Special Correspondent to THE AUTO CHANNEL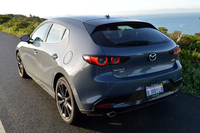 For the first time, you can buy a Mazda3 with all wheel drive. The just introduced Mazda3 AWD hatchback retails for $28,900. A few inexpensive options (including $425 illuminated door sill plates, and $275 for a wireless charging pad) bring this sedan's all-in price tag to just $31,335. For that kind of money, the hatchback is a lot of car. Mazda has eliminated the base 2.0 liter engine in favor of a 2.5 liter inline 4 which uses "Skyactive-G" power refinement to produce 186hp and 186lb.-ft. of torque. This economic powerplant yields 27MPG in overall driving. Connected to a 6-speed automatic transmission in our test sample, the Skyactive motor responds well to throttle input once the engine is spinning over 3000rpm. If engine speed falls below that threshold, throttle response is sluggish. Mazda does its best to assist you in keeping the revs up by providing shift paddles at the wheel, plus a manual gate for the console mounted stick shift. Bucking the industry trend to automate gear shifting, Mazda even offers a 6-speed manual transmission in the new Mazda3.
From the driver's seat, you would never know that Mazda replaced the previous 3's fully independent rear suspension with a cheaper torsion beam design. Ride quality remains good, while handling has not deteriorated appreciably. On a twisty back road, the hatchback gives a good account of itself, sustaining directional changes with equanimity. Partly responsible for this maneuverability are the Toyo Proxes A34 tires, measuring 215/45R18, and carrying a mud and snow rating. We had the opportunity to challenge the same piece of Coast Route 1 in both wet and dry conditions, and the Mazda3, augmented by its new all-wheel-drive system, proved indefatigable in heavy rain. Even more surprising, it revealed its sports sedan breeding in the dry, where it proved to be a reputable back road turn carver.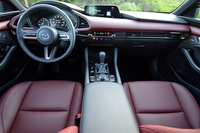 The fit and finish of the Mazda's cockpit exceed expectations for a vehicle in this modest price range. The pleasingly business like layout of the dash, as well as the premium choice of materials for seats and door panels conspire to make this hatchback feel more expensive than it actually is. We especially enjoyed our test car's striking color pairing, which combined a battleship gray exterior ("Polymetal Gray Mica") with a brick red and charcoal interior. The only item that struck a contrary note was the sliding center console lid. When it is partially open, the lid rattles annoyingly every time your elbow contacts it. The interior of the Mazda3 is slightly more spacious than its predecessor thanks to a 1 inch wheelbase extension. This adds slightly more legroom for back seat occupants. The small rear window of the hatchback restricts aft visibility. The bulbous upper rear quarter panels further limit the rear 3/4 view.
On the freeway, the Mazda3 offers a quiet and polished ride, with no exterior wind noise. The standard 12 speaker Bose entertainment unit provides great performance and sound, although I found Mazda's "Multifunction Commander Control" to be difficult to operate when underway. For a while, voice commands sufficed to change channels on the provided SIRIUS/XM unit, but after a couple of days, the voice system apparently came down with a head cold and could no longer understand my verbal instructions. Another disappointment was the cruise control system. With small, chrome plated switches affixed to the spokes of the steering wheel, it's finicky to operate. When engaged, the system proved so herky-jerky that I decided to retire it favor of my right foot.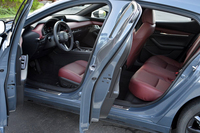 Mazda offers a full complement of safety augmentation as standard equipment on the new 3. They call this array "i-ACTIVESENSE," which oversees the following parameters: dynamic stability control, traction control, driver attention alert, ABS with brake assist, lane departure warning, lane keep assist, and smart brake support. If you're not into all these crutches, Mazda gives you the opportunity to deactivate most of them via a single button on the left side of the dash branded with a car encircled logo. I drove with active sense engaged and disengaged, and found no compelling reason to deactivate the unobtrusive system.
The latest Mazda3 opens new possibilities for all-wheel-drive traction motoring at an eminently affordable price point. With customary Mazda handling attributes much in evidence, this handsome offering makes as much sense for the enthusiast driver as it does for the safety minded owner.
2019 MAZDA3 HATCHBACK PREMIUM PACKAGE AWD

ENGINE: 2.5 liter inline 4, DOHC, SKYACTIVE-G
HORSEPOWER: 186hp
TORQUE: 186lb.-ft.
FUEL CONSUMPTION: 24MPG City/32MPG Highway
PRICE AS TESTED: $31,335
HYPES: Built in Japan with Japanese Components
GRIPES: Balky Cruise Control
STAR RATING: 9 Stars out of 10