2019 Ford Edge ST Review by Rob Eckaus +VIDEO - Buy One While They Are Still On Dealers Lots
BINGE - Read MORE About It:
Ford Edge Content Library (1995-Present)
The Big Sporty SUV
By Rob Eckaus
San Francisco Bureau
THE AUTO CHANNEL
When family members started adding more to their crew, us empty nesters noticed rear facing seats for the newbies take up a lot rear seat space, so much so it forced the front seat to be adjusted. The conveniences of ride and cargo loading height then had the desire for more space added to the requirements. With two little ones, and a weekend trip somewhere, cargo space needed a boost beyond the personal or couple-sized SUV. Okay that's cool, there's lots of choices, but what if the bad-ass in you still wants some go-power?
Now this 2019 Ford Edge ST is the first SUV from Ford Performance rolled sporting more power, bigger wheels and a suite of technology for the occupants. Roomy, the big 6'3" athlete friend fit just fine in back, and a large cargo area allows for strollers, golf clubs, luggage and stuff from big hardware stores. Horsepower is up 20 to 335hp and the torque figure increases by 30 to 380 lb-ft. from the 2.7 liter twin turbocharged V-6. Loaded with the tech and comfort essential Equipment Group 401 A, a really nice, white paint color called White Platinum Metallic, it has an MSRP of $52,225. Base price is $42.355.
Add some 21" black wheels with meaty 265 width tires, black mesh grills, and red brake calipers and now you've got a more serious looking machine that looks like it will show its taillights to the other soccer moms and baseball dads and leave competitors in plastic and chrome merping along at quarter throttle while you activated your inner g-meter.
The stiffer suspension definitely is felt and heard on the bumps but head toss isn't bad at all. It's a more connected feel vs. dissociation. It's tall and so is the seating position, very upright. The combination is definitely give more truck perception car. Outward visibility is good, but there's a lot dashboard and sloping glass held in place by long A-pillars that widen at the bottom. With the transverse mounted engine, what the heck us under all the dashboard? Is this part of hybrid space planning? The new Explorer is back to a longitudinal mounted engine which allows for lower placement in relation due to the front drive shafts and lower hood line. However the wife felt so safe in the Edge she said if we ran into an object it would take four days to get to her. Now that is a secure feeling.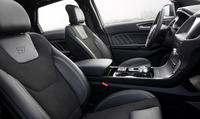 Past experience with a family owned, well-used 2007 Ford Edge SEL isn't a comparison whatsoever. The 2019 is alien technology compared to the old one. The steering wheel has lots of controls, and has a sporty look and feel although surprisingly a bit thin in some spots of its contours. Steering feel has certain firmness for further driving confidence, but if you're looking for that easy (yet improper) two finger effort while turning, this isn't it.
Sport mode, a button in the center of the rotary shifter increases the engine and transmission responsiveness, and also increases the engine note but it sounds like it is from the front, hence piped in as opposed to the mufflers opening up. It was tested by Car & Driver to 60mph in 5.7 seconds and a 14.3 second quarter mile at 98mph. Not bad, quick for the street, but leave your helmet at home if you hit the dragstrip. In sport mode, a tiny virtual tachometer appears on the left side of the driver's display and also shows what gear is engaged. In non-sport mode, the tiny bar graph tachometer next to the fuel gauge bar is nearly useless in size and it's the same color as the fuel gauge bar.
The EPA rating is 19 city, 26 highway. In the suburban shopping jungle, some idling, and turning off the engine auto off/start, 14mpg was observed, and a trip from the 'burbs to the city and back saw 23mpg. The auto shutoff works very smoothly and starts quite rapidly, even allowing for a "jack rabbit" start with minimal hesitation.
The seats are very comfortable, but oddly the power tilt and telescoping steering wheel doesn't have an auto-up exit position. And the panoramic moonroof shade must be fully retracted to tilt the roof for ventilation which is annoying. If you plan on venting the car when it's parked, get your sunroof tinted.
The Edge ST has all the parking assists you could want, including an automatic parking mode that I was too far from the parked cars to fully activate. Assuming it would need to make one turn, front first, I learned reading the manual, you need to be within three feet of parked cars, and the illustration shows that it backs the car into the perpendicular space. It also offers parallel parking assist and parallel space exit as well. Although it doesn't have a 360 camera system, the front and rear sensors work fine, but only within a couple feet.
Quirks aside, the ST is certainly a capable SUV, fulfilling two-row family needs. Styling is properly sporty, and despite feeling tall it's braking and cornering limits are respectively high which can translate to better emergency avoidance. It's a very comfortable cruiser and a strong contender if you want the size and the power.