Blizzard Conditions and Road Closures Force State of Emergency Declaration - California and Hawaii Sue Trump
BREAKING NEWS and TRAVEL ADVISORY
SACRAMENTO - February 20, 2019: Extreme winter conditions affecting several northeast states have snarled traffic, cancelled thousands of flights, and severely threaten the supply of road salt to last out the winter. These intense conditions have necessitated a Declaration of a State of Emergency in New Jersey. In response to the declaration, California and Hawaii have filed lawsuits against President Donald Trump.
In a hastily assembled press conference, newly elected California Governor Gonif Newscum said, "See what Trump's willy-nilly actions have caused? The next thing you know, Trump will issue a ban on earthquakes, which everyone knows are a sacred California treasure. Thanks to earthquakes and their potential to erupt at any moment, California remains on all the Top-Of-The-Mind Awareness polls. This is a boon to tourism because people are pressed into thinking that they better visit now before the entire state slides into the Pacific Ocean." Newscum then added, "And it also helps to keep California residents' minds off the fact that we're about to increase all state taxes by 400%."
Meanwhile, about three thousand miles to the west, Hawaii's Governor What's-His-Name tweeted out the following message: "Ditto with us, if Trump bans California's earthquakes, he'll then be emboldened to mess with our erupting volcanoes. Volcanoes serve the same tourism benefit to us. Without the urgent fear that Hawaii will go the way of Krakatoa and Pompeii, tourism may decline by 50% or more. It keeps everyone on their toes, and while we're not crazy enough to consider raising all state taxes 400%, we believe that our residents will gladly welcome increases in the 300% to 350% range. After all, some of the money will go to building walls around our islands to prevent the ocean from inundating us because of global climate change. Walls will be our salvation!"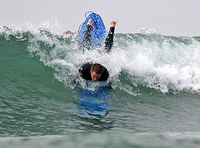 After the Twitter universe went nuts with "What about Trump's border wall?" comments, The Hawaii governor tweeted out, "This is different, our pedestrians and shoppers risk attack from real sharks with a full mouth of razor sharp teeth if the ocean floods Honolulu streets. The drug cartel
sharks
crossing into the southern states barely have any human-sized teeth."
It is expected that Colorado will join the new law suit against Donald Trump as soon as they satisfy their "munchies."
In a related news media story, famous radio broadcaster Rush Limbaugh is said to be considering a law suit against the Hawaii governor for using the word "ditto" without his written permission.*
This fake news story was gleefully written by The Auto Channel's executive vice president/co-publisher, Marc Rauch.
*Persons who are not fans of Rush Limbaugh may not understand the reference to the word "ditto." To them we can only say: "See what you've been missing all these years?"