Auto Channel Exclusive (ACE): 2019 Honda Pilot AWD Elite Review by David Colman +VIDEO - It's E15 Approved!
Excellent value for the money
By David Colman
Special Correspondent to The Auto Channel
This Content is an Auto Channel Exclusive (ACE):
September 13, 2019; For more than 15 years, Honda's Pilot and Acura's MDX have shared the same platform and power train. Back in 2005, the Pilot and MDX measured 188 inches in length and offered a wheelbase of 106.3 inches. Mission creep for these SUVs has lengthened the latest offerings for 2019 to 197 inches in length and 110 inches in wheelbase. Make no mistake, these are sizeable vehicles to park in a world increasingly restricted to "compact vehicle" slots. In fact, I found myself consistently parking the Pilot well short of the concrete stop because it's impossible to judge its front corner limits from the driver's seat. For accurate parking, you need to rely on the included front and rear parking sensors. New Elite Pilots now include a bevy of such driving aids as standard equipment. These fall under the heading of "Honda Sensing" devices and comprise Adaptive Cruise Control, Collision Mitigation Braking System, Lane Keeping Assist and Road Departure Mitigation.
Considering the size and girth of the Pilot, these addendums to your driving safety are welcome indeed. Because the Pilot weighs 4,280 pounds and stands 68 inches high, quick shifts in direction are not its forte. Our Elite model is equipped with upgraded 20 x 8J black alloy rims shod with 245/50R20 all-season Continental LX Cross Sport tires which provided meaty contact patches at all four corners. Full time all-wheel-drive is also a standard feature of the Elite Pilot. During a heavy rainstorm, the Elite AWD proved to be a bastion of adhesion and stability, with much appreciated rain sensing wipers maintaining front and rear vision corridors. But in the dry, even moderately enthusiastic driving revealed how quickly the Pilot reaches its comfort threshold on switchback roads. Tall ride height plus substantial curb weight lead to pronounced lateral load transfer.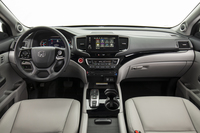 The throttle controls a very effective V6 engine which has been enhanced with Honda's Earth Dreams VTEC variable valve timing to produce 280hp and 262lb.-ft. of torque. The torque output allows Honda to rate the Pilot as adequate for 5000lbs towing duty, and our test sample included a receiver hitch and wiring harness. Bear in mind, however, that the 5000lbs limit allows you to carry just 2 passengers inside the Pilot. Honda has remixed the 9-speed automatic gearbox after complaints surfaced about the performance of this unit on 2018 Pilots. In our stay, the 9-speed proved a model of civility, with paddle shifting available when needed, and sport style gear holding on tap as well. We even found ourselves on the verge of accepting the counterintuitive console shift selector Honda has chosen as standard issue for the Pilot and MDX.
The interior of the Pilot is a marvel of clever design. The abundant cabin space is the most clear benefit of the Pilot's mission creep. Although Pilots are designed to carry up to 9 passengers, our Elite test model was restricted to just 7 because the second row consisted of twin captain's chairs rather than the available bench. The third row, which remained folded during our week in command, will seat 3 small beings or 2 larger ones. We especially loved the one-touch lever attached to the 2nd row chairs that allowed them to be tilted forward instantly. This made loading our bicycle through the rear hatch a pleasure rather than a pain. Visibility is an often ignored safety factor in SUVs with low sloping roof lines. The Honda's tall flat roof completely eliminates vision problems, since it provides all passengers with huge front, side and rear window panes. In fact, Honda has even gone so far as to include privacy blinds for the rear door windows to keep prying eyes off your cargo or passengers. Dark tinted glass all around also keeps goods out of sight, as does a nifty hidden rear storage tray that comes with its own removable lid.
The luck of the draw allowed me to test the Pilot Elite back-to-back with the Acura MDX. While the Honda retails for an all-inclusive base price of $48,020, the MDX A SPEC carried a base price of $54,800. Is the extra $6,000 for the MDX worth the difference over its sister SUV from Honda? That depends on how much of a premium you place on sport handling. Both vehicles utilize similar AWD systems and the same size Continental tires, but the "Super Handling AWD" refinement of the MDX makes it a more engaging prospect to drive on back roads. However, both SUVs represent excellent value for the money, with the economy award going to the Honda Pilot AWD Elite for extracting the most value for your buying dollar.
2019 HONDA PILOT AWD ELITE
• ENGINE: 3.5 liter V6, VTEC with Variable Cylinder Management
• HORSEPOWER: 283hp
• TORQUE: 262lb.-ft.
• FUEL CONSUMPTION: 19MPG City/26MPG Highway
• PRICE AS TESTED: $49,015
HYPES: Exceptional Utilitarian Configuration
GRIPES: Clumsy Handling
STAR RATING: 9 Stars out of 10