2019 Volvo XC 40 T5 AWD R-Design Review by David Colman +VIDEO
8.5 Stars out of 10 Stars
By David Colman
Special Correspondent to The Auto Channel
First product to use Volvo's new small vehicle platform is the XC 40, a crossover SUV introduced mid-2018 as a 2019 model. Expect sedan (S 40) and station wagon (V 40) variants to follow. In terms of size, the XC 40 is 11 inches shorter than the XC 60, and 21 inches smaller than the XC 90. Although you also lose 7 inches of wheelbase to the 60 and 12 inches to the 90, the newest SUV offering from Volvo hardly feels cramped inside. In fact, graced with a huge, interior-spanning, optional ($1200) Panoramic Roof, the XC 40 mimics the airiness of a convertible. The interior of this crossover is inviting and spacious. Boldly outfitted with $100 optional "Lava Carpet, Console and Door Panels," the otherwise rather somber charcoal interior is transformed into a hotbed of orange visual interest.
While the base price of the XC 40 is eminently affordable at just $35,200, you will probably have difficulty locating one for that kind of money. Our test sample was loaded with four expensive option packages, and five additional stand alone options that totaled $9,145 and bumped total cost to $45,340. The most expensive addition was the "R Design Features" group. For $2,500, you gain 19 inch R Design wheels, Sport Chassis, Sensus Navigation, R-Design Leather and Nubuck Upholstery, Perforated Leather Steering Wheel, Black Contrast Roof, Mirror Covers and Headliner, Integrated Roof rails in Gloss Black, "Cutting Edge" Aluminum Deco Inlays, and 8-Way Power Driver's Seat and 4-Way Power Passenger Seat with Lumbar. Since our test Volvo was already finished in exterior black, it would seem that the fuss over R-Design black roof, mirror caps and roof rack is a rather redundant expenditure. However, the overall look of the R-Design XC 40 is undeniably attractive in a Swedish minimalist sort of way.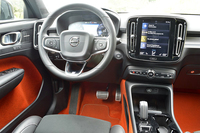 The most appealing tweak of the R-Design portfolio is the "Sport Chassis." The XC 40 handles exceptionally well, with precise turn-in, sure-footed cornering power, and precise steering feedback. Helping keep the little (3,700lb.) sports utility tracking accurately are ample Pirelli Scorpion Zero tires (245/45R19) mounted on exceptionally clean looking 5-spoke alloy rims. Volvo incorporates a driving mode selector which consists of a button on the dash face which, when depressed, brings up a screen full of driving choices ranging from eco to normal to sport. Select the appropriate choice on the Sensus 9" touchscreen, and the Sport Chassis equipped XC 40 does your bidding instantly. We were quite happy to select the "Normal Driving" range since the "Sport Mode" seemed overly sensitive to road imperfections and provided a rather jittery ride quality that was absent in normal mode. Augmenting the driving enjoyment is an 8-speed Geartronic transmission which can be slotted into manual mode and controlled by grippy paddles behind the perforated leather wheel.
Propelling this Volvo is a 2.0 liter turbocharged, direct injection gasoline engine which produces an adequate but not scintillating 248hp at a rather peaky figure of 5500rpm. What saves the day in performance terms is the excellent low rpm torque output of the turbo 4, which peaks at 256lb.-ft. at just 1800rpm. In other words, you never really need to wind this engine to its power peak thanks to its abundant torque at trundling speeds. While the XC 40 lacks the combined turbocharged/supercharged power units of bigger Volvos like the XC 60 and 90, you will never feel that the XC 40 is underpowered. This is an exceptionally competent powertrain, managed by a Geartronic automatic that is pleasurable to shift.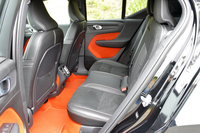 If the newest offering from Volvo has a weak point, it would have to be the annoying, unintuitive Sensus system that dominates every aspect of cabin management. Like all new Volvos, the XC 40 glovebox inexplicably lacks a factory supplied owner's manual. Volvo will tell you they are happy to provide a printed version but you have to beg them to receive it. Otherwise you're stuck with the ridiculous prospect of stopping the car altogether in order to allow Sensus to bring up the owner's manual that is included in the on-board memory. I spent 20 exasperating minutes trying to determine what my Pirelli's tire pressures were and never succeeded in getting an answer from Sensus.
Volvo's introductory advertising for the XC 40 coyly touts the vehicle's futuristic promise. One ad mysteriously says, "You used to buy songs too. The new Volvo XC 40. The car you can subscribe to." Another claims, "Designed with everything in mind. Our idea of luxury." For the XC 40, including a printed owner's manual would be my idea of luxury.
2019 VOLVO XC 40 T5 AWD R-DESIGN

ENGINE: 2.0 Liter Inline 4, Turbocharged with Direct Injection
HORSEPOWER: 249hp @ 5600rpm
TORQUE: 256lb.-ft.@1800rpm
FUEL CONSUMPTION: 24-26MPG City/30-34MPG Highway
PRICE AS TESTED: $45,340
HYPES: Stunning Interior, Impeccable Design Work
GRIPES: SENSUS Needs a Rethink
STAR RATING: 8.5 Stars out of 10