Lewis Hamilton Seals The Deal In Mexico
Nicholas Frankl
Senior Editor and Motor Racing Correspondent
THE AUTO CHANNEL
F1 is on a roll and Lewis Hamilton is driving it! Arriving in Mexico City I was immediately immersed into this discombobulated and congested 'traffic' chaos. And I'm not talking mainstream Los Angeles 405 or New Jersey tunnel rush hour mess, I'm talking seriously unhinged mayhem a la Bangkok/Hanoi/Bali!
Since I last visited this engine of the Mexican economy the swarm of dubious VW Beetle taxis have vanished and have been replaced by hundreds of professional Uber drivers in smart, mostly compact VW's or Nissan's. The dealership windows actually advertise lease deals with Uber's logo and 'start your business today' – all very entrepreneurial and many of the drivers I used were middle aged men and women.
Polanco is the 'safe 'n; trendy' downtown area, surrounded by business hotels and big brand stores, funky restaurants and the affluent 'in' crowd. All the teams and drivers stayed there which created a fun environment and celebratory mood, particularly after the race with Mercedes, Red Bull and Force India teams all in high spirits and off to 'hit the town hard'.
One person not joining the party was the newly crowned, four-time world champion himself. He had bought a table for his team to party at the Amber Lounge, whilst he helicoptered off the rooftop of his hotel straight to his waiting red Challenger 605 jet to fly with his friends, and mother, to LIV at the Fontainebleau Hotel in Miami Beach. #TeamLH partied till the early hours, though of course most of the club attendees had no idea who he was or what he was celebrating. I guess that was the point for him. Now the most successful British racing driver ever (although he hasn't won on two wheels yet, like the late great John Surtees, nor the Indy 500, Le Mans, Daytona or Sebring) Lewis joins our sports gods Fangio, Schumacher, Prost and, in my mind to a lesser degree, Vettel. It is winging Vettel, as he's known amongst the drivers, who Lewis most relishes beating head to head and with the German committed to Ferrari till 2020 at least, and therefore with no opportunity for Lewis to drive for the famous Italian team (something every driver wants in their career), he will have to "make life difficult" for them for the next three years plus. Hamilton spent a good forty-five minutes with the media in the FIA post race interview, speaking from his heart and soul with great honesty and clarity. He was flowing so much that the Mercedes team had to finally interrupt him as there were flights to catch by Lauda and Toto Wolf, so off he ran to be lauded and champagne-bathed by his adoring team who genuinely love their driver - a feeling that is clearly mutual.
As the weekend wound down, global partner Heineken threw a serious trackside party. With the drivers literally still spraying champagne on the podium, it started to rotate as Hardwell, one of the world's No.1 DJ's, launched into a mega set with glitter and flame throwers - that singed a few eyebrows in the VIP section! The track was filled with a crowd of passionate, happy Mexicans who had watched the unusual spectacle of the crowning World Champion being lapped, for the first time since 2013, yet finishing the race in the baseball theatre doing donuts and then running down the track, wrapped in the Union Jack. Yes, it was a fabulous atmosphere and awesome spectacle, even for the most die hard and cynical journalists!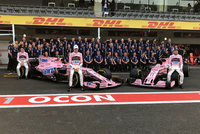 Back at the Heineken paddock bar, that's always a great introduction to the general atmosphere and enjoyability of paddock life, is where team guests, sponsors, journalists and VIP's can all mix 'n' mingle no matter what team or business affiliation and just enjoy a beer and meet new people. I was introduced to a former director of Shell Oil who had negotiated the original McLaren deal in the 80's and worked through the Prost/Senna times. He explained that upon publicly announcing the sponsorship, which lasted more than a decade, Enzo Ferrari wasn't pleased and although contracted with Italy's Agip, called the King of Holland (a client, of course) to protest. The King took the call and probably didn't want to fall out of favor (or maybe lose his slot for a 288 GTO order) and promptly called the President of Shell, who called down to three more senior vice presidents to find out why Shell was with McLaren not Ferrari! You can only imagine when this young sponsorship & marketing exec got the call from his boss', boss' boss he was in his own words 'shitting myself'. The deal was done, but when word leaked that Mobil 1 was joining McLaren years later, and with Agip out of Ferrari, the time came to cement a now twenty year plus partnership and first pour deal with the team and car company still estimated to be one of the biggest deals worth approximately $25m/year. This former exec also explained how Senna and Prost were much closer than the media portrayed explaining that at one filming/promotional event for a new TV commercial both drivers were required to drive and appear in the film, however Senna was delayed and so Prost was asked and agreed to wear one of Senna's iconic yellow helmets on camera.
I'm sure current CEO Zak Brown would love the Shell back on his McLaren side pods and the cash too, but times at McLaren, although not bad, could do with some sponsorship announcements and fresh investment into the team. With Renault power in 2018, which is certainly powerful but woefully unreliable, plus a decent chassis, maybe Alonso - who claims the car is 'great in the corners' - can bring the second most successful F1 team back into the top ten on a regular basis and maybe even fight for a podium on occasion in 2018. Zak told me he has 'deals to announce soon' although they will likely be smaller multi-brand at $5m-$10m, if lucky, rather than the big title deal for $35m++.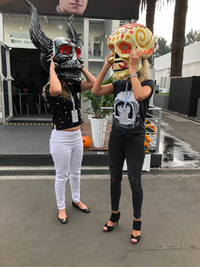 Brazil will see the lovely Massa retire for the second time in twelve months! I'm sure his walk down the pitlane will be just as emotional as 2016, after which he was drafted back to Williams to cover for Bottas. Interlagos will also be the first time that two four-time world champions compete head to head in Formula One history, amazing to believe but true. With the championship over, and the pressure lifted from the drivers' and teams' broad shoulders, I expect the racing to be fierce and, without strategic considerations to hand, I'm looking forward to one hundred percent bare knuckle racing – if only the precious stewards will allow it…
Follow Nicholas
Instagram: @HUN007
Twitter: @HUN1