Why G-Vectoring In The Mazda CX-5 Is So Cool - Review by Jon Rosner
Special Feature from Jon Rosner
Every year the Members of Western Automotive Journalists make the pilgrimage down to Monterey to drive over designated backroads and at Mazda Raceway Laguna Seca. The idea, and the ideal, is that we drive back-to-back-to-back in competitive vehicles to get a real world sense of the subtle and less than subtle differences.
For several years now we have had a number of fairly pricey cars on offer equipped with what is called Torque Vectoring. Torque Vectoring systems make dynamic changes to operational settings. Onboard computers can adjust shock stiffness, engine torque, decide the distribution of power to each wheel, and can lightly dab one brake rotor or another, all in milliseconds These Torque Vectoring systems allow some fairly hefty vehicles to dance at or near their limits and make the driver look like a hero.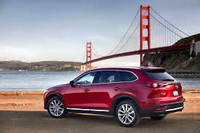 But there's a price to pay. Torque Vectoring adds weight and a tremendous amount of mechanical and electronic complexity, as in millions of lines of code and potentially high repair bills. What happens in ten years? Will the parts still be available and will the technicians be able to diagnose and repair the vehicles? There are already a number of ten year old vehicles out there with center console navigation systems which no one wants to try to repair or replace as replacement parts are no longer kept in stock, and too often, are not available at all.
In contrast, Mazda has developed G Vectoring. In order to learn how it worked I borrowed a 2017 CX-5 and Jacob Brown, a Product Communications Specialist for Mazda. I had already driven a number of competing vehicles that day when Jacob and I went out for a run. He explained "G Vectoring Control" to me; how the computer measures the steering angle, wheel speed and a variety of inputs and how the computer decides to make utterly subtle reductions in engine torque. How much of a change? REALLY subtle, like .05 g, between 2 and 10 pounds of additional loading. Slightly retarding the ignition timing on the CX-5 can strongly affect turn-in making the car feel more precise. The result is less lock in the steering, and greater control.
There was an absence of a bouncing suspension, an absence of a feeling like I had to slow for a corner. No the potholes had not been filled in, the road had not been leveled out, no abrupt turn-in, no abrupt braking area, this was really interesting, very satisfying, and it works. Mazda studied physiology, body movement, and had measured the electrical input needed to keep one's head level and less jerked around, and they built a suspension concept around it.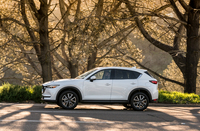 From Dave Coleman Vehicle Development Engineer at Mazda "GVC, G-Vectoring, is not Torque Vectoring, this is not active yaw control, which is not a natural way to do Car Control, Torque Vectoring is really most useful at the limits. GVC works to maximize the performance in ?ordinary driving.' This is a software solution that required the faster processors of the 2017 cars." We wanted to "make the cars so predictable, so controllable, so intuitive that you never feel that fear." We wanted you to be able to go faster with greater control that you expected. "You only feel the joy, that's why we sweat the details that we sweat." We will roll this out on all our cars. "Make the cars more responsive for the drivers." "We have cars built by enthusiasts for enthusiasts." We are "taking a Mazda and making it more a Mazda."
I could see where the elimination of a lot of steering inputs with fewer jarring movements could reduce driver fatigue. There's a payoff beyond feel and drivability Mazda has balanced their cars and then ADDED G-Vectoring, to make a great chassis even more responsive. How many high technology costly to repair gizmos have been added? The answer is none.
"Why are they doing it? We are hoping that buyers will come back." Is that plan working? Clearly the answer is yes. Mazda has two percent of the US market, a blip on the screen, but Mazda has a loyal and stable customer base who get it. There are more Miatas racing in SCCA every weekend than ALL other makes put together. Colin Chapman built Lotus Cars around the concept of "add lightness." Mazda continues to stay ahead of the curve by taking brilliant engineering concepts, developing them and "adding simplicity."
The CX-5 is a neat piece of kit, and G Vectoring is already being rolled out in the next Mazda 3 and 6 series. G Vectoring is a simple, elegant and very cost effective technology. Most impressive.
https://insidemazda.mazdausa.com/newsroom/g-vectoring-control/