Filling up with Premium Fuel Electrons, PG&E and the Next Generation of Energy and Vehicles - Chevrolet Bolt Review by Jon Rosner
Special Feature from Jon Rosner


Thomas Edison and an electric car in 1913 (courtesy of the National Museum of American History)


The first electric car fleets poured onto the streets of London in 1897 and because of their ease of use they grew in popularity with just under 34,000 vehicles registered for street use in 1912. But with the improvement in roads, the discovery of vast amounts of oil and hydrocarbon fuels - combined with American wanderlust - electric car manufacturers whose cars suffered from limited range issues like Baker Electric just could no longer compete. Occasional efforts were made in the 1960s and 1970s to make a go of building an electric car but battery technology was simply not ready for prime time.
Being something of a Luddite who still admires the simplicity of carburetors and crank windows (you know the ones – you turn a handle to open the window…) I wasn't sure how I felt about being one of two passengers riding down to the 2017 Western Automotive Journalists Media Day at Mazda Raceway Laguna Seca in a new Chevrolet Bolt. Sure it could make it down, and yes, in theory it could make it back too. Was my fellow journalist sure, yes, was I? Uh, not completely.
Then we heard that Dave Meisel, Senior Director of Transportation and Aviation Services at PG&E was coming to the event and bringing a monster utility truck with enough exportable power capacity to supply a 100 house blacked-out neighborhood. Is this the same PG&E that sliced and diced their safety service program until something went wrong and a neighborhood was blown up by a faulty gas pipe? Guess what? It is.
PG&E demonstrated the exportable power truck's capabilities by using it to charge electric vehicles at the event. While there Dave and his crew added comforting extra electrons to the Bolt's battery. As it turned out we really could have made it home without the recharge, but the PG&E power truck story was so compelling that I requested the opportunity to speak to Dave at length. (From Dave) "according to Forbes, the Bolt will be cost competitive in 2018. Battery technology is expected to see a 70% price reduction by 2025. According to UBS analysis, Daimler (Mercedes-Benz) will open a gigafactory, and have it fully functional in less than 2 years." "We have worked to get electric propulsion into our work vehicles, and currently operate nearly 1,400 plug-in electric and hybrid units in our fleet. But my goal was to integrate plug-in electric technology into our bigger trucks, and then harness that battery capacity to provide exportable power that we could use to shorten or eliminate planned and unplanned outages. We have worked with a series of suppliers. Efficient Drivetrains (EDI) in Milpitas has done a yeoman's job translating our needs into technology we can use. EDI did two things that we could not get anyone else to do, they developed technology specifically for our application. They have smart engineers who were very responsive. We have done four or five prototypes and each one was better than the previous one."
"The plug-in electric hybrid Class 5 utility trucks we developed in partnership with EDI offer up to 50 miles all electric range prior to switching to hybrid mode, and can operate in either series or parallel hybrid mode to maximize fuel economy depending on operational needs (city or highway driving). What's more, these trucks also offer up to 120 kW of exportable power, enough to power up to 100 homes during off-peak usage hours or 30 homes during peak usage times."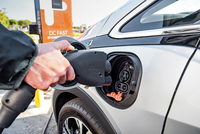 "We go to a worksite and run the trucks. Gen One trucks have been built, this is brand new technology. It is amazingly expensive to do prototypes. We secured an EPIC (Electric Program Investment Charge) grant from the California Energy Commission to help fund the cost of developing these trucks. Right now we have 13 out there. The best example of where the technology makes a difference was during the wildfires in Napa and Lake County in 2015. We had displaced customers who were relocated to a Red Cross evacuation center at the Napa Fairgrounds, where they could be fed and cared for. The wildfires had left thousands of customers without power, and this center received hundreds of residents. We sent an exportable power vehicle to provide power to the camp. That asset that we designed performed in the situation that we designed it for, planned, or in this case. unplanned emergency. We got the call and we dispatched in 30 minutes, arriving in under two hours. In this situation we were able to hook up in under 15 minutes and for 68 hours we ran the evacuation center off the truck until it was safe for residents to return to their homes." "We are an emergency response company, when people are running away from a catastrophic situation we are running to it. These folks should earn kudos for putting themselves on the line. It is mind boggling what they will do, sense of team and responsibility – second to none."
"I was in Washington two years ago and they were very interested in this kind of mobile technology. We can produce more energy than a stationary generator, and with lower pollution levels. I did meet with FEMA and DOD and they are interested." "We have the opportunity to eliminate planned outages when we do transformer maintenance and shorten unplanned outages, providing safe clean power for our customers. PGE has the greenest portfolio in the United States and we can translate that into clean transportation."
"Electric technology is 100 years old and this technology deals with a lot of the issues, the job creation aspect has been amazing. This technology is new, this is high tech work and we are creating jobs that wouldn't be here. We talk about emissions, but we are creating jobs that otherwise would not exist. We employ 100s of people without college degrees, these are good jobs for more mature people, our older employees know what a good a job is."
This author went in with his usual slightly cynical attitude and came out really rather impressed. Dave Meisel and his crew really care about the people of California. They have not only created, developed and implemented a technology that can make the misery of black-outs a thing of the past, but have developed something that, if implemented properly, could be of tremendous importance when natural disasters remind us that the best laid plans of mice and men can, and often, fail. Kudos to PG&E for putting a stake in the ground and building out a technology that will make many lives that much less difficult when the anticipated or unanticipated happens.