Car Review: 2017 Infiniti Q50 3.0t Sport AWD Review by Carey Russ
DRIVING DOWN THE ROAD WITH CAREY RUSS
• SEE ALSO: Infiniti Research and Buyers Guide
When it first appeared back in 2002, the Infiniti G35 was a revelation. A cruise missile aimed at Stuttgart, Munich, and Ingolstadt, the G35 was the first Japanese sports-luxury sedan to compete on equal terms with the dominant Germans, even besting them in some eyes. No surprise, as it was essentially an Americanized version of what was then the newest iteration of the legendary Nissan Skyline, based on the "FM" front-engine, rear- or all-wheel drive platform that would also see use in parent Nissan's 350Z and GTR. Before the G35, Infiniti had been looking for direction. With the G35, that direction was found. A coupe joined the sedan soon after.
With revisions to its chassis and engine, the G35 morphed into the G37, sold between 2009 and 2013. 2014 saw major changes to the Infiniti lineup, with cars getting a "Q" designation and crossovers and SUVs "QX". The ex-G37 sedan became the Q40. And its successor debuted as the Q50, with the same 3.7-liter, 328-horsepower V6 engine and choice of rear- or all-wheel drive, and as a hybrid. The Q40 soon disappeared, and the Q50 received major power changes for 2016.
Like many other automakers, Infiniti turned to smaller-displacement turbocharged engines with direct fuel injection to improve fuel efficiency without detriment to performance. For customers who preferred maximum efficiency, a 2.0-liter four-cylinder engine with 208 horsepower and 258 lb-ft of torque was offered. If that horsepower rating seemed a bit meager compared to the naturally-aspirated 3.7's 328, torque was almost equal to the 3.7's 269 lb-ft. Want or need more? That would be a 3.0-liter V6, 300 hp and 295 lb-ft in standard form. Still not enough? There is the Red Sport 400, so-named after its horsepower rating. 350 lb-ft of torque in that tune. There is also the Hybrid model, which matches a 3.5-liter naturally-aspirated gasoline engine with an electric motor for maximum system horsepower of 360. All are offered in both rear- and all-wheel drive, and various trim levels depending on model. Changes for 2017 are evolutionary, with 2.0t Sport RWD and AWD models added and standard equipment, option package, and color changes for most models.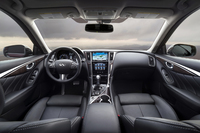 My test car for the past week was a 2017 Q50 3.0t Sport AWD. Externally, there is still plenty of resemblance to that original G35, but updated. Unlike many competitors, it hasn't grown — the wheelbase is identical, and the Q50 is only two and a half inches longer. And no, that does not mean it's cramped inside. Excellent space utilization means not only first-class comfort for the driver and front passenger, but plenty of room for two real adults in back as well, with less in the center for a third — like any other sedan. Size hasn't changed, but weight has increased. Blame additional chassis components that add stiffness and safety ( good things) and more comfort and convenience features. The Q50 emphasizes luxury more than the original G35 did, the right decision in its market. But that doesn't mean performance is lacking — more torque, with that 295 lb-ft maximum delivered from 1600 through 5200 rpm, meaning at any time, in any gear, makes for an eminently civilized projectile, aided in this case by the ATESSA ET-S all-wheel drive system. Turbo lag? That belongs in the 80s, not found here, although in some modes the transmission may catch you out a bit. Wet, stormy weather during my week was a major non-issue; this is a sure-footed car.
There is no lack of competition in the small sports-luxury sedan class, and Infiniti still meets and can best the competition with its Q50.
APPEARANCE: The shape and face are familiar. Easy recognition is good, and there is little doubt as to the manufacturer here. The large but not oversize "double arch" grille established presence, and the domed, sculpted hood and muscular but not muscle-bound body lines suggest performance. Which is further hinted at by the aero-look lower front fascia and splitter of the Sport and Red Sport models. Fear not, while it and the underbody cowlings and appendages do enhance aerodynamics by reducing drag and lift, all the better for fuel efficiency and high-speed stability, there is enough clearance that curb and parking stop damage is easily preventable, especially with the AroundView Monitor's surround-view camera system. The roofline and C-pillar look to be little-changed from the original G35, and good for that. Not only does that look good, it means that rear-seat passengers have real headroom.
COMFORT: Inside as out, the Q50's design is evolutionary. The naming conventions may have changed, and electronic systems proliferated, but the functional elegance of the original G35 is not buried too deeply. The "double wave" twin-cockpit instrument panel places instruments and controls perfectly for use, aided by power-adjustable front seats and a power-adjustable steering wheel. There are two memory positions for the driver's seat, wheel, and outside mirrors. Materials are of the quality expected here, with, depending on specification, real wood or real textured aluminum trim, the aluminum allegedly inspired by Samurai armor. Why not add a little domestic history? Seat comfort is very good, aided in front by manually-extensible front cushions. Yes they're leather, with heatable cushions and steering wheel rim. Rear outboard head, leg, and hip room is very good, not just for its class. Trunk space is good for the car's size at 13.5 cubic feet, and the rear seatback folds 60/40, with a center armrest and locking passthrough.
Instrumentation is Infiniti's "Fine Vision" electroluminescent, bright and visible in all light, no glare. The InTouch™ dual LCD display touchscreens in the center stack are the interface for electronic systems, with navigation and camera information in the top and all the myriad electronic infotainment systems in the lower. Control is intuitive, and pretty much anything that can be programmed for your convenience may be, easily. Noteworthy is the rotary Infiniti Controller, which can be used to zoom the nav map in or out for maximum traffic awareness.
SAFETY: The Q50's Zone Body unibody construction protects passengers in a safety cage designed to channel crash energy around the passenger compartment. Further protection comes from a full complement of airbags. Strong antilock brakes with brake assist and electronic brake-force distribution and good handling and steering response can, with driver attention and ability, prevent trouble. My test car was equipped with the AroundView Monitor, which made parking in tight spots painless and crunchless with forward and off-side views as well as the common backup. It also had blind-spot warning, predictive forward collision warning, and forward emergency braking systems.
RIDE AND HANDLING: Not all of the Q50's electronic technology is used for infotainment and connectivity. Computing power also figures in its suspension and steering. Construction is typical, a sturdy, optimized unibody structure with fully-independent suspension by double wishbones in front and a multilink system at the rear. The Sport and Red Sport 400 get the Digital Dynamic Suspension (DDS), which features electronically-adjustable shock absorbers. Control is via a toggle switch on the console, with Snow, Eco, Standard, Sport, and Sport+ modes. The amount of standard damping and electronic power steering assist can also be programmed. I set both to "Sport", it was appropriate. That way, Standard mode made for improved highway mileage compared to Sport. Damping there is appropriate for the Q50's nature, firm but far from harsh or jarring. The AWD system is transparent in use and grip levels are high, even in rain and on poor surfaces. If it goes, it had better stop, and the Q50 does that very well, courtesy of discs with four-piston front and twin-piston rear calipers.
PERFORMANCE: If it seems that the 3.0-liter turbo V6 is down on power compared to the old 3.7, not really. While maximum horsepower is less, at 300 (at 6400 rpm) versus 328 (at 7000 rpm), torque is up, with 295 lb-ft from 1600 through 5200 rpm versus 269 lb-ft at 5200 rpm. Only under wide open throttle will you get anywhere near the engine speeds at which maximum horsepower is developed; torque is what matters most in real-world driving. Maximum torque here is developed right now, when you need it.
The VR-series V6 is a descendant of the venerable VQ, but 85 percent of its parts are different. It was developed with turbocharging and direct injection in mind, and two turbos are used, one for each cylinder bank. Yes it's water-intercooled. Construction is similar to the VQ, with aluminum alloys used for the block and heads. Many internal parts use state of the art coatings for friction reduction, which translated to more efficiency — more power with less fuel. Power is routed to the wheels via a seven-speed multi-mode automatic transmission, modes selected by the console switch. Sport holds gears longer and usually keeps the car in a lower gear, for quicker response to throttle inputs and less downshifting. Sport+ is Sport with less-restrictive settings for the VDC system.
I used Standard around town and on the highway, and Sport and Sport+ on appropriate roads. Manual shifting is possible but slow in Standard. It's less so in Sport modes but even there the wide torque band renders shifting mostly un-necessary. What sometimes feels like turbo lag is more likely the transmission being is too high a gear for quick acceleration, say 5th at 35 or 40 mph. That's great for gas mileage, less so for quick response. So use the paddles… EPA estimates are 19 mpg city, 27 highway. I got 20. Highway speeds here are 70+ and level ground is a rarity.
CONCLUSIONS: The 2017 Infiniti Q50 combines performance, comfort, and technology for a contemporary sport-luxury experience.
SPECIFICATIONS 2017 Infiniti Q50 3.0t AWD
2017 Infiniti Q50 3.0t AWD
Base Price $ 46,650
Price As Tested $ 52,520
Engine Type DOHC 24-valve aluminum alloy twin-turbocharged and intercooled V6 with direct fuel injection and continuously-variable cam phasing
Engine Size 3.0 liters / 183 cu. in.
Horsepower 300 @ 6400 rpm
Torque (lb-ft) 295 @ 1600-5200 rpm
Transmission 7-speed automatic
Wheelbase / Length 112.2 in. / 189.1 in.
Curb Weight 3996 lbs.
Pounds Per Horsepower 13.3
Fuel Capacity 20.0 gal.
Fuel Requirement 91 octane unleaded premium gasoline
Tires P245/40RF19 94V Dunlop SP Sport 5000
Brakes, front/rear vented disc / solid disc, ABS, EBD, BA standard
Suspension, front/rear independent double wishbone / independent multilink
Drivetrain longitudinal front engine, all-wheel drive
PERFORMANCE
EPA Fuel Economy - miles per gallon city / highway / observed 19 / 27 / 20
0 to 60 mph 5.5 sec
OPTIONS AND CHARGES
Driver Assistance Package — includes: Blind Spot Warning, Predictive Forward Collision Warning, Forward Emergency Braking, Front and Rear Parking Sensors, Around View® Monitor with Moving Object Detection, Backup Collision Intervention with Rear Cross-Traffic Alert $ 2,150
Premium Plus Package — includes: Infiniti InTouch™ with Navigation and Voice Recognition, Infiniti InTouch™ Services, Navi Sync Active Shift Control, Sirius/XM Traffic, heated front seats and steering wheel, remote engine start $ 2,250
Illuminated kick plates $ 465
Destination Charge $ 905
The Most Independent Infiniti Research Information; Anywhere!