Go In Snow - 2017 Acura MDX AWD Advance Review by Carey Russ +VIDEO
A new look and detail improvements keep the 2017 Acura MDX near the top of its class
DRIVING DOWN THE ROAD WITH CAREY RUSS
• SEE ALSO: Acura Research and Buyers Guide
The third generation of Acura's flagship MDX crossover debuted for 2014. It's had continuous upgrades ever since, with a nine-speed automatic transmission replacing the original six-speed last year, with a revised console with pushbutton shift controls for that transmission. Changes for 2017 are more apparent, highlighted by the latest in new Acura grilles and more rounded front styling. The AcuraWatch™ suite of electronic safety features is now standard across the line, and there are a number of interior convenience and safety enhancements.
Underneath, there are no major changes from last year. No worries there, as the 290-horsepower, 3.5-liter V6 and nine-speed automatic combination gives a fine combination of performance and reasonable economy for a two-ton-plus, three-row vehicle. All trim levels — basic MDX, Technology, Technology with Entertainment, Advance, and Advance with Entertainment — are offered with front- or all-wheel drive, with AWD being Acura's high-tech, torque-vectoring Super-Handling All-Wheel Drive (SH-AWD) system.
My test car for the past rainy, cold week was an MDX Advance SH-AWD. It was surefooted even in pouring rain and strong winds. As has been the case since the MDX's debut back in 2000, it's one of the best-handling large crossovers, with plenty of sport to go with its utility and luxury. The weight loss and nine-speed transmission that debuted for 2016 still apply, improving both performance and economy. I got an easy 20 mpg for the week, with more short local trips than highway miles. There was a 27-mpg, 200-mile stint in the mileage records, presumably all highway by someone before me, and I did see almost 32 on one drive mostly downhill and on level highways. If the MDX doesn't have the cachet and ultimate luxury of its European competitors, it also doesn't have their ultra-high price. Value in a luxury vehicle? Indeed.
APPEARANCE: Meet the new face of Acura. The styling changes to the MDX's front are the biggest ever. The "diamond pentagon" grille is the most apparent, an upside-down chrome-trimmed pentagon featuring the Acura logo in its center, surrounded by gloss black diamond-shaped pieces radiating outward from that. Five-element "Jewel Eye" LED headlight clusters and LED light pipes are complemented, in the Advance, by LED foglamps. And yes, the taillights are also LED. The new grille and reshaped lights lead to a restyled hood, more rounded at the front, and a revised lower bumper fascia. Don't be looking for skid plates here, but there are plenty of air-management bits underneath, all the better for improved fuel economy and reduced interior noise. At the sides, the lower sills have been reworked. Changes to the rear are minor, with redesigned exhaust finishers the most apparent.
COMFORT: With the Advance, the outside mirrors automatically fold when the car is locked, and unfold as you walk up to it with the "key" fob in your pocket. LED puddle lamps in the mirror bottoms illuminate the ground. As is true of nearly all high-level cars today, touch un/lock and pushbutton start/stop are standard in all MDXes. Unusually, touch works on all doors. Interior styling changes are less noticeable than external, the main difference being twin captain's chairs for the Advance's second row. They manually adjust about six inches fore and aft, with some back angle adjustment as well. The console between them is smaller than the front one, but usefully large. Each second-row seat can be moved forward by (power) buttons on its side or back for third-row access. The MDX is on the small side for a three-row SUV, but the third row accommodates two small adults in reasonable comfort.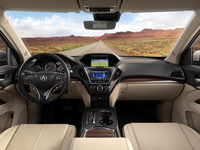 Back up front, both the seats and steering wheel are power-adjustable, with memory. All models have cushion heat; the Advance gets ventilation as well, and heated second row. The basic interior design hasn't changed. What looks like wood is wood — natural-finish in the Advance — with metal trim. Visual boredom is banished, but not at the expense of function. The main instruments are brightly lit and easy to read. An information display between the speedometer and tach shows fuel, range, tire pressure, and other useful information; further information and data features are available through the display at the top of the center stack or another one below it. The interface to the navigation, Bluetooth phone, audio, and information systems is intuitive, with hard buttons for main features and a touchscreen interface for details.
All contemporary audio choices are available -- AM/FM/SiriusXM radio, CD, hard disc, external player via jack or USB, and streaming audio via the Bluetooth connection. There are four USB charging ports, two in the huge front console and two in the second-row console. Looking for the shift lever? There isn't one -- it's been replaced by a series of buttons, with a lift switch for reverse. It takes up the same amount of space on the console as a traditional shifter, but does allow easier access to the front of the console and lower part of the dash. There is useful storage in all doors, plus under the rear cargo floor as the space-saver spare is mounted underneath, outside.
SAFETY: The 2017 MDX uses the latest development of Acura's Advanced Compatibility Engineering (ACE™) unibody design and construction to channel crash energy around the passenger compartment in a controlled manner. The AcuraWatch suite of Collision Mitigation Braking System, Lane Keeping Assist, Adaptive Cruise Control with Low-Speed Follow, and Road Departure Mitigation is standard in every 2017 MDX, as are auto high-beam headlights. Advance models have the Surround-View Camera System with six selectable viewing angles, most useful when parallel parking in a tight spot.
RIDE AND HANDLING: Since its debut, the MDX has been one of the best-handling large crossovers on the market. It's now even better, thanks to the current generation's improved unibody structure with redesigned MacPherson strut front, multilink rear suspension, longer wheelbase, and lower ride height. Its 7.3 inches of ground clearance is when empty, and will drop as weight is added. So anything more "offroad" than a well-maintained dirt or gravel road or cleared snow will be out -- but how many MDX owners have ever done even that? The motion-adaptive electric power steering has a good touch and is not overly numb. Braking ability is very good. The Integrated Dynamics System has three settings: Comfort, for that soft 1970s ride, Normal, moderate with somewhat less body motion, and Sport, firmer but not overly so and perfectly comfortable with much less body roll and heave than Comfort. I tried the other two and then left it in Sport, which fits the MDX's character perfectly. Aerodynamic improvements and acoustic glass keep the interior pleasantly quiet. The SH-AWD system unobtrusively ensures optimum traction in all conditions, wet or dry. The MDX ignored the mud and wet leaves on my slightly-sloping driveway.
PERFORMANCE: This year's changes result in around a 60 pound weight increase for the MDX, but it's still one of the lightest vehicles in its class. Less weight is always better than more power, and it can mean greater efficiency as well. The MDX's 3.5-liter V6 is lighter than the old 3.7, and is unchanged, still with 290 horsepower (at 6200 rpm) and 267 lb-ft of torque peaking at 4700 rpm. Direct fuel injection allows a high 11.5:1 compression ratio for efficiency, meaning more power with less fuel. i-VTEC valve management improves torque and horsepower delivery, and cylinder deactivation when appropriate ensures further gains in fuel economy.
The nine-speed automatic is lighter than the old six-speed, and its lower low gear ratios and higher highs mean both quicker acceleration -- 0-60 time drops about half a second to 6.0 -- and better highway mileage. The 20 mpg average I got during my test week was despite a bias away from highway travel -- some highway stints returned 25 to 27 mpg, not bad at all for a near-300 horsepower, two-plus SUV. Then there was the 9.8 mpg up a steep secondary road grade, followed by up to 40 mpg down the other side. That decreased to "merely" 31.7 after 25 miles of highway travel home. Cylinder deactivation is a Good Thing!
CONCLUSIONS: A new look and detail improvements keep the 2017 Acura MDX near the top of the mid-luxury crossover SUV class.
SPECIFICATIONS
2017 Acura MDX AWD Advance
Base Price $ 56,400
Price As Tested $ 57,340
Engine Type aluminum alloy 24-valve SOHC V6 with i-VTEC valve management
Engine Size 3.5 liters / 212 cu. in.
Horsepower 290 @ 6200 rpm
Torque (lb-ft) 267 @ 4700 rpm
Transmission 9-speed multi-mode automatic
Wheelbase / Length 111.0 in. / 194.2 in.
Curb Weight 4257 lbs.
Pounds Per Horsepower 14.7
Fuel Capacity 19.5 gal.
Fuel Requirement 91 octane unleaded premium gasoline
Tires 245/50R20 102H m+s Continental Cross Contact
Brakes, front/rear vented disc / solid disc,
Suspension, front/rear independent strut / independent multilink
Ground Clearance 7.3 inches
Drivetrain transverse front engine, full-time automatic all-wheel drive
PERFORMANCE
EPA Fuel Economy - miles per gallon city / highway / observed 19 / 26 / 20
0 to 60 mph 6.0 sec
Towing Capacity 5,000 lbs.
OPTIONS AND CHARGES</p>
Destination Charge $ 940
LEARN MORE: The Most In-Depth Acura Consumer Research - Anywhere!