2017 Kia Cadenza Limited Review by Carey Russ +VIDEO
DRIVING DOWN THE ROAD WITH CAREY RUSS
• SEE ALSO: Kia Research and Buyers Guide
Entry-luxury Kia? No, that's not an oxymoron. It's an accurate description of the Korean manufacturer's Cadenza sedan, now in its second generation. It's new for 2017, most apparently in exterior and interior styling, but with up-to-date electronic convenience, infotainment, and safety systems as well. The engine is familiar, a 3.3-liter direct-injected V6 with 290 horsepower and 253 lb-ft of torque, but it now drives the front wheels through an eight-speed automatic transmission instead of the old six-speed. Its unibody structure has been re-engineered for less weight and greater rigidity, which with suspension enhancements makes for an improved driving experience. In style and demeanor, the Cadenza is much closer to its European competitors than those from Asia or the US.
Which shouldn't be surprising, as Kia's co-President and chief stylist Peter Schreyer is German. The new Cadenza's design was done at Kia's Southern California studio, and perhaps portends new developments for the company. It's familiar but further evolved from previous Kia styling. Inside as well, the 2017 Cadenza is more German than Asian, with simple, flowing lines and shapes. Trim levels are Premium, Technology, and Limited. My test car for the past week was a Limited, with no options. None necessary, as everything is included, with "everything" meaning every contemporary comfort, convenience, and safety feature including a panoramic sunroof, head-up information display, active cruise control, lane-keeping and collision warning systems, a trick surround-view camera system that helps in tight or poor-visibility parking situations, Nappa leather seating, heated and ventilated in front, a heated steering wheel, LEDs for most lighting and more.
On the road, the Cadenza was quiet and comfortable as expected of a luxury car. It was quick enough to deal easily with too-short highway onramps, and its suspension tuning struck a near-perfect balance between compliant comfort and sporty handling. It's "luxury", not "sport-luxury", but still is a fine car to drive, even on a "sports car" type road. Rear seat passengers were appreciative of the room back there, especially legroom. Fuel economy, with a 22-mpg average for the week, mostly city and secondary roads with one 50-mile highway trip, was just under the EPA 23 mpg average — but my right foot gets plenty of exercise and level ground is a rarity where I live and drive. No complaint there. Kia is edging ever closer to the big names in the luxury class, not just the middle-class mass market players, and the new Cadenza shows why and how.
APPEARANCE: This is the best expression of Kia's design language yet. Yes, I can see influences and echoes of other cars — but I could say the same about many others as well. Here, the tabbed "tiger nose" grille is semi-hexagonal, with a rounded bottom. Upper trim levels get vertical chrome bars and LED projector-beam headlights and foglamps. All have LED running lights and taillights. Bright chrome trim surrounding the side windows and on the lower part of the doors and above the taillights is a luxury-look touch. The passenger cabin is long, with a highly-swept windshield and rear window in the modern idiom. A slight ducktail at the trailing edge of the trunk improves both looks and aero. Twin exhaust finishers are found in the lower rear fascia. The Cadenza's styling is cohesive and decidedly Kia.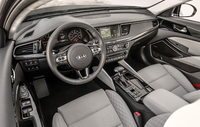 COMFORT: Inside, if you were dropped in, blindfolded, with all logos removed, you might think the car was German. Here, white Nappa leather, pleated on the bolsters, is an elegant touch. Leather and soft-touch materials, metallic-look binding, and woodgrain trim are up to entry-luxury standards. Everything that could be power-assisted is, including the steering wheel, adjustable for both tilt and reach. Instruments are bright and easily visible, with no glare problems. A useful information display sits between the tach and speedometer, with a head-up display showing speed, speed limit, and other useful information unobtrusively at the bottom of the windshield in front of the driver. Audio, phone, cruise, and information systems are controlled from switches on the steering wheel. The UVO touchscreen in the center of the dash accesses audio (AM/FM/SXM radio, CD, and USB and jack inputs plus Pandora, Apple CarPlay and Android Auto), navigation, phone, image, UVO apps and services, wifi, and even Sound Hound. Climate control is by means of simple controls beneath the screen, flanking an analog clock. Further well-marked audio controls live beneath the CD slot.
Front seats have both heat and ventilation, and a heated steering wheel adds comfort on cold days. The contoured outboard positions of the rear seat have cushion heat, and vents at the rear of the console direct heat or cool air as desired. There is exemplary space back there. A central ski-passthrough adds convenience. Trunk hinges are conventional but shielded from luggage damage, and a space-saver spare lives under the trunk floor.
SAFETY: Extensive use of advanced high-strength steel for the new Cadenza's unibody structure and high tensile strength steel for body panels improves both structural rigidity and passive safety. All Cadenzas have a full complement of airbags, including driver's knee, front and rear crumple zones and side-impact door beams, strong antilock disc brakes, electronic stability control and traction control, hill-start assist, and a tire-pressure monitoring system. Electronic systems including Advanced Smart Cruise Control with stop-and-go functionality, Forward Collision Warning, Autonomous Emergency Braking, Lane Departure Warning, and the Smart Blind Spot Detection System, which incorporates lane-keeping assist functionality.
RIDE AND HANDLING: Drop someone into a passenger seat blindfolded and they may think they're in a European luxury sedan. The Cadenza's MacPherson strut front, multilink rear suspension is tuned in the Euro-luxury manner, compliant for comfort but stiff enough for maneuverability and an enjoyable driving experience. Shock damping is very good, no corner-cutting there as Amplitude Selective Damping shock absorber are used. The electrically-assisted steering benefits from use of a 32-bit instead of 16-bit processor. Use of aluminum for some suspension components reduces unsprung weight, for better response to driver and road inputs. Better aerodynamics and increased soundproofing reduce interior noise for a relaxing driving experience.
PERFORMANCE: The engine is familiar, Kia's 3.3-liter V6. It has an aluminum alloy block and heads, dual overhead camshafts with continuously-variable cam phasing for optimum efficiency, and direct fuel injection to allow a high 12:1 compression ratio for further improved efficiency in both (increased) power production and (decreased) fuel consumption. A slight retuning to improve fuel economy decreases horsepower from 293 to 290 (at 6400 rpm) and torque from 255 to 253 lb-ft at 5200 rpm, but with plenty all the way down to just off idle. That's not a noticeable change. More important is the new eight-speed automatic transmission. It's lighter in weight than the old six-speed, and aids both acceleration and cruising fuel economy. As is increasing the case, there are multiple transmission modes plus manual shifting via paddles on the steering wheel. I found "Smart" to work the best, perhaps combining the shift program of "Sport" under acceleration with that of "Eco" in steady-state cruising. There was plenty of power, even for short highway onramps into fast downhill traffic. EPA estimates are 20 mpg city, 28 highway, 23 overall. With less highway and lots of non-level ground and highway speeds closer to 75 mph than 50, I saw a 22-mpg average for the week. Which is not bad at all for a nearly two-ton, nearly 300-horsepower luxury car.
CONCLUSIONS: Kia stakes its claim in entry-luxury territory with the second-generation Cadenza.
SPECIFICATIONS
2017 Kia Cadenza Limited
Base Price $ 44,390
Price As Tested $ 45,290
Engine Type DOHC 24-valve aluminum alloy V6 with direct fuel injection
Engine Size 3.3 liters / 204 cu. in.
Horsepower 290 @ 6400 rpm
Torque (lb-ft) 253 @ 5200 rpm
Transmission 8-speed automatic
Wheelbase / Length 112.4 in. / 195.7 in.
Curb Weight 3780 lbs.
Pounds Per Horsepower 13.0
Fuel Capacity 18.5 gal.
Fuel Requirement 87 octane unleaded regular gasoline
Tires 245/40R19 94V Michelin Primacy mxm4 m+s
Brakes, front/rear vented disc / solid disc,
Suspension, front/rear independent MacPherson strut / independent multilink
Drivetrain transverse front engine, front-wheel drive
PERFORMANCE
EPA Fuel Economy - miles per gallon city / highway / observed 20 / 28 / 22
0 to 60 mph 6.7 sec
OPTIONS AND CHARGES
Destination Charge $ 900