2016 Mazda CX-9 Signature AWD Review by Carey Russ +VIDEO
The Three-Row Crossover For People Who Enjoy Driving
DRIVING DOWN THE ROAD WITH CAREY RUSS
• SEE ALSO: Mazda Research and Buyers Guide
There are three-row SUVs and crossovers, and there is the Mazda CX-9. Other three-row non-minivan vehicles are fine for hauling people and stuff, but mostly lacking in having an engaging driving experience. The CX-9 is different. It's just as functional as any less-than-humongous three-row crossover, with the driving experience expected from a Mazda.
Introduced in 2007, the CX-9 continued with only minor changes until model year 2016. "All new" is a seriously overused term in the auto industry, but the new CX-9 really is all new, with little but the name unchanged. If its exterior styling shows continuity with its immediate predecessor, no body panels are the same. It's fractionally shorter, on a two inch longer wheelbase. It's notably lighter in weight, to the tune of 190 pounds in front-wheel drive trim or 287 pounds with all-wheel drive. And that all-wheel drive system is new, a next-generation development of that introduced in the CX-5.
Much of that weight loss is due to the new unibody structure, but the CX-9's new engine gets credit, too. Where the first generation had a 3.7-liter V6 that made 273 horsepower and 270 lb-ft of torque, the new one gets a 2.5-liter turbocharged four developed especially for the CX-9. Yes its maximum horsepower — 250 on unleaded premium or 227 on regular — is less. Torque is what really counts in daily driving or towing, and the 2.5 turbo's 310 lb-ft handily bests the old V6. On less fuel, as well. It's matched to a six-speed multi-mode automatic transmission.
As before, there are Sport, Touring, and Grand Touring trim levels, in order of increasing equipment and cost, offered in both front- and all-wheel drive form. A new Signature level has been added at the top, AWD only. All use the same engine and transmission, and even the Sport is comprehensively-equipped, with LED head- and tail-lights, a rear wiper, three-zone climate control, cruise control, the MazdaConnect infotainment system with voice control, SMS text audio delivery, Bluetooth and internet streaming, and more. Upholstery may be cloth, but there are plenty of interior storage spaces and lighting to see things in them. Going upscale adds accoutrements like heated outside mirrors, a power liftgate, leather seats, heated and power-adjustable in front, a larger information display, more USB ports, 20-inch wheels, adaptive lighting, a moonroof, head-up display, Bose® audio, radar cruise control, real aluminum interior trim, and more. The Signature adds LED grille accent lighting, Nappa leather seating, and Japanese rosewood interior trim for a luxury-level experience.
Sport-luxury three-row crossover? Sure, why not? That describes the CX-9 Signature that I've just spent a week driving. Yes, it's a large vehicle, just over 199 inches (16 and two-thirds feet) long, 77.5 inches wide, and 69 inches high to the top of the shark-fin Sirius/XM antenna. It doesn't feel like a large vehicle. It drives much smaller, almost like an oversized Mazda3 hatchback. Quick reflexes — letting the transmission do the work in D, there was never any turbo lag, and ride and handling qualities were far more "sporty" than "utility", with smooth comfort and an commendably quiet cabin. Unlike many an other-than-supersize SUV, the third row will fit two smallish adults and they won't hate you afterwards. My use of the engine's torque, and the hilly nature of my part of the world, didn't help fuel economy, with a 22-mpg average. EPA estimates are 23 city, 27 highway. The last V6 CX-9 I drove was good for 18 mpg, so even 22 is a significant improvement.
APPEARANCE: It's a Mazda. No doubt there — take a CX-5, the first Mazda crossover developed under the keep it light and efficient "Skyactiv" design philosophy, stretch it out, add luxury brightwork under the grille, around the side windows, and highlighting the rear, and you'd get a new CX-9. The 2017 second-generation CX-5 unsurprisingly shows even more similarity. The winged logo in the center of the rounded five-point grille is hardly necessary. Bright LED lights front and rear should go a long time before needing replacement.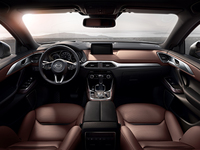 COMFORT: In premium Signature trim, the CX-9 has nearly all of the features expected in a luxury vehicle except for the upscale brand name. The design is familiar Mazda, geometrically simple yet visually interesting, with none of the over-complexity of some other Japanese manufacturers. The signature brown Nappa leather (front and outboard second-row) is matched by soft-touch instrument panel and door trim and close in color to the Japanese rosewood on the doors and center stack. Yes, that is real aluminum trim, not plastic. Front seats are power-adjustable, with heatable cushions and a high level of comfort and support. Instruments are brightly lit and easily visible, with no glare. GT and Signature models get a useful multi-information display to the right of the speedometer, and here the Active Driving Display head-up system programmably displays tach, speed, speed limit, navigation, and electronic safety systems information unobtrusively at the lower part of the windshield, below the driver's main field of view. The screen that projects from the center top of the dash shows audio, communication, and information system information and is controlled by the knob and buttons on the console. It's simple and intuitive. Radar cruise, audio, and phone systems are accessed through buttons on the steering wheel, which is manually adjustable for tilt and reach and features a comfortable leather rim.
The second-row bench is split 60/40, with about six inches of fore-and-aft travel and 30 degrees of back angle adjustment. The outboard positions are contoured for comfort and support, but it's wide enough that the center position is reasonable, at least for moderate distances. Each section is spring-loaded for easy access to the third row, which can fit two people up to about 5' 5". There are useful storage spaces throughout the cabin, even cupholders and open trays for the third row. Both the second and third rows fold flat when it's time to haul large items and a power tailgate adds convenience.
SAFETY: Active safety is taken care of by good chassis dynamics and maneuverability, and quick acceleration and strong braking when necessary. The CX-9's structure helps protect passengers, as do strong antilock brakes with electronic brake-force distribution and brake assist, dynamic stability control, traction control, and roll-stability control. All models also have a backup camera. GT and Signature models have electronic systems including Land Departure Warning, Lane-Keep Assist, backup sensors, Smart Brake Support, and Smart City Brake Support.
RIDE AND HANDLING: If you wonder how well the CX-9 works in pouring rain and standing water, the answer is "very well". At one point I came around a corner in rain, at night, and saw a minor mudslide across the road. It had been run over before, so I just slowed a bit and followed the tire tracks. Hardly noticed. Later that night when coming home I had to detour a bit as the road was flooded. No problem crossing a swollen gutter with about a foot and a half of rushing water (and preferable to the several feet further down the road, no thanks on that!). The i-ACTIV AWD systems uses sensors for 27 different factors and dual processors to calculate and adjust torque to the front and rear wheels 200 times a second. In better conditions, even strong storm winds were barely noticeable. Credit a strong, rigid unibody structure and properly designed and calibrated fully-independent MacPherson strut / multilink suspension. The electrically-assisted power steering is not over-assisted, for proper control. No, a CX-9 is not as nimble as a Miata, but it is quieter and will carry a whole lot more.
PERFORMANCE: The CX-9's 2.5-liter turbo four was designed for the car, and for the uses for which its drivers bought it. It's a long-stroke 16-valve twincam design with aluminum alloy block and heads and direct fuel injection. Nothing unusual about that. Details matter, and here it shines. The exhaust manifold is designed to deliver exhaust pulses evenly to the turbo, and also to help exhaust scavenging. (this is the true meaning of "tuned exhaust", not one with a pleasant sound) The Dynamic Pressure Turbo itself has two ports for the engine's exhaust, a small one for quick spooling from low revs and a larger one that opens for yet more power at higher revs. It's not a "screamer" high-revving sports engine — maximum torque, 310 lb-ft worth, is developed at a very useful 2000 rpm, with peak horsepower at 5000 and a 6300 rpm redline. No need to be acquainted with the rev limiter. And congratulations to Mazda for giving horsepower ratings for both premium (250) and regular (227) gasoline. Seven, eight, and even nine-speed automatic transmissions are increasingly common, but not necessarily reliable. The CX-9's engine has such a wide torque band that six is plenty, and proven technology is a good thing. There are manual-shift and sport modes as well as the default D. Which works just fine. If the 22 mpg I saw for the week didn't meet the EPA estimates, it still was an improvement over the old V6. As is 0-60 acceleration, by about half a second. Win-win, less weight, more performance on less fuel! Towing ability is a useful 3500 pounds.
CONCLUSIONS: The newest Mazda CX-9 is the three-row crossover for people who enjoy driving.
SPECIFICATIONS
2016 Mazda CX-9 AWD
Base Price $44,015
Price As Tested $45,215
Engine Type DOHC turbocharged 16-valve aluminum alloy inline 4-cylinder with direct fuel injection
Engine Size 2.5 liters / 152 cu. in.
Horsepower 250 @ 5000 rpm on 93 octane unleaded premium 227 @ 5000 rpm on 87 octane unleaded regular
Torque (lb-ft) 310 @ 2000 rpm
Transmission 6-speed multi-mode automatic
Wheelbase / Length 115.3 in. / 199.4 in.
Curb Weight 4301 lbs.
Pounds Per Horsepower 17.2 / 18.9
Fuel Capacity 19.5 gal.
Fuel Requirement 93 octane unleaded premium gasoline for highest performance, 87 octane with reduced performance
Tires 255/50 R20 104V m+s Falken ZIEX CT50 A/S
Brakes, front/rear vented disc / solid disc, ABS, EBD standard
Suspension, front/rear independent MacPherson strut / independent multilink
Ground Clearance 8.8 inches unladen
Drivetrain transverse front engine, all-wheel drive
PERFORMANCE
EPA Fuel Economy - miles per gallon city / highway / observed 23 / 27 / 22
0 to 60 mph 7.2 sec
Towing Capacity 3500 lbs.
OPTIONS AND CHARGES
Machine Gray Paint $ 300
Destination Charge $ 900
LEARN MORE: The Most In-Depth Independent Mazda Consumer Research - Anywhere!