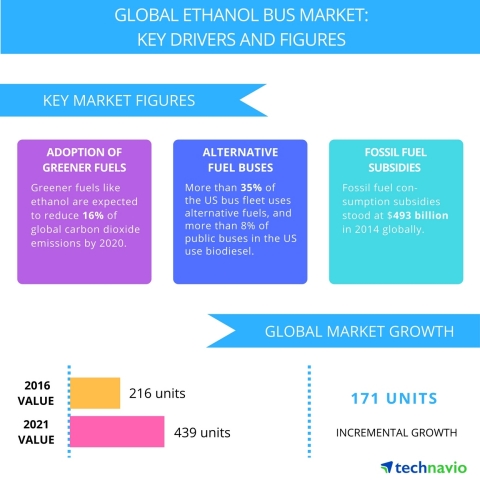 Technavio has published a new report on the global ethanol bus market from 2017-2021. (Graphic: Business Wire)
Download
Full Size
Small
Preview
Thumbnail
???pagination.previous??? ???pagination.next???
Technavio has published a new report on the global ethanol bus market from 2017-2021. (Graphic: Business Wire)

Full Size

Small

Preview

Thumbnail

Full Size

Small

Preview

Thumbnail
LONDON—Technavio analysts forecast the global ethanol bus market to grow at a CAGR of over 10% during the forecast period, according to their latest report.
The research study covers the present scenario and growth prospects of the global ethanol bus market for 2017-2021. To calculate the size of the market, Technavio analysts have considered a combination of top down and bottom up approaches, wherein our in-house databases have been used.
The global transportation segment accounts for a significant percentage of the total energy consumption. For instance, in the US, transportation accounts for 28% of total energy consumption and over 90% of this is petroleum while natural gas and renewable sources of energy hold the minority share. In global road transportation, the annual energy consumption was over 80 quadrillion British thermal units in 2015 and is expected to increase at a CAGR of over 1% in the next two decades, petroleum being the dominant source of energy.
Request a sample report: http://www.technavio.com/request-a-sample?report=55497
Technavio's sample reports are free of charge and contain multiple sections of the report including the market size and forecast, drivers, challenges, trends, and more.
Technavio automotive analysts highlight the following three factors that are contributing to the growth of the global ethanol bus market:
Scrapping of old pollutive vehicles for ethanol
Economic revival across regions expected to drive the ethanol bus market
Automakers showing an increasing shift toward ethanol bus market
Scrapping of old pollutive vehicles for ethanol
One of the major thrust points for the push for eco-friendly biofuels like ethanol is the poor air quality in both China and India. Both Beijing, China and New Delhi, India are some of the worst-case examples of how not to manage air pollution. These cities have, in recent times, seen intense smoke, smog, and other weather conditions, which can be squarely blamed on the rising vehicular pollution and other pollutive industries.
Gaurav Kumar Ganguly, a lead automotive manufacturing research analyst at Technavio, says, "Scrappage-orders are expected to wipe out a significant portion of the old commercial vehicle fleets operating in these areas, leading to an increase in replacement demand. Such replacements, if done through eco-friendly biofuel avenue, would be an important step toward a pollution-free future."
Economic revival across regions expected to drive the ethanol bus market
Developing countries of Central and South America and APAC have been witnessing positive economic scenario with better disposable incomes, driving the sales of passenger and commercial vehicles in the global automotive market. Also, the revival of the US economy post-recession is expected to have a positive influence on the market.
"As countries enforce mandates for ethanol blends to be used in vehicles, the steadily growing vehicle population will drive the market for ethanol-based vehicles. In addition to this, the efforts to streamline ethanol production process will also benefit the market for FFVs," adds Gaurav.
Automakers showing an increasing shift toward ethanol bus market
The increasing concern about GHG emissions has led the governments across the globe to focus on alternative sources of fuel. Consequently, a lot of emphases have been made in the transportation sector because of the sectors' increasing consumption (indicated by the increase in the number of vehicles hitting the road every day). The transportation sector is the second largest GHG emissions contributor, necessitating aggressive steps to curb the same.
Ethanol-based vehicles that have notable GHG emissions benefits vis-a-vis their gasoline counterparts are expected to be driven by such stringent government measures to cut GHG emissions. Vehicle emission of CO₂ is offset by growing plants that are used to make the ethanol, which, in turn, consumes CO₂. Thus, FFVs that consume ethanol produce less net CO₂ than their conventional counterparts per mile traveled.
Browse Related Reports:
Global Ethanol-based Vehicle Market 2016-2020
Global Sports Utility Vehicle Market 2017-2021
Global Automotive Solar Carport Charging Station Market 2017-2021
Become a Technavio Insights member and access all three of these reports for a fraction of their original cost. As a Technavio Insights member, you will have immediate access to new reports as they're published in addition to all 6,000+ existing reports covering segments like automotive components, powertrain, and wheels and tires. This subscription nets you thousands in savings, while staying connected to Technavio's constant transforming research library, helping you make informed business decisions more efficiently.
About Technavio
Technavio is a leading global technology research and advisory company. The company develops over 2000 pieces of research every year, covering more than 500 technologies across 80 countries. Technavio has about 300 analysts globally who specialize in customized consulting and business research assignments across the latest leading edge technologies.
Technavio analysts employ primary as well as secondary research techniques to ascertain the size and vendor landscape in a range of markets. Analysts obtain information using a combination of bottom-up and top-down approaches, besides using in-house market modeling tools and proprietary databases. They corroborate this data with the data obtained from various market participants and stakeholders across the value chain, including vendors, service providers, distributors, re-sellers, and end-users.
If you are interested in more information, please contact our media team at media@technavio.com.
Contacts
Technavio Research
Jesse Maida
Media & Marketing Executive
US: +1 630 333 9501
UK: +44 208 123 1770
www.technavio.com