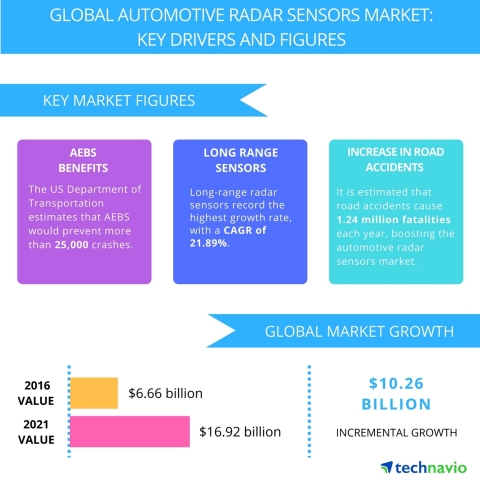 Technavio has published a new report on the global automotive radar sensors market from 2017-2021. (Graphic: Business Wire)
Download
Full Size
Small
Preview
Thumbnail
???pagination.previous??? ???pagination.next???
Technavio has published a new report on the global automotive radar sensors market from 2017-2021. (Graphic: Business Wire)

Full Size

Small

Preview

Thumbnail

Full Size

Small

Preview

Thumbnail
LONDON—Technavio's latest report on the global automotive radar sensors market provides an analysis of the most important trends expected to impact the market outlook from 2017-2021. Technavio defines an emerging trend as a factor that has the potential to significantly impact the market and contribute to its growth or decline.
Neelam Barua, a lead analyst from Technavio, specializing in research on automotive electronics sector, says, "The data for the automotive radar sensors market has been arrived by the bottom-up sizing approach by assimilating the sizes for its constituent markets by applications. This has further been refined by selective significance applied to each constituent market depending on the incidence of automotive radar sensors in the market."
Long-range radar sensors will be more prevalent in North America and Western Europe owing to the presence of a large consumer base that prefers autonomy. The US, especially, is the hotbed of testing and implementation of autonomous vehicles by Google and Tesla. In 2015, more than 81% of sales of Tesla vehicles was from the US. The country was followed by Canada, accounting for 6% of the sales.
Request a sample report: http://www.technavio.com/request-a-sample?report=55586
Technavio's sample reports are free of charge and contain multiple sections of the report including the market size and forecast, drivers, challenges, trends, and more.
The top three emerging trends driving the global automotive radar sensors market according to Technavio automotive research analysts are:
Bi-static radar sensors to win over mono-static radar sensors
Ray-tracing simulation is expected to replace drive testing of automotive radar sensor
SoC solutions are expected to become new normal in automotive radar sensors market
Bi-static radar sensors to win over mono-static radar sensors due to stringent requirements
Detection range is the main specification for long- and mid-range radar systems. Obtaining a high detection range requires high transmitter output power and highly sensitivity receiver. Meeting such stringent performance goals is more difficult for monostatic radar systems when compared with their bi-static counterparts.
The use of a coupler in front of the antenna in the case of monostatic radars has been found to introduce additional loss in the RF path. This loss, in turn, degrades the noise performance of the system and affects the conversion gain of the receiver and the output power of the transmitter.
Ray-tracing simulation is expected to replace drive testing of automotive radar sensor
Systems that consist of regions of varying propagation velocity, absorption characteristics, and reflecting surfaces are the reality, and modern radar waves need to pass through such media to be effective. Usually, under such varied circumstances, wavefronts may bend, change direction, or reflect off surfaces, thus complicating their analysis.
"Automotive radar sensor-based systems need to be tested under all circumstances and under diverse ambient media, to assess their efficacy and effectiveness. In current procedures, this involves hundreds of scenarios that need to be tested to full proof the system," says Neelam.
SoC solutions are expected to become new normal in automotive radar sensors market
System-on-chip (SoC) solutions are currently the go-to technology that can incorporate multiple sensors on a single hardware platform. Due to the current micro-trend for micro-electromechanical systems (MEMS)-based sensors being in the aegis of monolithic design, there is an increased need for optimized integration. SoC is an integrated circuit that incorporates multiple systems on a single chip.
The primary requirement of a SoC-based MEMS sensor solution would be of the fundamental nature (i.e., size). Further miniaturization of sensors is expected to become necessary. Currently, the node size of a usual automotive sensor is around the range of 48-28 nm.
The key vendors are as follows:
InnoSenT
Robert Bosch
Smartmicro
Autoliv
Continental
ZF-TRW
Wistron NeWeb
NXP Semiconductors
HELLA
DENSO
Delphi Automotive
Browse Related Reports:
Global Automotive LIDAR Sensors Market 2016-2020
Global Automotive Traffic Jam Assist Systems Market 2017-2021
Global Automotive Advanced Emergency Braking System Market 2016-2020
Become a Technavio Insights member and access all three of these reports for a fraction of their original cost. As a Technavio Insights member, you will have immediate access to new reports as they're published in addition to all 6,000+ existing reports covering segments like automotive components, automotive series, and powertrain. This subscription nets you thousands in savings, while staying connected to Technavio's constant transforming research library, helping you make informed business decisions more efficiently.
About Technavio
Technavio is a leading global technology research and advisory company. The company develops over 2000 pieces of research every year, covering more than 500 technologies across 80 countries. Technavio has about 300 analysts globally who specialize in customized consulting and business research assignments across the latest leading edge technologies.
Technavio analysts employ primary as well as secondary research techniques to ascertain the size and vendor landscape in a range of markets. Analysts obtain information using a combination of bottom-up and top-down approaches, besides using in-house market modeling tools and proprietary databases. They corroborate this data with the data obtained from various market participants and stakeholders across the value chain, including vendors, service providers, distributors, re-sellers, and end-users.
If you are interested in more information, please contact our media team at media@technavio.com.
Contacts
Technavio Research
Jesse Maida
Media & Marketing Executive
US: +1 630 333 9501
UK: +44 208 123 1770
www.technavio.com