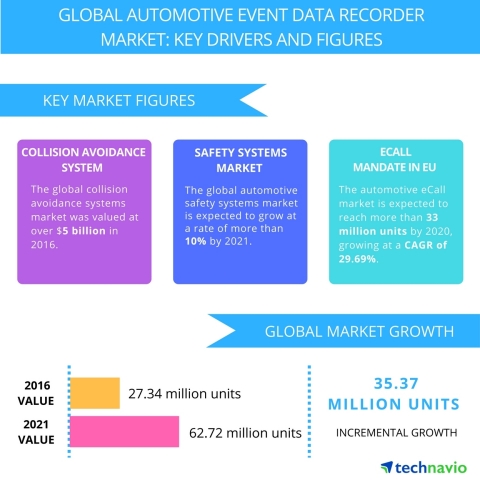 Technavio has published a new report on the global automotive event data recorder market from 2017-2021. (Graphic: Business Wire)
Download
Full Size
Small
Preview
Thumbnail
???pagination.previous??? ???pagination.next???
Technavio has published a new report on the global automotive event data recorder market from 2017-2021. (Graphic: Business Wire)

Full Size

Small

Preview

Thumbnail

Full Size

Small

Preview

Thumbnail
LONDON—Technavio research analysts forecast the global automotive event data recorder (EDR) market to grow at a CAGR of over 18% during the forecast period, according to their latest report.
The research study covers the present scenario and growth prospects of the global automotive event data recorder market for 2017-2021. The market size has been derived from EDRs' penetration in the overall passenger cars market due to the regulations mandating the same in several regions.
North America, which was the earliest adopter of EDRs, is still the largest market for EDRs. Europe and the other regions lag behind the Americas in terms of EDR adoption. The adoption rate of EDRs also varies from one vehicle to another (such as passenger cars and commercial vehicles) across geographies. For instance, the US exhibits a significant penetration level of EDRs in the passenger cars category due to regulatory backing while countries in Europe show better adoption rates of EDRs in public transport, police vehicles, and other commercial vehicles. Though this report covers EDRs in the passenger vehicle and light vehicle (up to 8,500 lb) categories only, this geographical difference in adoption rates is important to note.
Request a sample report: http://www.technavio.com/request-a-sample?report=55623
Technavio's sample reports are free of charge and contain multiple sections of the report including the market size and forecast, drivers, challenges, trends, and more.
Technavio automotive analysts highlight the following three factors that are contributing to the growth of the global automotive event data recorder market:
EDRs - most reliable sources of evidence for road crash cases
Growing demand for assessing the efficacy of safety systems in vehicles
Standardization of EDRs across car variants and provision of EDRs as bundled offerings with other passive safety systems
EDRs: most reliable sources of evidence for road crash cases
Road crash cases are increasing in number, and many times, the drivers are at fault. However, it is often difficult to convict or acquit the person committing the error due to the lack of evidence. In such cases, EDR data can be very useful. Courts can issue legal orders to the owners of the car asking them to reveal the EDR data and in such cases, the owners are legally required to disclose the extracted data.
Secondary sources reveal that North American courts have used EDR data as evidence in several road crash incidents that have caused death or severe vehicle damage. Similar instances of the usage of EDR data in judicial courts in Europe (the UK) and Australia were also found. Interestingly, in most of these cases, the crashes occurred due to drivers crossing the speed limits set by the road safety regulating bodies.
Growing demand for assessing the efficacy of safety systems in vehicles
OEMs are increasingly installing safety systems in vehicles as these systems have become a competitive must-have for them. Also, regulatory agencies are also forcing the OEMs to introduce newer safety systems, adding to their cost burden. However, the real-time efficacy of these systems can be determined only during the event of a crash or an avoided crash.
Neelam Barua, a lead automotive electronics analyst at Technavio, says, "As EDRs can provide information on the efficacy of these safety systems during actual accidents, they are useful for identifying which safety systems are most needed in vehicles. There have been instances of vehicles being recalled due to the discovery of faults in safety systems during the interpretation of EDR data."
Standardization of EDRs across car variants and provision of EDRs as bundled offerings with other passive safety systems
The penetration of both active and passive safety systems in passenger cars has increased due to an increase in demand from consumers (fueled by an increase in the awareness of NCAP ratings) and regulatory mandates. Due to the increased demand from consumers, passenger safety has become a prime concern for players across the value chain leading to an increase in the adoption of these safety systems. Automobile manufacturers are focusing on improving the integration of passive safety systems with active safety systems such as side airbags, seat belts, advanced emergency braking systems, and night vision systems. As these systems, when integrated, have proven results on reducing the impact of accidents.
"Passive safety systems such as airbags that were only available in premium vehicles have now become standard parts of vehicles, especially in the developed regions, due to regulatory mandates and increasing consumer awareness," adds Neelam.
Top vendors:
Bosch
Digital Ally
Octo Telematics
Browse Related Reports:
Traffic Safety Products Market in the US 2016-2020
Global Automotive Personal Navigation Systems Market 2016-2020
Global Commercial Vehicle Remote Diagnostics Market 2017-2021
Become a Technavio Insights member and access all three of these reports for a fraction of their original cost. As a Technavio Insights member, you will have immediate access to new reports as they're published in addition to all 6,000+ existing reports covering segments like automotive components, automotive series, and powertrain. This subscription nets you thousands in savings, while staying connected to Technavio's constant transforming research library, helping you make informed business decisions more efficiently.
About Technavio
Technavio is a leading global technology research and advisory company. The company develops over 2000 pieces of research every year, covering more than 500 technologies across 80 countries. Technavio has about 300 analysts globally who specialize in customized consulting and business research assignments across the latest leading edge technologies.
Technavio analysts employ primary as well as secondary research techniques to ascertain the size and vendor landscape in a range of markets. Analysts obtain information using a combination of bottom-up and top-down approaches, besides using in-house market modeling tools and proprietary databases. They corroborate this data with the data obtained from various market participants and stakeholders across the value chain, including vendors, service providers, distributors, resellers, and end-users.
If you are interested in more information, please contact our media team at media@technavio.com.
Contacts
Technavio Research
Jesse Maida
Media & Marketing Executive
US: +1 630 333 9501
UK: +44 208 123 1770
www.technavio.com