2017 Mazda MX-5 Miata Grand Touring Review by Carey Russ +VIDEO
There's no changes to Mazda's MX-5 Miata roadster for its sophomore year, because none are needed!
DRIVING DOWN THE ROAD WITH CAREY RUSS
I was supposed to get a different car this week, but something happened and I ended up with a 2017 Mazda MX-5 Miata Grand Touring instead. No complaints from me, even though it's winter, with cold temperatures and sporadic heavy rain. The Miata was, as always, thoroughly enjoyable, with a degree of driver involvement missing from most cars today. Even with the top up — and I kept it there with the exception of a few minutes of almost 60-degree sunshine — visibility is good, with the proper use of head and mirrors, and it has all of character and characteristics that made the small working-class sports cars of the 1950s and `60s good, with none of their sometimes-dodgy build quality and electrical defects. The windshield wipers and lights work just fine, even at night in the rain.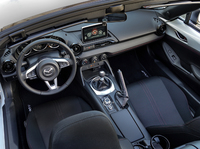 The fourth-generation Mazda MX-5 Miata debuted last year, with a mission brief to return to basics. By the third generation, the MX-5 hadn't quite gotten bloated and out of shape, but there was room for improvement for both efficiency and performance. The new one dropped 150 or so pounds thanks to careful design and race car-builder obsessive attention to detail to minimize mass without sacrificing structural integrity. The 2.0-liter twincam four-cylinder engine gained direct fuel injection and other changes. It lost a little horsepower but gained torque, and all at lower engine revs for easier driving and likely better durability. No need to meet the rev limiter on a daily basis, and remember, there's less weight to move. So the new Miata is quicker in acceleration while being less thirsty — a win-win situation, especially if you're thinking that a "small, economical car" could be a good commuter and need to make a logical argument for that. I got a solid 31-mpg average during my week with a 2017 MX5 Grand Touring, and that was without trying for mileage at all. Mostly I was trying for maximum fun, which usually means minimal fuel economy.
What's new with the MX-5 Miata for 2017? For the regular roadster, at this point in time, nothing. It's still the back-to-basics but far better than basic contemporary interpretation of the classic post-WWII affordable sports car. Trim levels are Sport, with everything you really need for everyday use; Club, with "Plus-One" lower-profile, wider 17-inch tires and wheels, a limited-slip differential and front shock tower brace on manual-box cars, aero kit and upgraded cabin electronics, and optional package of BBS alloy wheels and Brembo front brakes; and Grand Touring, with leather, infotainment upgrades, and most of the contemporary electronic nanny, er, safety systems.
For anyone wondering if the "Power Retractable Hard Top" (PRHT) model would ever return, the answer is yes. But it's a bit different, and now called the "Retractable Fastback", or RF. As suspected from that name, its metal folding/retractable top doesn't have the short, regular-top look of the PRHT, but a fastback profile. From the side and from a distance. A closer look shows that the rear window is vertical, with flying buttress extensions to the sides for aerodynamic (and styling) efficiency, in the manner of the Lotus Europa, Ferrari 246 Dino and 275 LM, or Porsche 904, to name a few examples. The first examples are trickling into dealers as I write — and are all spoken for. If a Miata works for you but the soft top could be a problem, the RF is worth investigating. But it will be a bit heavier and more expensive. Life is tradeoffs — but any MX-5 Miata requires minimal compromise between fun and efficiency.
APPEARANCE: Hide the Mazda logo, give it an Italian-sounding name, and add a "1" in front of the MSRP and maybe no one would be the wiser. Styling is simple and elegant. If the general shapes, curves, and angles are familiar from other implementations of Mazda's "KODO Soul Of Motion" design language, the MX-5 is the best instance yet. It has classic long-hood, short-deck proportions with the cabin set well back, and prominent fenders. Low, wide LED headlights and lower "cat's whiskers" LED running lights frame the rounded five-sided air intake.
COMFORT: The Grand Touring trim level is the "luxury" model MX-5, meaning leather seating with heated cushions. It has all you need for serious driving, and a few upscale amenities, but not to the detriment of its character. Supportive seats, very good placement of controls -- steering wheel, shifter, and pedals -- even though the steering wheel adjusts for tilt only, good visibility, and plenty of feedback from what is important when driving are all there. Mirror and window adjustment are power; the top is manual. And can go up or down in seconds when needed. The tachometer takes center stage in the instrument cluster. Interior materials are appropriate for the class and price point, and the design is functional and pleasant. And yes, there are AM, FM, XM, and streaming audio choices, Bluetooth connectivity, and navigation and information systems but those are non-intrusive. Cabin noise levels are high, but that is expected. It's a sports car, not a luxury sedan. The trunk holds approximately the contents of two carry-on bags (4.59 cubic feet), plenty for lightweight touring for two people. Golf clubs? Um, sports car. Passenger seat, maybe, if you must.
SAFETY: The new MX-5 is designed and built to meet or exceed worldwide safety standards. Its unibody structure takes care of that, augmented by front and side airbags and side door beams. An engine-immobilizer antitheft system is standard as is a tire-pressure monitoring system. Roll hoops hide unobtrusively behind the seats. Strong four-wheel disc brakes are standard. Brembo front discs and calipers are available in Club models with manual transmission. Blind-spot monitoring with cross-traffic alert, lane-departure warning, and adaptive front lighting are standard in the Grand Touring.
RIDE AND HANDLING: Compared to the Club model with all of the sports suspension goodies — Bilstein shocks, front strut tower brace, limited-slip diff, Brembo front brakes, and BBS alloy wheels — that I drove last year, the stock Grand Touring might seem a bit soft. Well, look at the name — it's Grand Touring versus Club (racing), and as such a most pleasant way to cover distance on any road in any reasonable weather condition at a quick but not racing speed. If you want the stiffer, more performance-oriented suspension, it's readily available. The stock setup is just fine for everyday use, with quick reflexes, good feeback, and fine stopping power. Good chassis rigidity allows a supple ride and good handling and cornering characteristics. The electronically-assisted steering allows plenty of feedback. Turn-in is quick and there is no bump steer -- but pay attention because very little effort is needed for maneuvers. Connectivity here is in its original and proper meaning -- between driver and road, not operator and distracting devices.
PERFORMANCE: The secret to the Miata's success? It's more fun to drive a slow car fast than it is to drive a fast car slow. Not that this one is exactly slow. 0-60 time is around six seconds, a second or so quicker than the previous version and three seconds better than the original. And far better than any of the equivalent sports cars of the past. Direct fuel injection allows a high 13:1 for efficiency and torque. If power output seems decreased compared with the previous version -- from 167 hp @ 7000 to 155 @ 6000 -- torque has increased from 140 lb-ft at 5000 rpm to 148 @ 4600. Don't forget that there's less weight to move. Lower revs are better, no need to get acquainted with the rev limiter and a nice fat torque band means easy acceleration. Yes, it likes to scream at the top, but that's rarely absolutely necessary. And one result is exemplary fuel economy. My 31 mpg overall was a balance between high 20s around town and on backroads and low- to mid-30s on the highway -- with hills and at real highway speeds. Need an economical commuter car? Even there, go for the stick. The short-throw shifter is a pleasure to use, ratio selection is perfect, and the engine is so flexible that shifting can sometimes be optional.
CONCLUSIONS: No changes to Mazda's MX-5 Miata roadster for its sophomore year? No changes needed!
SPECIFICATIONS
2017 Mazda MX-5 Miata Grand Touring
Base Price $ 30,065
Price As Tested $ 31,325
Engine Type DOHC 16-valve aluminum alloy inline 4-cylinder with variable intake cam phasing and direct fuel injection
Engine Size 2.0 liters / 122 cu. in.
Horsepower 155 @ 6000 rpm
Torque (lb-ft) 148 @ 4600 rpm
Transmission 6-speed manual
Wheelbase / Length 90.9 in. / 154.1 in.
Curb Weight 2332 lbs.
Pounds Per Horsepower 15.0
Fuel Capacity 11.8 gal.
Fuel Requirement 91 octane unleaded premium gasoline recommended, 87 octane unleaded regular permissible with reduced performance
Tires 205/45R17 84W Bridgestone Potenza S001
Brakes, front/rear vented disc / solid disc, ABS, EBD, VSA standard
Suspension, front/rear independent double wishbone / independent multilink
Drivetrain front engine, rear-wheel drive
PERFORMANCE
EPA Fuel Economy - miles per gallon city / highway / observed 27 / 34 / 31
0 to 60 mph 6.0 sec
OPTIONS AND CHARGES
Interior Package — includes: Red engine oil cap with MX-5 logo, stainless steel door sill trim plates, alloy pedals and footrest $ 425
Delivery Charge $ 835