November 2016 US Auto Sales Scorecard and Index By Make
Washington DC December 2, 2016; The AIADA reported that November's sales climbed 3.7 percent on the strength of light truck demand, up 8.5 percent from a year ago, and generous holiday deals. Honda's sales rose 7.9 percent from November 2015, Hyundai's sales were up two percent, Toyota saw an improvement of 5.3 percent, and Volkswagen's sales rose 24.3 percent, ending a 12-month streak of declines. Subaru continued its 60-month run of sales improvements with 51,308 units sold – a November record.
"December is historically a great month for auto sales," said AIADA President Cody Lusk. "Thanks to a stabilized industry and promising economic conditions, international brand dealers are coming off of a tremendous November and looking to close out 2016 on a high note."
Internationals Build U.S. Market Share
International brands increased their share of the November U.S. auto market to 55.7 percent, up from 53.7 percent last month and an increase over November 2015 when they held 54.6 percent of the U.S. auto market. Overall sales for international brands totaled 768,754 units, an improvement over October sales of 747,879 vehicles and November 2015 when they sold 727,000 vehicles.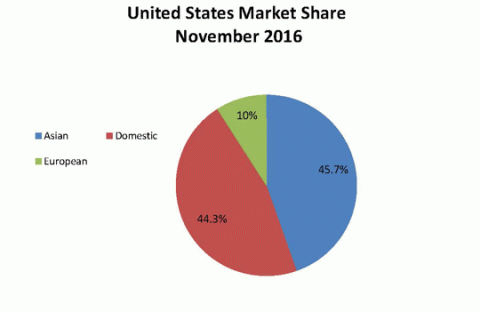 Asian brands increased their share of the U.S. market to 45.7 percent, up from 44.6 percent last month and 44.6 percent in November 2015. They sold 630,961 units, up from 661,540 last month and 593,175 in November 2015. Overall sales were up 6.4 percent compared to the same month last year.
European brands also improved their share of the U.S. market, finishing the month with 10 percent. They held a 9.1 percent share last month and a 10.1 percent share in November 2015. Sales of 137,793 units were up 3 percent over November 2015 when they sold 133,825 units.
Domestics finished November with a 44.3 percent share of the U.S. auto market and sales of 611,804 units. Sales for the brands were up 1.3 percent over November 2015 when they occupied a 45.1 percent share of the market and sold 604,056 vehicles.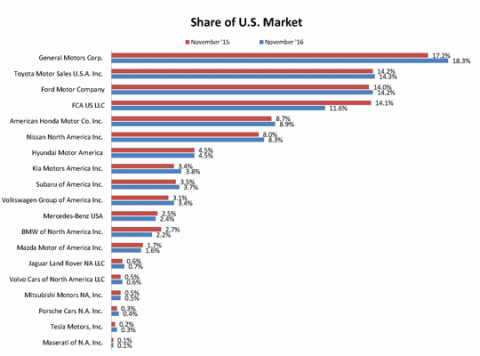 International Brands Are Popular Options With U.S. Buyers
Seven of the top ten selling vehicles for November were international brand nameplates. Pickup trucks remained the most popular vehicles for the month, with the Ford F-Series, Chevrolet Silverado, and Ram pickups leading the charge in the top three spots. In fourth place, the Toyota Camry was the most popular car for the month. The Camry was joined by the RAV4 (fifth place) and Corolla (seventh place) in representing Toyota on the month's top ten list.
Three Honda nameplates also stood out as top sellers for the month. The Honda Accord logged a sixth place finish while the CR-V SUV fell to ninth place from fourth place in October. The Civic finished out the month in tenth place. In eighth place, the Nissan Rogue finished the month with sales up 18 percent from November 2015.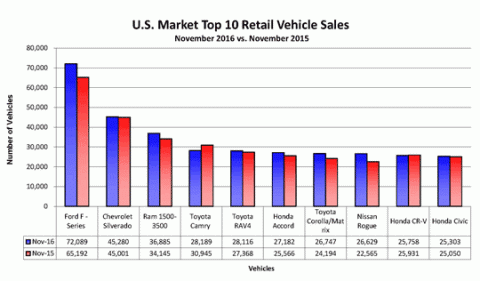 North American Plants Provide U.S. Vehicles
North American manufacturing units—including many located in the U.S.—supplied 482,278 international nameplate vehicles in November. These included 242,434 cars and 240,844 trucks. Asian brands sourced 220,341 cars and 222,361 trucks from North American factories, while European brands sourced 22,093 cars and 18,483 trucks from similar facilities.

Outlook
AutoData Corp. reports that the seasonally adjusted annual rate (SAAR) in November was 17.87 million units versus 18.25 million units a year ago. Total industry unit deliveries increased 3.7 percent compared to last November. Year-to-date, automakers have sold 15,859,922 vehicles, 20,139 more than at this point in 2015. If year-end sales top last year's numbers, 2016 will mark the first time in nearly a century that auto sales rose for seven consecutive years. Industrywide, 1,380,558 light vehicles were sold in November, compared to 1,392,786 in October. Unadjusted for business days, sales for all brands were up 3.7 percent from November 2015 and 0.1 percent year-to-date. International brands were up 5.7 percent from 2015 and 0.66 percent for the year.