October 2016 US Auto Sales Scoreboard - AIADA
Washington DC November 2, 2016; The AIADA reported that sales in October slowed from the pace they enjoyed earlier in the year. However, the month's relatively minor decline in sales suggests that the market may have plateaued at a healthy pace. Honda, down 2.0 percent, Nissan, down 2.5 percent, and Toyota, down 2.1 percent, all saw sales dip despite a strong truck and SUV market. Pickups and crossovers accounted for 61.2 percent of all sales, up 1.6 percent from October 2015. Car sales were down 12.6 percent to 38.8 percent of all vehicles sold. Hyundai bucked the negative trend with a rise in sales of 2.2 percent, while its new Genesis luxury division moved 1,201 units.
"Economic indicators remain positive for the auto industry," said AIADA President Cody Lusk. "Job security, the price of gas, and low interest rates should all combine to ensure a healthy environment for vehicle sales well into 2017."
Despite Dip, Internationals Remain on Top for October
International market share dipped slightly in October to 53.7 percent from the 55 percent share Asian and European brands held in September and 55.9 percent in August. Overall sales for international brands totaled 747,879 vehicles down from 788,939 units in September and 845,229 in August and included sales of 390,100 cars and 357,779 trucks.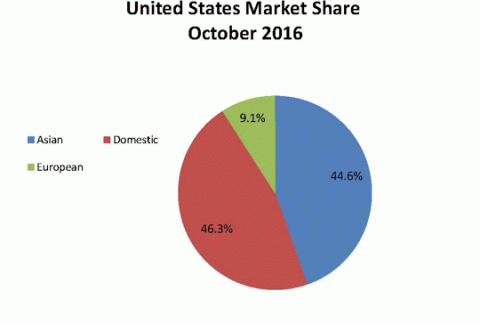 Asian brand market share decreased to 44.6 percent from 46.1 percent last month. Sales of 621,566 vehicles represented a decrease from the 661,540 units they sold in September and were down 3.8 percent from October 2015 when they sold 646,298 vehicles.
European brand market share climbed slightly in October with these brands occupying 9.1 percent of the market, up from 8.9 percent last month. European brands sold 126,313 vehicles in the U.S. in October, down from 127,399 last month and down 9.1 percent from the 138,897 units they sold in October 2015.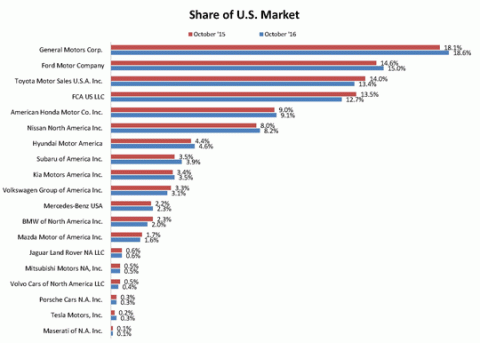 Intl SUVs, Cars Are Popular Option for U.S. Shoppers
International nameplate brands represented six of the top ten selling vehicle nameplates in October, down from seven last month. Pickup trucks remained the most popular vehicles on lots with the Ford F-Series, Chevrolet Silverado, and Ram 1500-3500 pickups perched at the top of the month's top-seller list.
Americans also demonstrated their preference for compact SUVs as the month's top ten list included three models, led by the CR-V in the fourth slot for the month. The Toyota RAV4 followed in seventh place, while the Ford Escape finished the month in tenth place.
While trucks and SUVs represented six of the top ten selling vehicles in October, Americans still bought cars. In fifth place, the Toyota Camry remained the most popular car in America, followed immediately by the Corolla in sixth place. In eighth and ninth place, respectively, Honda's popular Civic compact and Accord midsize sedan rounded out the cars appearing on the month's leaderboard.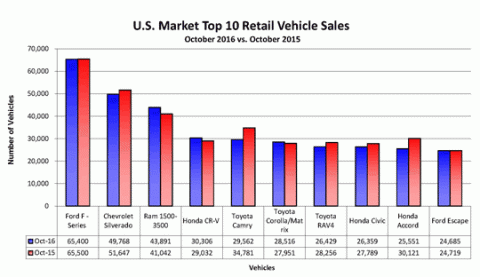 Internationals Source from North America
North American production facilities, including many located in the U.S., supplied 472,949 vehicles on international nameplate dealer lots in October. These included 242,014 cars and 230,935 trucks. Asian brands sourced 223,536 cars and 214,943 trucks from these facilities, while European brands sourced 18,478 cars and 15,992 trucks.

Outlook
AutoData Corp. reports that the seasonally adjusted annual rate (SAAR) in October was 18.29 million units versus 18.18 million units a year ago. Industrywide, 1,392,786 light vehicles were sold in October, compared to 1,435,689 in September and 1,512,556 in August. Unadjusted for business days, sales for all brands were down 4.4 percent from October 2015 and 0.1 percent year-to-date. International brands were down 4.8 percent from October 2015 and 0.2 percent for the year. Sales numbers from the Ford Motor Company have been estimated, due to a fire at its headquarters.