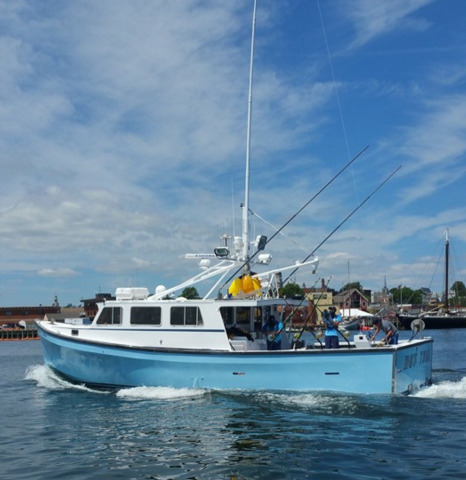 Hot Tuna boat painted with Axalta Imron marine finishes to be featured on "Wicked Tuna" television show. (Photo: Axalta)
Download
Full Size
Small
Preview
Thumbnail
???pagination.previous??? ???pagination.next???
Hot Tuna boat painted with Axalta Imron marine finishes to be featured on "Wicked Tuna" television show. (Photo: Axalta)

Full Size

Small

Preview

Thumbnail

Full Size

Small

Preview

Thumbnail
GLEN MILLS, Pa.—Axalta Coating Systems , a leading global supplier of liquid and powder coatings celebrating its 150th anniversary in the coatings industry, is excited to announce its sponsorship of the Hot Tuna fishing boat featured on National Geographic Channel's hit show, Wicked Tuna.
Axalta's Imron® MS600™ Single Stage polyurethane topcoat protects and beautifies Captain T.J. Ott's 39-foot, Hot Tuna boat. The boat is painted in a custom color aptly named Hot Tuna Blue. The boat will be featured in next season's episodes in winter 2017. Imron MS600 is scientifically engineered to achieve long-lasting high gloss appearance, performance, and corrosion protection specifically for the marine segment. The durability and abrasion resistance of Axalta's marine coatings help ensure that fishing boats and yachts retain their mirror-like finish longer.
"Hot Tuna perfectly showcases our Imron marine coatings," said Christopher Papa, Axalta Marketing Manager. "Axalta is committed to delivering the industry's best appearance and corrosion protection, which combine to reflect the attributes that customers have come to value in the Imron brand."
Hot Tuna is the largest of six boats in the fleet featured on Wicked Tuna. The fishermen launch from Gloucester, Massachusetts in summer and the Outer Banks, North Carolina in winter, in search of Atlantic bluefin tuna. The television show chronicles the teams as they compete for their livelihood and bragging rights, and race to reel in "the big one."
To learn more about Axalta coatings for the marine segment, visit www.axalta.us/marine.
About Axalta Coating Systems – Celebrating 150 Years in the Coatings Industry
Axalta is a leading global company focused solely on coatings and providing customers with innovative, colorful, beautiful and sustainable solutions. From light OEM vehicles, commercial vehicles and refinish applications to electric motors, buildings and pipelines, our coatings are designed to prevent corrosion, increase productivity and enable the materials we coat to last longer. With 150 years of experience in the coatings industry, the approximately 12,800 people of Axalta continue to find ways to serve our more than 100,000 customers in 130 countries better every day with the finest coatings, application systems and technology. For more information visit axaltacoatingsystems.com and follow us @axalta on Twitter and on LinkedIn.
Contacts
Axalta Coating Systems
Janine Little
D +1 610-358-4951
janine.little@axaltacs.com
axaltacoatingsystems.com