2016 Honda Civic 1.5T - Read What Steve Thinks
2016 HONDA CIVIC 1.5T TOURING
Review by Steve Purdy
The Auto Channel
Michigan Bureau
It has been quite some time since I've reviewed a Honda Civic and I must admit a bit of surprise at the quality, content and style of the newest version of this popular compact sedan – 10th generation, believe it or not, introduced in October of 2015. The small, front-wheel drive Civic became such a popular car originally because of its economy, value and quality. Now, even though it continues to move a bit more upscale, it still maintains that value prospect, but boasting a much more upscale ambiance .
Our test car is the top-of-the-line Touring model in a dark Cosmic Blue. Starting at $26,500 it has features that we expect mostly on higher-end cars like leather seating, electroluminescent gauges, heated rear seats, LED headlights, 17-inch alloy wheels with low-profile tires, a suite of driver assistance features and premium audio among other generous content. Our seemingly loaded test car shows no options on the sticker and a bottom line of $27,335.
Civic sedans come in 5 trim levels with the bottom-end, yet quite well equipped, LX model starting at $18,640. You can also have a slick and stylish Civic coupe in a similar range of trim levels beginning at $19,050 for the LX Coupe and topping out at $26,125 for the Touring Coupe.
Styling within the entire Civic lineup reflects modernity and a distinctly Honda design language. Horizontal lines in the crisp front fascia are broken up by deeply-indented lower cheek vents housing and air intake on one side, sensors on the other and fog lights on both. The bold Honda "H" adorns a thicker horizontal Grille band. Wrap-around headlight bezels sparkle with LEDs. Body side sculpting with exaggerated wheel arches add distinction as do large taillights, also with LEDs. The 5-spoke alloy wheels and low profile (50-series) tires add a bit of muscle to the look of this Touring version.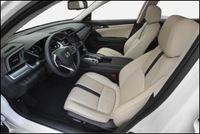 Inside we find two-tone leather seating with plenty of stitching around the dash, door panels and seats. Other nice, soft-touch materials and a complex dash design go well beyond the simplicity we were expecting. Fit and finish are, as we would expect with Honda, excellent. Ingress and egress both front and rear are also better than expected for a small sedan with a low roof line. Power front seats offer enough range for even my expansive body. The flush multipurpose screen houses navigation, audio and all other functions as well as accommodating Android Auto2 and Apple CarPlay3. Only two knobs grace the dash and are for the dual-zone HVAC. Unusual volume controls for the audio on both the screen and steering wheel work reasonably well but I still prefer knobs for volume and tuning. Managing the car's functions and settings were reasonably intuitive.
Rear seats seem mighty roomy and comfortable for such a small car. Even I could fit except for my big feet. You would probably not want three abreast back there unless they were little ones. The seatbacks fold 60/40 but a structural bulkhead limits the pass through. Trunk volume is a decent 14.7 cubic-feet.
Base Civics get a new 2.0-liter power plant under the hood that makes an adequate 158 horsepower and 138 pound-feet of torque. Our tester has the other new engine, a 1.5-liter with single scroll turbo and direct injection good for 174 horsepower and 162 pound-feet of torque. Both get the continuously variable transmission though you can still have a manual in the low-end LX. Fuel mileage is nearly the same with both engines. The turbo gets one mpg better on the highway at 42 mpg, according to the EPA. Both get a 31-mpg rating in the city and 35-mpg combined using regular fuel. Our experience this week was evenly split between urban, rural and highway with a net of 39.7 mpg.
With this most recent redesign Honda professed the intention of giving the compact sedan a "dynamic rejuvenation" benchmarking even the little German cars for handling, performance and refinement. Of course most of the Germans cost way more but it's always good to target the best, we suppose. It appears from our limited time with the car they've done a pretty good job.
Ride and handling feel quite sporty and crisp. The cabin is admirably quiet. The turbo engine in this under-3,000-pound car performs very well in spite of a bit of whinyness caused by the CVT. And, the fuel mileage is amazing. Ergonomics are good, and this top-of-the-line version comes with a full suite of driver assist functions like adaptive cruise control, lane keeping, blind spot warning, forward collision warning and brake intervention.
It is impressive that you can get all that for considerably less than thirty grand.
©Steve Purdy, Shunpiker Productions, All Rights Reserved
More Unbiased "Tell not Sell" Independent Honda Vehicle Research Information Than Anywhere!