June 2016 US Auto Sales Recap
Washington DC July 5, 2016, The AIADA reported that international auto sales slowed in June, a trend forecast by many analysts who see the industry reaching a plateau following a steady climb in recent years following the recession in 2008 and 2009. Despite the month's smaller gains, international brands still finished the month in the lead, posting positive gains and maintaining their strong share of the U.S. market.
"While the pace of sales may have slowed, international nameplate dealers are enjoying steady and reliable numbers," said AIADA President Cody Lusk. "Sales numbers can't climb indefinitely, so June's results may be a sign of a healthy industry hitting its stride."
Kia saw sales jump 15.6 percent in June, Nissan saw an improvement of 13.4 percent, and Volvo's sales rose 43.5 percent on the strength of its XC90, Motor Trend's SUV of the Year. Pickups and crossovers accounted for about 58 percent of all sales last month, up 11.4 percent from June 2015, while passenger car sales were down 7.9 percent from a year ago.
For Internationals, June Market Share Tapers Off
June market share decreased slightly for international brands. Although Asian and European brands still occupied a majority share of the entire U.S. auto market—54.3 percent—they experienced a slight decrease following their 55.8 percent share in May. Overall sales numbers were also down slightly from May as international brands sold 822,002 vehicles, compared to 856,857 last month.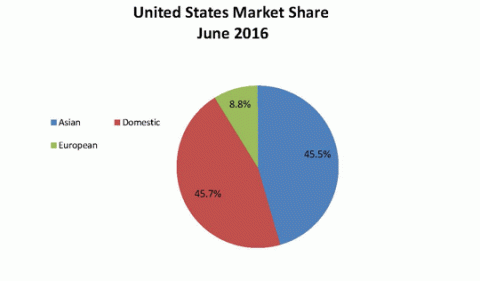 Asian brands reported a 45.5 percent share of the market, down from 47 percent last month. Overall, these brands sold 688,417 units in June, down from 721,311 last month, but up from 669,697 a year ago. Sales figures included 259,426 North American-sourced cars and 233,621 North American-sourced trucks. May sales for Asian brands were up 2.8 percent over last June and 2.1 percent for the year-to-date.
European brands sold 133,585 vehicles, occupying 8.8 percent of the market—level with their market share last month. Overall sales were down slightly from 135,546 vehicles in May and 139,071 vehicles in June 2015. European-brand sales included 19,032 North American-sourced cars and 16,499 North American-sourced trucks. Overall sales are down 3.9 percent compared to last June and 4.1 percent for the year-to-date.
Domestic brands finished June with a 45.7 percent share of the U.S. auto market, up from 44.2 percent last month and 45.2 percent a year ago. Domestic sales totaled 691,899 vehicles—up from 679,419 last month and 667,907 a year ago—and are up 3.6 percent over last June and 1.9 percent for the year-to-date.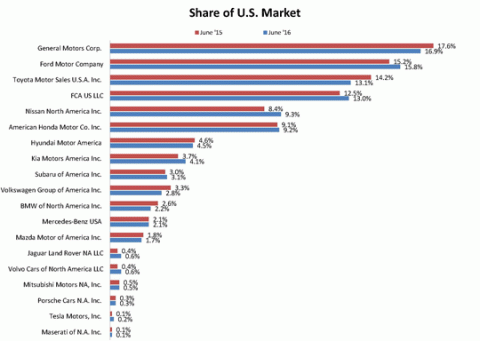 Internationals Among June's Most Popular Vehicles
Six of the top ten selling vehicles in June were represented by international nameplates made by Honda, Nissan, and Toyota. The Toyota Camry continued to lead all U.S. car sales, finishing the month in fourth place behind the Ford F-Series, Chevrolet Silverado, and Ram pickup trucks. In sixth place, the Toyota Corolla also remained a popular option with June shoppers. Two Honda models—the Civic and CR-V—remained at the top of shopping lists with both models occupying fifth and eighth places, respectively. Nissan—represented by the Altima and Rogue—also made a strong showing for the month. The midsize Altima took the seventh spot for the month, while the Rogue SUV took ninth.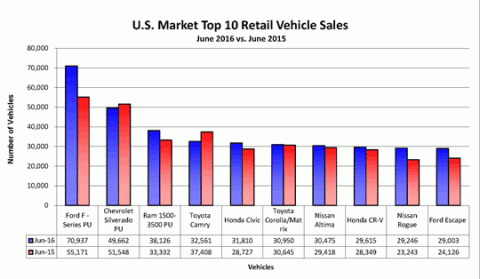 Internationals Source Vehicles from North America
International brands sourced 528,578 vehicles from plants located in North America, including many in the U.S. These included 278,458 cars—representing 44.7 percent of all cars sold in the U.S.—and 250,120 trucks—which represented 28.1 percent of all trucks sold in the U.S. in June. Asian brands sourced 493,047 vehicles from these facilities, including 259,426 cars and 233,621 trucks. European brands sourced 35,352 vehicles from North American, a figure which included 19,032 cars and 16,499 trucks.

Outlook
AutoData Corp. reports that the seasonally adjusted annual rate (SAAR) in May was 16.66 million units versus 17 million units a year ago and 17.45 million units in May. Total industry unit deliveries increased 2.5 percent compared to last June. Industrywide, 1,513,901 light vehicles were sold in June, compared to 1,536,276 in May of 2016.