2016 Ford Escape Windy City Review By Larry Nutson
MORE INFO: Ford Escape In Context - 1995-2016 News Archive
2016 Ford Escape
A new member of the family
By Larry Nutson
Senior Editor and Bureau Chief
Chicago Bureau
The Auto Channel
It's rare that I get to write about a new vehicle and also relate a purchase experience to go along with it. In this case my Gen-Y daughter and her husband recently leased a 2016 Ford Escape and not too long after that I was scheduled to drive a media-loaner Escape from Ford.
The Escape has been around since the early 2000s and has proven very popular across all generations. My daughter had an earlier generation Escape as her wheels during her high school driving years. And, we see many new Escapes being driven today by young singles, families with children, as well as folks well into their empty-nester years.
My daughter and her husband were in need of replacing his 10-year old Nissan Altima sedan. It had seen better days and let them down once on a road trip. I knew approximately what they would like to spend and offered them ideas on various vehicles to consider along with the pros and cons of each. They had done their on-line research and homework and were convinced they wanted a compact crossover SUV. They also were locked in on the Ford Escape. This came from a combination of my daughter's high school experience as well as their own experience together with a new Escape that they had rented during a trip.
They were ready to pull the trigger and wanted to have the Escape before the Chicago winter set-in. Coincidentally, I was invited to the grand opening of an all-new Ford dealership in Chicago. Fox Ford and Lincoln had just built a wonderful new state-of-the-art facility to serve Ford and Lincoln customers. At the grand opening I met the Fox Ford general manager and sales manager. I didn't hesitate to speak about the interest in an Escape in the family.
I advised and educated my daughter and son-in-law on the purchase process the best I could. We spoke about ordering and waiting for an Escape built to their exact specifications vs. taking one that a dealer has in inventory vs. having the dealer finding one and making a swap with another dealer. We spoke about not buying more than you want or need.
To cut to the chase, the young couple set up a Saturday morning appointment with the Fox Ford sales manager. He and I had a brief phone conversation to reconnect. And, on that same Saturday after a few hours my daughter and husband drove away very happily with a new 2016 Ford Escape in the color and interior trim, and with the powertrain and features they wanted. The Escape was in the Fox Ford inventory and the only extra was a trailer hitch, which, who knows, might come in handy some day. The price was right and the finances were all on-the-money too. They leased for three years with the down payment and monthly payment that worked for them.
No doubt this was a win-win all around. They were happy, I was happy and Fox Ford made a sale and gained a new customer. All too often folks set their mind on a vehicle they want to buy and fail to think about the ownership experience they might have. A good dealer, convenient to home or business for service needs and with a good reputation is more important than shaving the last dollar off the purchase cost. A nice advantage at Fox Ford in Chicago is that they carry a very large new vehicle inventory that provides a shopper a great selection.
The 2016 Escape I drove was the same SE trim, four-wheel-drive, 2.0-L EcoBoost engine model that my youngsters got. With a base MSRP of $27,400, with options the total retail came to $33,095.
The 2016 Escape is offered in S, SE and Titanium trims priced starting at $23,450. It comes in front-wheel or all-wheel drive. There are three four-cylinder engine options – a 168HP 2.5-liter, a 178HP 1.6-liter EcoBoost and 240HP 2.0-liter EcoBoost each of which is mated to a 6-speed automatic. All-wheel drive requires one of the two EcoBoost engines.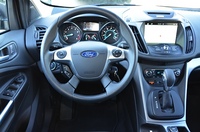 I would recommend the 2.0-L EcoBoost engine in the 2016 Escape. I think this engine provides the best overall balance of acceleration, performance when heavily loaded or in hilly terrain, and fuel consumption. EPA test ratings for the all-wheel drive model are 23 mpg combined, with 21 city mpg and 28 highway mpg. You get a couple mpg better rating on the front-drive model which may be the right choice if you are only driving on paved roads and live in a mild climate area of the country. The best EPA test ratings for the Escape are for the 1.6-L front-drive model at 23 city mpg and 32 highway mpg. But note, all the various engine combinations are pretty close to each other in MPG-ratings and your driving style will be the biggest influence on the fuel economy you achieve.
The 5-passenger Escape holds lots of cargo with 34.3 cuft behind the rear seat. That expands to 67.8 cuft with the rear seat folded. A convenient power rear hatch makes loading easy. You can tow up to 3500 lbs with the 2.0-L EcoBoost engine. Its 178.1 inch length helps make big-city parking and maneuvering easy. There's a reverse sensing system available and all Escapes have a rear view camera. Ford has made big improvements on its Sync 3 communications and entertainment system and it's really easy to use.
More specs and information on the 2016 Ford Escape can be found at www.ford.com. You can compare the Escape to other compact SUVs right here at www.theautochannel.com.
Ford has already announced that the new 2017 model year Escape will reach showrooms in the spring. The front end has a new grille. New Auto Start/Stop technology is now standard on two new EcoBoost engines – the 1.5-liter and 2.0-liter twin-scroll. Auto Start/Stop shuts off the engine during common stops, eliminating unnecessary fuel consumption and tailpipe emissions.
If you are Escape shopping or shopping any Ford for that matter I recommend you Chicagoans check out Fox Ford http://www.foxfordchicago.com.
© 2016 Larry Nutson, Chicago Car Guy