2017 Hyundai Elantra Review by Thom Cannell
By Thom Cannell
Senior Editor
Michigan Bureau
The Auto Channel
Last week I drove the new 2017 Hyundai Elantra. True, it was a Limited with all the technology and features Hyundai can heap upon that car, but at $26,750 plus delivery I thought "what else could you want?" The car looks stylish on the outside, on the inside it offers mid-sized roominess. Hyundai says it's a teensy bit bigger than a BMW 3 or Cadillac CTS.
Sitting in leather seats, which were pushed back to well beyond the ankles of a six-footer, there appeared to be room for almost any size of driver. Pushing power seat buttons to bring it closer to our 5' 8" average, then using the position memorizing feature and adjusting the seat's built-in back support, we grasped the steering wheel and were shocked. If you've never considered what a leather steering wheel can add to your feelings of indulgence, try this one. The leather covering elevated our perception directly into the luxury experience. It sounds silly, but other writers agreed. Ahead of our happy hands were clear instruments and a generous Driver Information Center.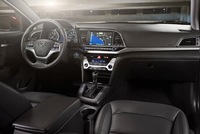 The 2017 Hyundai Elantra achieves something rare, a center stack that delivers complete control with elegance and overall simplicity. It is uncluttered and intuitive, starting at the console. The console has space for a couple of drinks and the shifter, seat heater controls and button for changing the transmission/engine map/steering feeling between Normal, Sport, or Eco. This keeps it clean and uncluttered by huge knobs or campaign-sized buttons. photo 2017 Elantra (29) Next higher is a row of HVAC controls, temperature controls for driver and passenger with their displays, fan control, and air distribution, all automatic in our Limited. Above is the row of controls for the 8" touch screen: phone, map, media, radio, that kind of button. The 2017 Hyundai Elantra offers Apple Car Play and Android Auto on its models regardless the screen display size or ability. Both are easy to use, requiring only the proper USB cable for your device.
Our car had a new Infinity audio system (eight speakers, 7 channels, 315 Watts), with Clari-Fi. Clari-Fi is a proprietary technology that fills in much of what's lost when digital music is created at a low rate, like satellite and WiFi radio (SiriusXM, Pandora, Spotify) and when you down-sample to fit more songs on your phone. While it doesn't take a 128K MP3 into direct-to-disk vinyl territory, the difference it makes is amazing. Clari-Fi allows you to listen at a lower volume with more auditory information like highs and transients, or clearer vocals, and tighter rim-shots. You'll be able to easily talk over the music even when it's sounding loud because of clarity.
As you can see, whats happening in the compact segment where Civic once ruled exclusively is less compromise, more excitement. With terrific cars like Civic, Corolla, Focus, and Cruze, compacts aren't the compromise or fuel economy commuters they once were. They're stylish, reflect lifestyles and lifestages, and are equipped with greatly expanded technologies, like forward collision avoidance, lane change alert and lane keeping, backup cameras, really just about everything you might want and at an affordable price.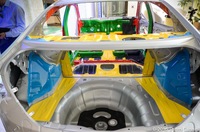 So, has Hyundai done this, added their a unique interpretation on what makes a compelling compact car? We think so. The first improvement, one you cannot see, is a stronger car, one that uses high strength and Advanced High Strength Steels to make a car that is more crash resistant, drives better, and is quieter. One noticeable benefit of HSS is a slimmer and more angled A-pillar that, in our experience, was less obstructive of traffic coming from the left. Another thing you won't see, one that contributes to this torsional and bending rigidity, is 345 feet of structural adhesive. Where once a relatively few spot rivets held panels together, Hyundai has Dow adhesives, the kind that keep aircraft flying, bonding many panels. For you in the rust belt it will also help prevent corrosion from salt. With so much hidden, what can you see that's different?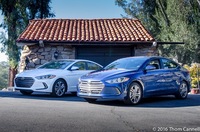 Style, always a subjective subject, is cleaner, crisper, more refined. There's no mistaking the large but not overbearing family hexagonal nose and you'll likely spot the diagonal LED daylight running lights. Headlamps are thinner and contain (in the Limited) HID headlamps. There's a sweeping sedan-like roofline that goes back far enough to allow good rear headroom for even larger folks. As the car is now an inch wider it had improved elbow room and a more spacious feeling, which was enhanced by the large sunroof. At the rear, sculpted tail lights deliver a very contemporary feel, they're LEDs.
What won't be apparent are efforts to make the car more fuel efficient through body engineering. An undertray smooths air flow beneath, at the rear of the car a small spoiler below the trunk smooths exiting air flow, and a trunk-mounted spoiler keeps air bonded to the body for better aerodynamics. There's even gill-like openings near the daylight running lights that flow air backwards, over the front wheels, to prevent turbulence. And we might as well mention some other engineering, like newly designed rear suspension—it's still a twist beam for economy—but now upright and with more travel. That sounds innocuous, but in truth though everyone says they want independent rear suspension you won't miss it, we promise. And that's after some brisk driving in the hills near San Diego, California.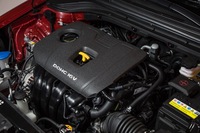 Driving in hills did point out a potential shortcoming for enthusiast drivers, modest horsepower engines. There are two, a normally aspirated multi-port injection 2.0-liter motor and, later, a 1.4-liter turbocharged engine in the Eco model. The 2.0 makes good horsepower and torque (147 hp and 132 pound-feet of torque) and we didn't find ourselves wanting in brisk driving. This isn't a sport sedan, doesn't try to be. Most engines will be mated to a 6-speed automatic and in our opinion the combination was a compellingly solid package. The smaller engine will deliver less horsepower, but more torque. Its 128 horsepower is backed by 156 pound-feet of torque over a broader range. Thus it will feel peppier, especially as it will be mated to a 7-speed dual clutch transmission. It should, Hyundai says, also get better combined fuel economy, a predicted 35 mpg while the 2.0-liter is EPA rated at 29 City, 38 Highway, 33 Combined. (This fall we were told to expect a sportier Elantra to emerge at the SEMA show in November. We'll predict some chassis and engine improvements if they're going to challenge their competitors.)
While we're calling the power modest it is surely delivers plenty of driving satisfaction. In traffic you don't have to put a brick on the throttle to move ahead smartly and in the mountains we could leave it in Sport mode (but were happier to do a little shifting ourselves) and enjoy the drive. Which brings up another point. We thought the tires noisy on many road surfaces, but they didn't seem to lack grip. (Everyone mounts Low Rolling Resistance tires to gain a smidgeon of fuel economy.) We truly noticed the rigid chassis for its quietness, and for how well it drove. Hyundai's electric power steering, especially in Sport mode, is exceptional. We'll predict you seldom engage the Eco mode and if you really enjoy driving, you'll switch to Sport any time you're not in the neighborhood or on the freeway.
Beyond delivering confidence to the primary safety system, you the driver, Hyundai has lined up abundant safety features. The latest must have, Automatic Emergency Braking is there and equipped with Pedestrian Detection. That technology is enabled by the radar and other sensors necessary for Smart Cruise Control. Some of those sensors will, in select models like the Limited we were driving, both detect lane markings and warn if you drift (Lane Departure Warning) and even apply some steering torque to get you back on line. Additionally there's Blind Spot Detection, Lane Change Assist (warns you of overtaking vehicles in the new lane), and Rear Cross Traffic Alert which is very cool pulling out of parallel parking. photo.
Since many seem to live in their cars, some obviously more than others, safety and comfort are more than just desirable, they are critical to enjoying those hours in the car. We've mentioned an excellent Infinity audio system and how the leather covered steering wheel makes for an unexpectedly luxurious tactile experience. We also mentioned how very uncluttered and simple the whole center console is to use, and there is more.
The Limited's leather seats (we had no cloth to try) were comfortable and surprisingly fulsomely bolstered. They got noticed in brisk canyon driving, and all of the seats are heated, yes, even the rear. A miss, in our book, is that the steering wheel isn't equally warmed. Hyundai says their polls say rear seat heaters are more desired. We say "by who? Surely not folks in Michigan, Maine, North Dakota, or Minnesota". Rethink time, Hyundai. Where no rethink is needed is on the inside, the interiors on the two examples we drove were uniformly well executed. If the interior was your living room you'd brag about it to your decorator. Well, we wish the bright stripe had been continued across the door to unite with the dash's accent. We acknowledge it would be difficult and require a different speaker housing, perhaps we'll see it in two or there years in a refresh.
At the end of our drive we were again convinced that Hyundai delivers value for its buyers, as well as safety and convenience. While the compact and mid-sized market is smaller than it was, the 2017 Hyundai Elantra measure up well against its competitors in every way you'd care to test and it does it with style, a quiet and immensely solid body, and a driving experience that you'll brag about, or at least want to.
The Most Hyundai Research Information Anywhere!