Nissan It's A Truck Company; Nissan's NV3500 Review
By Thom Cannell
Senior Editor
Michigan Bureau
The Auto Channel
I'm moving. That means boxes, boxes, tool chests, appliances, plants, and more boxes. Being a DIY kinda' guy I am moving as much as possible myself, aided by a variety of boxes on wheels. Nissan again loaned me an NV3500 for my move this one a sedate blue instead of fire engine red.
Immediately I noted some things missing from my previous review, and the loan also juxtaposed nicely with the North American International Auto Show in Detroit.
At the unveiling of the Nissan Warrior Concept I spoke to M.Philipe Guerin-Boutaud, head of Nissan's global light commercial vehicles. Those include NV Cargo and Passenger, NV200 Compact and Taxi.
Let's get the facts and opinions out of the way. The NV3500 I used was built for trade, not a journalist moving a few boxes for one week. One customer accumulated over 500,000 miles on one of their NV3500s with near-zero problems. They changed the oil and tires, that kind of thing, and it kept on running which is precisely what fleet owners want to hear. My NV3500 warehouse on wheels held 323 cubic feet of cargo in its tall roof version, which I drove both times, and has a V-8 motor and five-speed automatic transmission.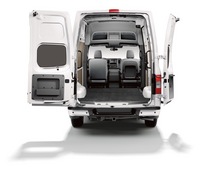 What's good is its power and its boxy form as well as its robustness and practicality. There are, however, a few things that likely will be improved next time around (we think 2018.) First is a larger navigation system display. It now has a 5.8 inch screen in an era when some displays are barely smaller than your living room flat screen. It does work in stellar fashion, particularly its Bluetooth connection to your phone and rapid backup camera response. Despite being on the highway with winter slush banging against the wheel wells, every conversation using the hands free connection was flawless. For a fleet owner that ability to communicate accurately could be a critical difference.
So, I'd like to see more sound damping in the wheel wells. Yes, it's a work van and meant to be as loaded as Times Square December 31, but a quieter work place is always good. The final thing I'd like to see would be some version of Nissan's Utili-track both in the walls and the floor. If carrying only boxes the current D-ring tie-downs are sufficient. For odd shaped cargo, having adjustable attachment points would be great. I'd have liked to better secure a raft of dining room chairs, for instance.
Those were some of the items on my mind as I sat with M. Guerin-Boutaud on Nissan's display stage midst the clamor of other press conferences. As we began to chat over fresh coffee, he reminded me that Nissan is no newcomer to trucks, particularly what the world calls 1-ton pickups. We call them mid-sized, like the Frontier. Philipe informed me that Nissan sold their first 1-ton in 1935 and has sold more than 14 million of these vehicles. Describing Nissan's vehicle philosophy he said, "It is global-to-local. Every time we can do global we do, and adapt it to local regions. The wheelbase and engines may be different, but underneath it is global".
Of course the Titan XD, Titan, and NV3500 are exceptions and are "Local-to-Local" and unique to North America. In terms of evolution, Titan arrived first on a platform called F Alpha and used for Titan, Armada, and Frontier. Globally there is a new Navara as Frontier is known everywhere but here, which shares nothing with our new Titan XD or Titan. (Guerin-Boutaud confirmed to us that the unreleased Titan will share cabin architecture with Titan XD, but have a totally different chassis.)
As the NV3500 was engineered off the F Alpha platform, albeit with major differences in suspension and steering, so it is that the new Titan XD inherits much of that robust suspension designed for its Cummins diesel (and gas later this year) powered truck meant to deliver near-2500 performance with near-1500 costs. Contributions to the 2016 Titan XD from the Commercial Vehicles division include design of the recirculating ball steering, solid rear axle with leaf springs, and very heavy duty front A-arms, those come from NV3500. That donation reduced engineering cost for the new Titan XD, and Nissan was very pleased to do so as the NV 3500 is proving to be a very robust and durable vehicle. In fact one customer has run an early truck for 550,000+ miles, only changing the oil, replacing brake pads, and once replacing the alternator. During use it ran at 85-95% of GVW. That, friends, is robust, and what Nissan is convinced it will deliver in the new Titan XD.
"That (robustness) is why we worked on severe conditions, why we offer a 5 year/100,000 mile warranty," M Guerin-Boutaud continued. "It shows we are focused on commercial products like the NV-series, and that Nissan is being innovative. Our smaller NV2000 was ahead of the small van boom we have experienced," he told The Auto Channel.
"We sell light vehicles in 191 countries," he continued, "Titan and NV3500 have a few sales outside of North America, but are all American in style, design, manufacturing, product planning, and their engines." Of interest, we learned that most of the European import vans are highly re-engineered for service in the USA, not direct imports.
Finally we asked about electrification for trucks and vans. In the heavy duty market, trash haulers for instance, some kind of alternative energy system—hydraulic, electric, flywheel, etc—makes sense for the frequent stop-starts. Not so in pickups. "Owners are a bit contradictory, they say fuel economy is very important and at the same time order more powerful engines, so don't tell me fuel economy is important." Regardless, "Nissan has all the technology; hybrid, IC, diesel, PHEV, pure electric, that the customer would ever need. We are ready to respond to what the customer asks for."
Copyright 2016 by Thom Cannell
The Most Nissan Vehicle Research Information Anywhere!