2017 Jaguar XE Preview by Carey Russ +VIDEO
XE is handsome and well-mannered, and all Jaguar - not the Ford era rebadged Contour
DRIVING DOWN THE ROAD WITH CAREY RUSS
• SEE ALSO: Jaguar Research and Buyers Guide
Few surviving automakers have as rich and varied a history as Jaguar. But that history has not been smooth, and Jaguar has been to the brink of disaster and back, more than once. Fortunately, new ownership and an infusion of development money a few years back mean new Jaguars, and an expanded product lineup. That began with the mid-size XF in 2008, followed by the latest XJ executive sedan in 2009, and the F-Type sports car in 2012. The compact XE debuted it Europe a year ago, and will soon be here, followed by the F-Pace, Jaguar's first luxury compact crossover. To further increase sales, Jaguar is dropping prices and adding standard equipment across its line, with the new additions priced very competitively.
The XE is the first pure Jaguar ever in the important and ultra-competitive compact luxury sedan class, and is meant to go head-to-head against the established stalwarts -- most notably the BMW 3-Series, the Mercedes-Benz C-Class, and the Audi A4. And a host of others - Cadillac CTS, Lexus IS, Volvo S60, Infiniti Q50, and Acura TLX to name a few.
Extensively utilizing aluminum in its unibody structure to keep weight to a minimum for improved performance and economy, the XE is the first Jaguar Land Rover vehicle to be built using its newest modular architecture. It's made in a new section of the company's plant in Solihull, England. It has a traditional front engine, rear-wheel drive chassis layout, with all-wheel drive an option in some versions. The suspension uses aluminum to reduce unsprung weight, and electric power steering further reduces weight and adds efficiency and tuning variation. Power choices are all turbocharged, a 2.0-liter four-cylinder with 240 horsepower and 251 lb-ft of torque or a 3.0-liter V6 with 340 hp and 332 lb-ft as gasoline choices, plus a 2.0-liter diesel with 180 hp and 318 lb-ft. All are matched to an eight-speed automatic transmission, built by specialists ZF. The diesel is the first of a new series of Jaguar engines, called Ingenium.
Stylistically, the XE fits into the Jaguar lineup between the larger XF and the F-Type coupe. The face is familiar, but details are a bit different. Low-drag aerodynamics were a major consideration, for improved fuel economy, performance, and stability at speed or in strong winds. Aluminum is used for much of the body and underlying structure. Much of that is made from recycled materials.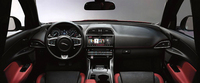 Inside, styling is contemporary European and definitely Jaguar. Press the ignition button and the JaguarDrive selector knob rises from the console. Safety and infotainment systems are up to expectations, with collision-mitigation, lane-departure warning, blind-spot monitoring, adaptive cruise control, and even semi-automated parallel and perpendicular parking assistance standard or available. The new Jaguar InControl infotainment supports Bluetooth, streaming audio, and USB connectivity with a capacitive touchscreen interface. Smartphone applications can be controlled through the touchscreen, and vice-versa, with iOS and Android apps that allow a phone to be used for functions including alarm, door, and heating control.
My introduction to the 2017 Jaguar XE was a bit different from the usual press function. I was invited to take part in the Art of Performance Tour (AOPT) when it stopped in San Francisco, CA last week. See The Art of Performance Tour for details. San Francisco was the second stop, followed by Dallas, TX, then Miami FL, Washington DC, and Chicago. The AOPT is a consumer-oriented program to give potential customers a test drive experience, and a bit more.
A bit more meaning being spliced into a short action spy movie. Moderately amusing, but I was there to see and drive the car. There were static displays of Jaguar's lineup, including the XE and F-Pace as well as the XF and XJ but the fun part started with the autocross.
Which was indoors in Pier 35. With Jaguar's driver driving as runoff was into a concrete wall and the cars were in short supply (and subjected to San Francisco traffic and "pavement" anyway). Car spec was 3.5 turbo, for the Mexican market so not exactly as what we'll get, but close. Acceleration (0-60 in 5.1 seconds), cornering, and braking abilities were well showcased, although the driver took is easy at the far end of the course, next to the ugliest wall. Couldn't blame him for that.
Then out for a short drive down The Embarcadero to Fisherman's Wharf and back through city streets. The XE handled that well, with good visibility and an appropriately firm sports sedan ride quality that still was comfortable over broken pavement and trolley tracks. A climb up a steep hill presented no problem. Yeah, it would have been nicer to go over the Golden Gate and up Highway 1, but not gonna happen given the program limitations. For a potential customer, this is an interesting alternative to a dealer test drive.
The XE is handsome and well-mannered, and should be a great addition to the compact sports-luxury class. Don't even think of it in relation to the late, and mostly unlamented, X-Type of the Ford era. That was a Ford Contour (Mondeo for the non-US market) in Jaguar clothing, with build quality and materials that were not really up to Jaguar specifications. The XE is all-Jaguar, and scheduled for American debut some time before summer, 2016. Prices start at $34,900 for the four-cylinder, $36,400 for the diesel, and $41,700 for the V6.
History
From humble beginnings as the Swallow Sidecar Company in the early 1920s, building sidecars for motorcycles, it branched into building custom bodies for cars, and then into building complete automobiles. The name "Jaguar" was first used in 1936. Production ceased during World War II, and the "SS" part of the name was dropped (for what should be obvious reasons…) when post-war production began.
The post-war era was when Jaguar found its niche. It offered what would now be called executive sedans, albeit with more performance panache than was expected, and fast but still reasonably-affordable sports cars in the XK series. And established a presence in racing, first with the "C-Type" XK120 C and then the now-legendary D-Type.
But perhaps the most important Jaguar car was the Mark 2, introduced in 1959. Smaller and less expensive than the flagship executive sedans, when properly outfitted it was also remarkably quick over the road. The "sports sedan" hadn't been officially invented at the time, but the Jaguar Mark 2 was one of the first. And the XK-E sports car, also known as the E-Type, debuted in 1961. It was and is considered one of the most beautiful cars ever, and had the performance of the Italian exotics at half their price. It's still a quick and good-handling by today's standards, half a century later.
As the British automobile industry melted down during the 1960s, Jaguar was merged into the British Motor Corporation (BMC), which was them merged with the other surviving large-volume producer, Leyland, to become British Leyland. Which was nationalized in 1975.
Jaguar became independent again in 1984, but still struggled. Ford bought Jaguar in 1990. An endangered species was saved. Jaguar got a new factory and money for development of the XK8 roadster and coupe, an all-Jaguar effort. Much larger and more luxury-oriented than the E-Type that was evoked in its styling, the XK8 was a success. The premium XJ sedans continued, but a broader lineup was needed.
That was first addressed by the S-Type mid-size luxury-sports sedan in 1998. It also had a large dose of nostalgia in its styling, in this case for the Mark 2. Unsurprisingly, it contained plenty of Ford bits, sharing a platform with the Lincoln LS, and utilizing a version of Ford's 3.0-liter Duratec V6 (with much modification) as its base engine. The AJ-V8 was an option. It sold well, and was far more Jaguar than Ford. Jaguar had started, in the SS days, using outside chassis and even engines, so there was a precedent.
The X-Type debuted for 2001 as Jaguar's first entry-luxury car, at least since the pre-war days. Based on the Ford Contour/Mondeo and offered with 2.5 or 3.5-liter Duratec-based engines, it attracted plenty of new customers and gave Jaguar a presence in a new market segment. It was a mixed success, with sales not reaching projections and plenty of grousing that it had Ford parts underneath. Um, you want exclusivity or affordability?
For many reasons, the 2007-8 financial meltdown not the least, Ford sold Jaguar to Tata Motors, an Indian company, in 2008. As with the sale to Ford, there were worries that Jaguar's soul would be compromised. Or that production would be shifted to India. No worries, if Ford didn't do much with Jaguar late in its ownership period, Tata is making up for that. And we have them to thank for the F-Type and new XE -- which is a far better car than the X-Type.