2016 Volkswagen Passat, It's The Same, But Everything Has Changed Review By Thom Cannell
2016 Volkswagen Passat Review
By Thom Cannell
Senior Editor
Michigan Bureau
The Auto Channel
Midst the recent unfavorable publicity, Volkswagen launched its newest made-in-America Passat in snowy Stowe, Vermont. Essentially similar in form to its predecessor, it features the kinds of changes that will surely appeal to sedan buyers—families and those considering frugality and durability a virtue. Safety and fuel economy are improved, and Passat's suite of electronics has hit two major milestones, a backup camera that's snap-your-fingers quick to display and a voice activated navigation system that works. The system is called the MIB II Infotainment system. With MIB II most models hook up to your smart phone whether Apple, Android, or MirrorLink through VW's Car-Net App Connect technology.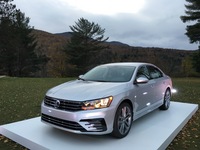 Arriving in Stowe, surely the display center for the metal roof industry, our greeting was the LED headlamps of the 2016 Passat. A glance showed major exterior improvements. According to designer Eugen Enns, the front design still emphasizes width, but now has more vertical teeth to enliven the front view; it is less austere. The hood is an ode to America, a "power dome" that uses lengthy windscreen-to-nose creases to create the lift rather than the typical squared bubble. It's both bold and subtle, if that makes sense. You'll notice it, maybe wondering what makes it different. You'll also note the precisely sculpted LED headlamps, or halogens in some cars. Passat's headlamps are slimmer, regardless what makes the light. Another sweet touch, all cars have alloy wheels.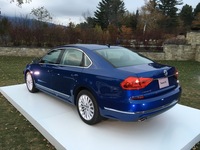 From the A-pillar back, the doors and roof, there's no change, yet the rear deck and tail lamps are revised. We're fans of the new tail lamps—when they're illuminated. Off, well they're too much like the old to generate that good old "NEW" feeling. In other words, still handsome, with some gray at the temples. Lastly, powertrains are carryover, a 1.8-liter direct injected turbo engine and the husky VR6 V-6. A revised and approved diesel? Not for now, maybe by summer.
Major changes continue inside where you spend your time. The interior was renewed from the windscreen down using bright materials that either are aluminum or incredible faux to create a two-tone color scheme. More on that later. Passat's instrument panel, which was plenty good, takes cues from GTI to deliver a more sporty look with big tach and speedometer.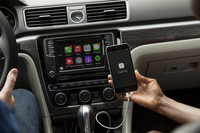 Major changes surround the center stack, regardless if equipped with a top-of-line Fender Audio system. All models use touch screens that vary between 5" to 6.3" and most support capacitive touch, like your smart phone. Volkswagen's MIB II system links to Apple Car Play, Android Auto, or MirrorLink through a USB connection housed in what we used to call an ash tray. That makes hooking up the cable a bit inaccessible. In addition, VW's Car-Net App-Connect is its suite of telematics features like: find my car, schedule service, boundary and speed limits for your teens, and it delivers easy-to-use navigation. We tried the voice activated navigation (usually a total disappointment), and with simple natural language "route us to 4000 Mountain Road in Stow (Vermont)" were swiftly delivered a route. There are other ways to enter your destination like typing it in, but the voice command is so good why would you? We are impressed, it's honestly as competent as your smart phone's maps.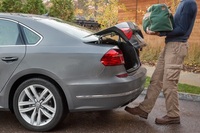 Some of the items that are options, or incorporated in model upgrades include the 'kick it" trunk opener, keyless entry, rain sensing wipers, Vienna leather seating surfaces, and cornering lights. What's interesting is that Volkswagen's automatic post-collision braking system is standard. This applies the brakes after a collision so you don't roll on forward, potentially striking another car, tree, or going across the median where you might cause even more carnage.
Now let's talk about the safety systems you might want, or need. Adaptive cruise control is available to keep you from tailgating, Forward Collision Warning includes Autonomous Emergency Braking to do its best to keep you from rear ending another car. These are the new "must have's" for personal and family safety. There's blind spot monitoring, Active Blind Spot Monitor and Rear Traffic Alert with braking, which we dearly appreciate every time we go to the supermarket or mall. Lane Departure warning can, in some models, add its active steering assist to push you back into line unless a direction change blinker is on (we didn't get to try that—yet). Models can park for you, or deliver front and rear distances to help you avoid parallel parking and garage blunders. Thats a heap of useful safety for any family and the most significant changes for the new 2016 Passat.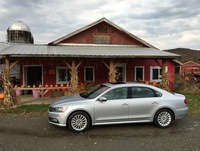 So much for the lecture. The reality of driving a car, living with its idiosyncrasies make ownership a pleasure, or as short at the lease will allow. Interior hits and misses include a center stack that's as well thought out as any we've seen and with "wood" that's as nice a simulation as we've seen. The new interior is more sweeping, more dynamic and very open. It does have one two many trim pieces on the doors, at least to our taste, with the top shoulder followed by aluminum trim, false wood, then the polymer panel itself. We should say the grain matching and changes create a vibrant texture.
With emphasis firmly on safety, we were again impressed by how quickly the backup camera displayed what was behind us. We also liked the touch screen interface, it was as natural as your smart phone.
Driving dynamics have always been a VW hallmark. Passat's ride is firm without any harshness and steering is very directional, though lacking in road surface feedback (something few will ever notice or care about). Most impressive during our rural driving was the navigation system, even far from cell service. We were very impressed by its one shot voice entry for destinations. As we traveled throughout Vermont it worked impeccably and instantly zoomed in to intersections to show us the turn, echoed on the Driver Information display between tach and speedometer.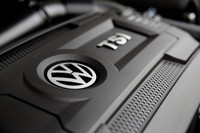 Our test engine was the familiar 1.8-liter TSI, now in its third generation, which is direct injected and turbocharged. That little power pack makes 170 horsepower and 184 ft.-lb. of torque while delivering 25 City and 38 Highway mpg through its 6-speed automatic. Its calibration was precise and if shifted manually, very eager to please. A more powerful 3.6-liter VR6 direct injected engine with 280 horsepower and 250 foot-pounds of torque is available, mated to VW's Direct Sequential Gearbox and it still delivers 20 MPG city and 28 freeway.
Overall we are impressed by the 2016 Passat for its refinement of what was, and is, a very good mid-sized car. Pricing starts at $22,440 including a host of features, enough that you'd be very happy to drive away without an upgrade. That said, $23,975 gets you the more stylish R-Line, to which we'd add the comfort package and LED lights for $1,780. SE models add more glitter and comfort and safety features, its Technology package puts all the tech into your hands at $28,410. If you want the VR6 engine, and you well might, the SEL has even more features and is competitive at $30,495 plus another $1,095 for those wonderful LED headlamps, tail lamps, and DRL. The 2016 Passat is a car that will look fresh and contemporary years from now when you pass it down to your teens. Just be sure to engage the speed and location controls before passing the keys; you remember how it was.
The Most In-Depth Volkswagen Shopper's Research - Anywhere!