2016 Volkswagen Passat Awarded Top Safety Score +VIDEO
By Henny Hemmes
Senior European Editor
The Auto Channel
• SEE ALSO: Volkswagen Research and Buyers Guide
THE HAGUE - December 23, 2015: It was no surprise that the new Passat earned a 2016 Top Safety Pick + rating from the Insurance Institute for Highway Safety (IHS). However, there is one condition: the 2016 model has to be equipped with optional Forward Collision Warning and Autonomous Braking Assist. A year ago, the then new European version (B8) was awarded with the maximum 5 stars in the EuroNCAP crash test, partly due to the new modular platform as well as to both safety systems and other innovations Wonderful New Technology Included In Euro Version of Upcoming Volkswagen Passat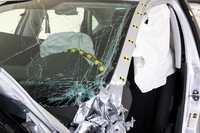 Advanced safety systems
The Forward Collision Warning and Autonomous Emergency Braking (Front Assist) system uses a radar sensor to measure the distance of the traffic ahead of the Passat. Front Assist helps to alert the driver of critical front-end collision situations above 19 mph by an acoustic warning and a red symbol in the instrument panel. If necessary, braking is initiated to slowed the car and if the driver then fails to apply the brakes, or if he or she does not use enough pressure, the system automatically applies them. Below 19 mph, the Passat applies the brakes and warns the driver simultaneously. In Europe this is called City Braking. The safety system is standard on SE models and higher. The Passat SE with Technology package and higher trim levels also feature standard Blind Spot Monitor warning and Rear Traffic Alert-with-braking. Blind Spot Monitoring with corrective steering is standard on SEL Premium models, as well as active Lane Departure Warning.
Safety Pick racings helps focusing on most effective systems
With the availability of the new technology it was a logical step that the new Passat offered in North America would also be available with the abovementioned technology. IHS launched its front crash prevention rating program in 2013 to help consumers sort through a maze of technologies and focus on the most effective systems. Under a three-tier rating program, models with optional or standard front crash prevention systems are rated as superior, advanced or basic. Ratings are determined by whether the vehicles have available front crash prevention systems, and, if so, how it performs in 12 and 25 mph autonomous emergency braking and forward collision warning tests. To assess the performance, points are awarded based on the braking and warning performance in the tests. Vehicles that have a warning system only earn a basic rating, provided the system meets National Highway Traffic Safety Administration performance criteria. The Golf 4-door, Golf GTI 4-door, Golf SportWagen and Jetta, when equipped with the optional warning/braking system have also been awarded 2016 Top Safety Pick+ ratings by the IHG.
Sales increase in Europe
It may be surprising that, notwithstanding the problems caused by Volkswagen manipulating pollution tests on 11 million diesel vehicles worldwide, November sales did not plunge in Europe. It could be that customers do not care so much about the NOx values and CO2 ratings, and are happy with the performance of their crs. Even with temporary sales stops for affected diesel models, sales of the Volkswagen Group were up in Europe and China, compensating for the steep drops in the US and some other countries and resulting in a 2.2 percent decrease worldwide. The Group delivered 833,700 vehicles last month, 19,200 units less than in November 2014. Volkswagen did not provide details of sales of diesel models.
For the first 11 months of 2015, group deliveries fell 1.7 percent to nearly 9.1 million from the previous year's 9.26 million.
CEO Matthias Mueller said in a statement that "The Volkswagen Group and its brands are currently experiencing challenging times. At the same time, we are pleased that our customers are remaining loyal to us, especially in this situation, and continue to place their trust in us."