'Smack Dab In The Middle' - Nissan's 2016 Titan XD Review by Thom Cannell +VIDEO
The new Titan XD is a home run, possibly a game changer
• SEE ALSO: Nissan Research and Buyers Guide
For three years Nissan teased truck buyers and auto writers with fragments of information about a new Titan, one married to what would finally be announced as a five liter V-8 diesel from legendary engine builder Cummins. This immediately vaulted the to-come 2016 Titan XD into the Real Truck category. It was a truck that made promises about power, style, and comfort, a truck totally different from the 2003 model that's lingered on, largely ignored. After the reveal of Titan XD at the 2015 Detroit International Auto Show, we wondered if Nissan could deliver a modern full-featured truck that would offer a viable alternative to anything from Detroit or Texas.
After through testing we say, definitively, yes. Titan XD tows 9000 pounds with laugh its ass off ease (that's the weight of the box trailer load of sandbags and Leaf car we pulled through mountains; its maximum is a hair over 12,000), offers a quietness mostly free from diesel clatter, an interior that is as comfortable and sleek as many sedans without the extravagant leather and chrome of many top-of-the-line pickups even in its highest Platinum Reserve trim (though it's close). While not a daily driver for urban cowboys—it is a heavy duty truck after all—it would deliver you to the job site everyday if your work demanded and it remains comfortable to drive regardless of load.
In two days of testing: towing, hauling, off roading and freeway driving we found the 2016 Titan XD to be rock-steady, a truck we can recommend. Titan XD was comfortable to get into (of course it is a goodly step up), quiet once over 1,000 rpm, powerful with 310 horsepower and "triple nickel" 555 foot-lbs of torque, and equipped with a robust Aisin 6-speed automatic transmission. This is our dissection of the 2016 Titan XD.
The race for the most capable and adaptable pickup, together with the associated horsepower / torque wars has produced a chasm the size of Texas. On one side are half-ton pickups with their mostly gasoline engines and lifestyle ability, on the other lurk fierce diesel beasts—250s— with enormous capacity in power, payload, and tow rating. While 150-type pickups generally top out around 9,000 pounds tow capacity, power wars have produced modern 250 monsters with a tow rating in excess of 17,000 pounds. This leaves a gap. Many need tow capacity over 7,000 pounds, yet well under 15,000 pounds and they all want reasonable fuel economy "My trailer hasn't gotten bigger, but the size and cost of a 250s has!" they declare. Those 250 three-quarter ton pickups make huge power and power costs dollars. Nissan calls this canyon a "white space", the perfect hunting ground for the 2016 Titan XD with Cummins diesel power. It's a space where a truck that's not quite a 2500 but far more grunt than a 1500 can deliver. That is what thousands currently need and cannot get, a truck with 12,000 pounds of tow capacity, more than 2,000 pounds of payload capacity, and a price accordingly somewhere between a tow-capable 150 and a diesel 250.
Titan XD and the soon-to-come Titan (we think it's the differentiation of the gasoline powered Titan-to-come shorter wheel base model) offer five trim and feature levels: basic S, volume SV, off road Pro4X, upscale S, and Platinum Reserve. For now the Titan XD Crew Cab with its Cummins diesel stands alone. Eventually Titan XD will be available in with a gasoline engine. Also, though launching with only the Crew Cab, eventually you'll have a cab choice of regular, double, and Crew on either Titan XD or Titan platforms. Nissan engineers tell us that between Titan XD and Titan, almost nothing is shared; they will look similar, but be completely different. So let us look at what is available, the Titan XD with Cummins diesel.
Titan XD rolls out of the box equipped with excellent features designed for heavy work like tow rated 14+" ventilated disc brakes front and rear, variable assist recirculating ball steering, removable and lockable damped tailgate, bed-accessible integrated gooseneck hitch (all but S) and trailer light function check (all but S), handsfree text message assistant, USB outlets, Bluetooth, Siri Eyes Free (all but S), 14 cupholders including a pair with 32 oz capacity, ABS, Vehicle Dynamic Control, traction control, and Tire Pressure Monitoring System. Of course there are other features depending on model.
In 2016 Nissan will reveal its V-8 gas engine and later a gas V-6. Nissan hints these motors will be highly related to the advanced engines in Infinity models, not carryover from older products. We're thinking turbochargers. So, for the Titan/Titan XD family there will be two frame sizes (for now only the 151.6" is offered), three powertrains, and five trim levels plus various accessory option packages. With only the vaunted Cummins available now, let's dig into its specifics.
The engine is as modern as any, with a CGI block (compacted graphite iron) which offers lighter weight and greater strength than cast iron. Its glow plugs are ceramic and heat up in two seconds, the heads are aluminum with composite valve covers, and the dual overhead cams are chain driven. Those DOHC heads have four valves per cylinder, use Bosch high pressure fuel injection, and Holset (a Cummins company) M2 dual stage turbocharger. Cummins Emissions Solutions is totally responsible for the exhaust treatment system, which has more controls and sensors than Congress. Of course it uses urea to treat the exhaust and moderate nitrous oxide emissions, and mixes in the urea, atomizing it ahead of the selective catalytic reduction (SCR) device. Cummins does NOT add any fuel to warm the system, which enhances fuel economy. As you may know, before SCR (2004-2011) most emissions control was done in the cylinder, depressing fuel economy.
One feature of any diesel is the signature compression ignition clatter. The Cummins 5.0-liter, capable of seven distinct fuel injection events, proved more quiet at idle than Ford, Chevrolet, and GMC trucks we compared to Titan at a rugged quarry job-site test track filled with rocks, hills, bumps, and twists.Titan's signature diesel noises abated quickly where some competitors became objectionably noticeable, loud to be truthful, at the typical 1500-1800 rpm peak torque working range. Running empty through a quarry is one thing, how about loaded?
Like all heavy duty trucks, Titan has a solid rear axle yet felt as, or more comfortable than those well established brands. We even goofed and took our Pro4X on an extensive off road coarse through the Arizona hillsides while laden with three people and a 750 pound load in the bed. The truck handled it the way you'd want it to. Actually, we missed the load drop point and despite moving as quickly as the terrain would allow we only put the truck onto the bump stops once! That was impressive—and the bump stops felt very compressive, not jarring. The truck is impressively solid, we'd expect nothing less in 2015, and we think it looks as good as it performs.
To fully understand how the new Titan XD was gestated it's best to start where the truck did, with scrupulous analysis of the marketplace. In every focus group, regardless whether in Tacoma, Tucson, or Teaneck delivered a clear signal; at least one member of every focus group wished for a truck that pulled like his/her 2003 heavy duty truck, back before the horsepower wars. Their trailer and towing needs—ATVs, motorcycles, 5-12,000 pound trailers—had not changed, yet the cost, size, and power of the truck that pulled it had exploded. This is called a business opportunity. Further research showed that every year 75 thousand truck owners either trade down from a 250-size, or up to a 250 from a 150. Again, the perfect opportunity to sell a truck that's more than a quarter-ton but a shade less than three-quarter ton.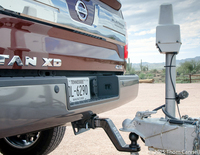 To deliver an exterior design that would capture eyes and buyers, designers at Nissan's North American Design Studio in California brainstormed their design intention not with clay models, but with simple operating statements. The studio is overseen by Diane Allen, who also launched the original 2003 Titan. Designers created an image wall of warriors, not cowboys; the American Titan was to be a heroic Hellenic warrior after Atlas and Hercules. As hokey as this may sound designers respond to emotion and challenge. Sketches pared away excess, down to the barest bones of a warrior's helmet and the die was cast. Hence the bold theme of the "T" in the Titan logo. It's also the genesis of the muscular side panels that flow from headlight over the shoulder and then up to the opposite shoulder with a strong character line between. We think it a very handsome truck, more the strength and grace of a gymnast or dancer, the shoulders of a body builder. For Diane, it was astonishing how much the hood had to be changed to accommodate the Cummins engine, pulling up the power dome as well as lengthening it for cooling. At the front the team created a face they want to be menacing, sinister—a predator— which we think it does best in the Pro4X. And the embossed "Titan" at the leading hood edge only survived after some serious corporate infighting. It was a win for Nissan's American-based design studio.
Interiors received similar analysis, the theme "a grand control structure" that placed everything to hand beginning with a significant change, relocating the gated shifter to the steering column. Titan was the first with a gated shifter, which now you'll find almost everywhere. But, a large "but", that feature wastes prime storage space and the reclaimed space delivers more and larger (up to two 32 oz bottles) cup holders in the center plus larger bins to fit file folders or laptops.
Interiors, whether the work truck grade S model or Platinum Reserve have model-specific fabrics, even the stitching is unique. For instance the Platinum's leather seats are softer than your best sheepskin gloves. Every truck has its own wheels—there are five designs—and each takes inspiration from hand tools. Under the fold-up rear seats are hidden storage compartments that will fit your shotgun or parcels including the gooseneck tow ball hitch or the not-in-use covers for the hitch's built-in holes. You can place up to several hundred pounds on the platform and bungee your new 60" TV to the floor. As well, folded seats have grocery bag hangers.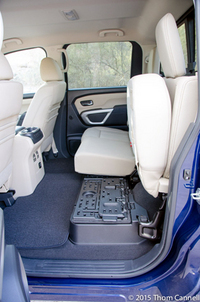 As a truck designed to tow, Titan can arrive ready for a goose neck hitch or fifth wheel with an available adaptor. It uses the Nissan Around View system display the immediate area when a single driver has no one to assist. With a few button-pushes you'll view a backup camera screen that imposes both Left-Right track movement (the path the steering wheel will take you) with a stable projection of the truck's center line. Of all the features, and it isn't unique, with no fuss at all we quickly and easily positioned the ball under a trailer hitch and we did it on the first try. We were off Left-Right perfection by 0.30" and dead center front-to-rear! After that we tried Nissan's patented trailer light detection system. Pressing on the remote lock button once, than twice and hold, first honked the horn, then the 7-pin lighting connector delivered electricity in sequence to the turn signals, the backup lights, the stop lights, and marker lights. Hey, you can do it All By Yourself, which is both cool and useful.
If all this sounds like the current industry obsession with all things electronic was more important than basics we should bring up the chassis. Nissan relies primarily on physical testing and the frame is fully boxed and uses boxed or open welded-in cross members. We detected no flex, even off roading with that tall load. At the point on the chassis where, roughly, the cabin and bed meet, a new hydraulic damper minimizes chassis flex. The rear axle is a brute from American Axle, the rear differential size is increased, and Titan continues to use its "nothing below the axle" damper (you can call them shocks) and spring package. The leaf springs are progressive and larger than ever. In fact Titan was received assist from the suspension and chassis of the commercial Nissan NV series. We can vouch for its solidity having tried to make it bend, twist, buckle, or do anything Nissan said it wouldn't.
Ride quality and interior quietness were primary goals, ones that have been met. We put at least 300 mixed miles on different trucks including towing through Arizona mountains with a 9.000 pound trailer attached. On the multi-hill route cross winds exceeded 25 mph; we had no problems. On two lane roads with no load the ride was comfortable and diesel noise absent. The typical diesel noises are reduced by additional firewall noise suppression and other noise abatement treatments making the cabin impressively, and un-dieselish, quiet. Fundamental to the quietness is the Cummins 5.0-liter V-8 itself and its ability to use up to seven pre-main-post injections. These reduce typical diesel clatter, especially at idle, so yes, you can go through a McDonalds drive through and get your order understood.
Of all the trails the most fun was in a Pro4X model, no air dam, skid plates, Bilstein dampers, and locking differentials. We drove up a very steep and Jeep-ish hill with as much ease as we've ever experienced. There were no contacts with the rocks and ledges,so we never really challenged the chassis as we bounced about kids in a bounce-house. Further along we were able to pick up speed in 4-High and test the dampers and chassis; it was happier than we passengers. We even sped through sand washes in 2WD until hidden sand washes caused a massive brake experience. Oh, those ventilated 14" front and rear brakes feel just great. It's not only the discs, calipers are larger, discs are thicker, everything is more robust for stopping that theoretical 12,000 pound trailer in tow.
We could continue in our enthusiasm, however let's return to the bedrock. This is a home run, possibly a game changer. Ram ECO, you say? It is a wonderful truck, but dedicated to fuel economy, leaving its 2500 sibling to do the heavy work. Chevy has a 6.2 gas truck with similar tow and haul numbers, but it is based on a lighter duty truck. Ford's F150 is grand and surely is a game changer in another way. This leaves, for now, Titan XD alone in a space between light and heavy duty trucks, alone with a premium Cummins diesel in this segment, and the newest truck available. It looks magnificent and offers a different design theme of power and grace; we say the "it looks like a Ford" crowd needs better glasses or less bias. In all, Titan XD is the right truck for 2016. Go, test drive and we think you'll agree.