2016 Honda HR-V AWD EX-L Navi Review by Carey Russ +VIDEO
A longer, more thorough assessment
DRIVING DOWN THE ROAD WITH CAREY RUSS
• SEE ALSO: Honda Research and Buyers Guide
As individual models of automobile get larger in response to customer demand, fashion, marketing, and whatever else, new space is opened at the small-size end of a manufacturer's lineup. Case in point: Honda's crossovers. The CR-V looks like it has grown a bit since its debut back in 1999. While a perusal of the specifications shows that growth hasn't been more than a few inches in any measurement, styling makes it appear larger, and the CR-V has been moved a bit upscale.
Enter the HR-V. About ten inches shorter, an inch narrower, and two inches lower than a CR-V, but only only three-tenths of an inch shorter in wheelbase, the HR-V is not all that much smaller in all-important interior space. And it makes excellent use of that interior space -- being based on the subcompact Fit, the HR-V has its own implementation of the Fit's flip-and-fold "Magic Seat" for cargo/passenger versatility.
Power is from a 1.8-liter single overhead cam i-VTEC four-cylinder engine that produces 138 horsepower at 6500 rpm and 127 lb-ft of torque at 4300 rpm. That's bigger than the Fit's 1.5 liters and 130 hp and appropriately less than the CR-V's 2.4liters and 185 hp. The HR-V weighs around 500 pounds less than the CR-V. Transmissions are a six-speed manual or CVT as the automatic choice. Front-wheel drive is standard, with Honda's Real-Time AWD all-wheel drive system optional, CVT only with that.
Trim levels are LX, EX, and EX-L, with all having power windows, mirrors, and locks, the rearview camera, alloy wheels, a tilt-and-telescope adjustable steering wheel with audio and cruise controls, and Bluetooth® connectivity and Pandora radio. Upscale amenities including a seven-inch touchscreen display, navigation and traffic, heated leather seating, and Honda's slick LaneWatch™ right-side camera are standard or available in the upper levels.
My first look at the HR-V was last Spring, shortly before its release when I had the opportunity for short drives in both a stick and CVT example. The stick made the best impression, as while the engine has decent low- and mid-range power, it shines best up at the top. It's a Honda, so no surprise. The CVT is programmed for fuel economy, which is important in the small crossover class. The top-of-the-line HR-V AWD EX-L with Navigation that has been my test car for the past week had the CVT, as that is the only transmission for AWD examples, and the only one for the EX-L. Judicious use of the transmission's Sport mode and manual "shifting" with the paddles behind the steering wheel got the engine into the power zone when needed, as on steep grades and quick merges. When I got stuck in barely-moving traffic, the CVT was much appreciated, with smooth response and no need for clutch abuse. On highway or byway, the premium-level HR-V was quiet, composed, and comfortable. With plenty of interior and a small exterior, holiday traffic and parking were tolerable. And the Magic Seat is one of the best innovations ever for interior usefulness.
APPEARANCE: The idea behind the HR-V was to combine the looks of a coupe with the utility and versatility of a crossover SUV. While there is a noticeable drop to the rear of the roofline, it's much less so than more "coupelike" things like the late Honda Crosstour. Styling here does not detract from useable interior space. Myriad interesting shapes and character lines disguise a contemporary two-box crossover body plan. The result is busy but cohesive, and discernibly Honda. Textured plastic lower perimeter trim and greater-than-sedan ground clearance announce its "SUV" intent.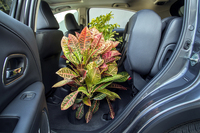 COMFORT: Especially at premium EX-L Navi level, the HR-V's interior is an inviting place. But all levels cover the essentials. "L" means leather, here on the seating surfaces and steering wheel rim. Seating position is upright and high-eyepoint, so the HR-V does not feel small. Soft-touch textured materials and gloss "piano black" panels give an upscale ambiance. Brightly-lit instruments are easily visible in all light, and the color-changing "Eco Assist" lighting around the speedometer tries to teach the driver good habits for fuel economy. All trim levels have controls for audio, Bluetooth phone, information, and cruise control systems.
Storage abounds, with an open tray at the front of the console, hidden from the top and accessible from the sides providing a more secure place to keep a phone or music player than out in the open being noteworthy. Power and USB, jack, and in EX and EX-L an HDMI audio interface are found there. There is also a large console box topped with a sliding armrest, a large, lit glove box, and storage and bottle holders in all doors. Usually in a small vehicle, the rear seat is an afterthought. Not here! In passenger configuration, there is still storage space under the 60/40 split rear seat. Each backrest can be folded flat for a surprisingly long interior load floor. Or each cushion can be folded up to place items in what was the rear seat area -- useful if said items are too tall or shaped poorly for placement in the regular load area. There is a space-saver spare under the rear load floor.
SAFETY: The HR-V has the full suite of Honda safety design and equipment starting with the Advanced Compatibility Engineering™ (ACE™) front unibody structure engineered to absorb and disperse energy from a frontal collision. Four-channel antilock disc brakes also have Brake Assist and Hill Start Assist. Vehicle Stability Assist™ and traction control are also standard. As are an Expanded View driver's-side mirror (integrated convex section for a wider field of view), a multi-angle rearview camera, and a tire-pressure monitoring system. Airbags are dual-stage, dual-threshold front, SmartVent™ front side, and full-length side curtain.
RIDE AND HANDLING: With a taller stance and greater clearance than a sedan or hatchback like a Fit, and a moderately soft tuning of its MacPherson strut front, torsion beam rear suspension, there is more utility than sport in the HR-V. Which is a non-issue as I doubt there is much cross-shopping with a Civic Si. A commendably rigid unibody structure allows that comfort tuning, and correct matching of spring and damper rated means no bounciness or thumpiness, and plenty of happiness over poor road surfaces. The comfort level is very good, interior noise is low, and the electrically-assisted steering is not overly-assisted. Attention to aerodynamic detail means minimal wind noise, good stability at speed, even in strong winds, and improvement in fuel economy. The Real Time AWD system is transparent in operation, and can improve traction on slippery surfaces.
PERFORMANCE: If, with maxima of 141 horsepower and 127 lb-ft of torque from its 1.8-liter engine, the HR-V doesn't seem particularly powerful by today's standards, neither is it particularly heavy. In top-level EX-L AWD form it weighs in at just over 3100 pounds. Torque and horsepower peaks are at 4300 and 6500 rpm, respectively, although the i-VTEC valve timing and lift system ensures optimum torque in the most commonly used rev range, between 2000 and 4000 rpm. So throttle response is usually at least adequate in D, although there can be a bit of lag as the CVT drops "gears" for acceleration in response to a stiff prod on the throttle. If that need can be anticipated, pressing the Mode switch to Sport makes a noticeable improvement. A touch on the downshift paddle can help, too. Eco keeps revs down and lessens throttle response to improve economy, and also decreases air conditioning and other loads on the engine. It's good for steady-state highway driving in normal conditions. With a 0-60 time around 9.5 seconds, acceleration is adequate. EPA mileage estimates for the AWD version are 27 mpg city, 32 highway. I got 27 overall.
CONCLUSIONS: With a large inside and a small outside, plus the convenience of the rear Magic Seat, the Honda HR-V is a good choice for a small crossover.
SPECIFICATIONS
2016 Honda HR-V AWD EX-L Navi
Base Price $ 25,840
Price As Tested $ 26,720
Engine Type 16-valve SOHC aluminum alloy inline 4-cylinder with i-VTEC variable valve lift and timing
Engine Size 1.8 liters / 110 cu. in.
Horsepower 141 @ 6500 rpm
Torque (lb-ft) 127 @ 4300 rpm
Transmission CVT
Wheelbase / Length 102.8 in. / 169.1 in.
Curb Weight 3109 lbs.
Pounds Per Horsepower 22
Fuel Capacity 13.2 gal.
Fuel Requirement 87 octane unleaded regular gasoline
Tires 215/55R17 Michelin Primacy MXV4 94V
Brakes, front/rear vented disc / solid disc
Suspension, front/rear independent MacPherson strut / torsion beam axle
Drivetrain transverse front engine, automatic all-wheel drive
PERFORMANCE
EPA Fuel Economy - miles per gallon city / highway / observed 27 / 32 / 27
0 to 60 mph 9.5 sec
OPTIONS AND CHARGES
Destination Charge $880