2016 Subaru Forester Review by Larry Nutson +VIDEO
2016 Subaru Forester
By Larry Nutson
Senior Editor and Bureau Chief
Chicago Bureau
The Auto Channel
Subaru has been on a roll. Subaru's various models have been selling like crazy for a number of years now. We just wrapped up November with one more selling month to go in 2015 and Subaru has already broken its previous yearly sales record. Sales for 2015 have now surpassed the previous annual sales record of 513,693 vehicles set in 2014 and mark the company's eighth year of sales growth and seventh successive sales record.
Sales in 2015 have largely been driven by their three crossover SUV models, the Forester, Outback and Crosstrek carlines. Now in case you are not familiar with Subaru, don't think of these crossover SUVs as huge, truck-based monsters. They are all modest in size, seat five, each have all-wheel-drive and get good fuel economy.
The Forester is Subaru's best selling model and I recently spent a week driving a 2016 Forester 2.5i Limited which has a base MSRP of $28,795. The Forester 2.5i model is available in base, Premium, Limited and Touring trims. There's also a Forester 2.0XT offered in Premium and Touring trims. The 2016 line starts at an MSRP of $22,395 for the Forester 2.5i and the 2.0XT is priced starting at $29,195. Destination and delivery charge is an additional $850 on all models.
The present iteration of the Forester has been around for only two years, first introduced as a 2014 model. Changes for 2016 are modest in scope with models equipped with EyeSight now also getting Steering-Responsive Fog Lights, which use the pre-aimed fog lights to individually provide enhanced illumination in the direction of a turn. There's also new touchscreen-based technology interface, with the base 2.5i getting a standard 6.2-inch screen and the other trims having a 7-inch version.
Subaru's EyeSight is pretty neat technology. It uses cameras to provide adaptive cruise control, automatic pre-collision braking and lane departure and sway warning. The cruise control and lane departure and sway warning are easy to experience and test in everyday driving. The automatic pre-collision braking is a little more challenging to evaluate. Coming up behind another vehicle rather quickly the pre-collision braking system does give you both a visual and audible warning to brake now. However, in traffic I can't quite come to leaving the braking to be done at the last second automatically by the car.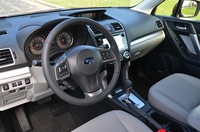 All Forester 2.5i models are powered by a 170-hp 2.5-liter 4-cylinder BOXER engine. The base and Premium models have a 6-speed manual transmission with an automatic Lineartronic CVT optional. The Limited and Touring are offered only with the CVT. My Chicagoland driving with the Forester didn't leave me any feeling of disappointment with the power train. The engine with its CVT is fairly quiet, and a lot better than some other brands with similar 4-cylinder engine and CVT combinations. Acceleration from stop to 60mph is around 9 seconds according to my rough estimates. Highway merging and passing are handled well.
The best Forester EPA-test fuel economy ratings of 24 mpg city, 32 mpg highway and 27 mpg combined are with the 2.5-L engine and Lineartronic CVT. The 6-speed manual transmission on the base 2.5i and 2.5i Premium have EPA-test fuel economy ratings of 22 mpg city, 29 mpg highway and 25 mpg combined.
It's interesting to note that all 2.5i models are Partial Zero Emissions (PZEV) certified. A partial zero emissions vehicle is a classification in the United States for a vehicle that has zero evaporative emissions from its fuel system, has a 15-year (or at least 150,000-mile) warranty on its emission-control components, and meets SULEV tailpipe-emission standards. What does that mean for you? Well beyond the obvious of being "green" and driving a vehicle with very low emissions levels, it may mean that at your workplace you can get a better parking spot. Many LEED certified buildings are required to provide better or closer-in parking to encourage the driving of low emission vehicles. Something to think about.
The Forester 2.0XT is powered by a 250-hp 2.0-liter intercooled, turbocharged 4-cylinder BOXER engine mated to the Lineartronic CVT. EPA-test fuel economy ratings are 23 city mpg, 28 highway mpg and 25 combined mpg. I will note here that this engine's 250-hp rating is achieved with 93 AKI premium fuel.
All 2016 Forester models come standard with Symmetrical All-Wheel Drive. Now the Chicagoland roads were clear and dry during my test drive. But I have driven the Forester off-road. At the annual Midwest Automotive Media Association (MAMA) Spring Rally we drive an off-road course in a wooded and hilly area at Road America race track in Elkhart Lake, Wisconsin. We get to drive various suitable vehicles up and down steep inclines, traverse steep slopes and climb rocks. The Forester certainly can hold its own and very comfortably do most of what the bigger SUVs can do. It's not surprising that the New England states have a ton of Subaru owners.
The Forester has 8.7 inches of ground clearance which is higher than for many crossovers and SUVs and yet there's a low step-in height making for easy ingress and egress.
Beyond the seating for five, the rear cargo area holds a lot of stuff, or perhaps your pet Labrador retriever. It more than doubles from 34.4 cuft to 74.7 cuft with the rear seat folded. Sunroof models have a little less room due to the lower roof height.
If you are interested to compare the 2016 Subaru Forester to other compact SUVs you can do that right here on TheAutoChannel.com. And there's a lot more information and detailed specifications on the 2016 Subaru Forester just a mouse click away at www.subaru.com.
The Forester is an IIHS Top Safety Pick plus with available EyeSight Driver Assist Technology. If you are car shopping, the Subaru line-up is worth to check out.
© 2015 Larry Nutson, the Chicago Car Guy
The Most In-Depth Subaru Vehicle Shopper's Research - Anywhere!