2016 Audi A3 TDI Road Test - Silent and Stylish by Thom Cannell +VIDEO
Silent and stylish, the 2016 Audi A3 TDI Sedan
By Thom Cannell
Senior Editor
Michigan Bureau
The Auto Channel
Audi, like every luxury car maker offers entries into its family of sedans. At $39,995 (including $895 delivery), the diesel powered 2015 Audi A3 TDI cannot be said to be inexpensive. Yet it is a good value in fuel economy and driving pleasure. After a single mile we were enraptured by its silent cabin which was like having our own cheery, bright, responsive transport system. Beyond quietness, the interior design—for which Audi regularly reaps rewards—shows how the company can deliver value and keep the costs relatively modest. Modest? Yes, our TDI included the $2,000 charge for its powerful and quiet diesel engine above the base price of $32,000, plus we benefited from $5,700 in luxury upgrades.
Of all the A3's attributes we find some aspects of its exterior styling bland when compared to svelte Audi's like the A7. The A3 sedan is a bit chunky in side view and we prefer the A3 hatchback for its greater panache. Still, and because of the notably Audi front grille, we find the 2016 A3 appealing. For instance the über-slick tight integration of wheels—they're alloy of course—to the body which pulls the car down to the earth for aerodynamics and great looks. Fit is so tight—we'd guess a 40mm gap between tire and wheel arch—it looks customized. Where theA3 TDI excels is inside and under the hood starting with its most important feature, the driver's view.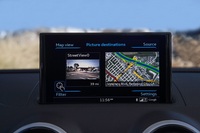 A3's instrument cluster is bright and cheerful, glowing like an upgraded Kindle with pearl-white on charcoal-black background. That makes critical data pop, delivering clarity without glare. We do like the speedometer and tachometer sizes and how they fill the instrument cluster, the multi-function Driver Information Center nestled in between. Beside the instruments, the optional pop-up navigation screen is intriguing. Audi's MMI navigation screen is photo-realistic with roads lined in white and identified by name. We found the 3D flyover view amusing, more like flying an ultralight aircraft than passing through your neighborhood on a bike.
With many car owners more interested in connectivity than performance, A3 owners will have multiple ways to connect to Audi's Multi-Media Information audio, navigation, and telephone systems. MMI's control system uses voice, buttons, and even the ability to draw letters and numbers to spell out an address. We found that drawing was often the swiftest way to enter complex address information. In use, either ask the system for, say, Navigation or push that button to change the display. Icons and maps include personalized coffee shops, banks, gas stations, traffic, speed limits, and offering choices of 2D or 3D maps. Naturally we'd say using any entry method other than voice while driving alone is foolish.
Audi provided old and new Apple connectors, nothing for Android (that we found) though any BlueTooth-equipped device can stream music into the audio system. The A3 also provides a built-in WiFi hotspot (we lacked a password for testing). Beyond streaming, there's SiriusXM/radio stations a CD player stuffed into the glove box. We tried voice activated navigation entry (we failed) and reverted to scrolling through the alphabet letter-by-letter. A better solution was in order, drawing the information on the flat MMI control surface. This is obviously a desirable option if you often need to enter destinations as it easily decodes your personal scrawl of letters and numbers.
Moving away from the MMI, we have to contend with the fact that the A3 is less expensive than its larger siblings and reduced cost must come from somewhere. Audi strives to deliver value without compromising their vaunted interior design and quality. We think it achieves most of that objective. The sedan's dash is a single piece and nicely textured to avoid glare while offering surfaces you will enjoy touching. Matching door skins deliver a similar high quality tactile experience. When compared to a lower price competitor we drove recently whose surfaces were firm and sounded thin, the A3 offers soft touch surfaces that both sound and feel richer, like padded leather though it is a coating that lies to your fingers.
Something Audi does very well is creating surfaces that don't try to fake something they're not. The A3's dash surfaces were textured in a charcoal non-glare material while other areas on our test car provided the visual texture of bamboo to enhance richness. Audi's have been awarded for their interiors and this exploration of surface treatments is one we've seen at trade shows for some years, but seldom in production vehicles because of expensive. Here it creates an organic experience at less cost than leather or other super-premium coatings.
Most buttons and knobs appear to be turned aluminum yet are plated engineered polymers, for instance, air flow-governing inserts. (Did you know the fan and the air it moves is a huge source of interior noise?) You won't hear much noise from the outside or inside the A3, it has plenty of strategically placed sound absorbing materials. Music will play brilliantly, or you might choose moments of solitude for your journey.
Our 2015 A3 TDI used a 2.0 liter EA288 diesel engine, one of the motors under indictment. Sometime in 2016 an approved diesel motor will debut, likely a lightly tweaked version of the same engine (See Sidebar*). The test car delivered well above its expected high 30's miles per gallon, sipping fuel at just under 40 miles per gallon with the A/C on. A warning for instinctive drivers; it's a dangerously smooth riding car. If you relax and "just drive" you'll roll merrily along to far above the speed limit, readily exceeding 90 if you aren't attentive. We attribute this to the diesel engine's massive torque and the car's smooth and quiet chassis.
But will you enjoy owning this car? Is it quiet, comfortable, a continuing delight?
It is an Audi so you'll feel much of the road through the chassis without being harsh. Because of the highly rated MMI system it excels at connectivity and the quiet cabin ensures a pleasant drive of any duration. The interior delivers most of what Audi has become famous for at an affordable price while never giving the feeling you've been deprived for luxury.
Volkswagen's Diesel Software cheating:
Leaving aside the legal and moral aspects of deceptive software and EPA measurements that are false, some facts and technical speculation are in order. First, the latest EA288 for model year 2015-2016 engines used by Audi and Volkswagen are very likely legal, at most requiring a software revision. Older VW/Audi diesel engines for 2012-2014 are also equipped with SCR (Selective Catalyst Reduction requiring urea/AdBlue) injection to chemically convert nitrous oxides into harmless gasses. These Generation 2 EA 189 engines will require software revisions, perhaps including revised hardware that has yet to be tested or approved.
Older EA189 engines are those most affected. They will certainly require new software and revised hardware to meet emissions regulations. There are no approved parts as yet.
Now for some facts that are under-reported and some speculation.
From the Congressional Hearing, a quote from VWoA President Michael Horn
HORN: "...And so I would go back -- like to go back to the EPA yesterday of what they said. I think it will be part of the discussion.
But I would also like to point out that if you look at 100 percent of nitrogen oxide emissions in the U.S., the car and truck industry is having 5 percent. Our group here in the U.S. has 4 percent of the 5 percent, which is .2 percent.
And out of this, 20 percent is TDI, which is .05%. And now we can multiply this, which is not belittling this. And it's clearly unacceptable, but within this context, clearly, the discussion will come up and needs to be addressed."
What this means is that the "The Sky Is Falling" pronouncements of 35 or 40 times legal limit is pandering and grandstanding. The resultant 0.1% of total NOx emissions is very nearly nothing, again not to belittle the obvious moral aspects of data falsification and rules violations. Also, only the US has historically imposed these very tight regulations on NOx; others are following, particularly large urban areas which, like Los Angeles, have photo chemical smog (greatly caused by power generation).
Now for our speculation, and you have to go back to the mid 1990s' when engine control microprocessors were still coded almost by hand. Instructions were written, often, in machine language not in modern languages like C+ or C++. As the ECUs became more powerful it became necessary to use easier languages, ones taught in University. Code went from hundreds and thousands of lines to tens of thousands and millions which were then compiled (a computer program reads one language and translates it into what an ECU can understand and execute).
So, picture Hans and Dieter in a lab getting instructions from top corporate executives to make the diesel run clean. Maybe they code in the EPA test procedures and end up with one set of code to be used while testing, another to deliver better power and fuel economy when not. They find a "solution" that works in theory, or as an exercise. Maybe they cheat to keep their jobs. Maybe they leave for another company. Maybe the boss likes the results and does not comprehend or care how those results were achieved. Maybe Hans and Dieter lie to the boss. Mountains of maybes, scads of what-ifs. And, over the years nobody remembers how the results were originally produced, the code lives on from generation to generation.
For other numbers and speculation we suggest reading colleague Chris Sawyer's VW Cheating diatribe or Bob Lutz scathing opinion.
The Most Audi Research Information Anywhere!