2016 Toyota Prius Review by Steve Purdy +VIDEO
2016 TOYOTA PRIUS
First Drive
By Steve Purdy, Senior Editor
The Auto Channel
Michigan Bureau
A pioneer and undisputed leader in alternative powertrain cars around the world is Toyota's popular Prius. In fact, until recently it was even the best selling car in California for some years running. We attended the launch event earlier this week in a beautiful coastal area just south of Los Angeles were I was reminded again how popular the car is here, because we saw so many. Prius are as popular in California as pickups in Texas or Subarus in Vermont.
This new Prius represents just the fourth generation of this iconic "green" car, favored by those who think of themselves as ecologically responsible and forward thinking. Of course, just as important to many owners is simply the economical total cost of ownership. That concept continues as Toyota designed this new Prius on their all-new TNGA (Toyota New Global Architecture) platform with a lower center of gravity. That platform will be used internationally for a variety of new products. They tout, among other advances, a 60% increase in rigidity, a new, more sophisticated double-wishbone independent rear suspension, new spring rates and a variety of other under-the-skin improvements.
Exterior styling takes a big leap forward while maintaining the wedge shape and overall profile that has made the Prius so easy to recognize. A more expressive front fascia, deep character lines all around, narrower A- and B-pillars, a sleek floating rear roofline and truly brash LED taillights with a zigzag shape, set this car off without obscuring its brand identity. It did not seem to turn heads on the streets around here but the new styling details impressed most of us at the launch.
The dash and other interior details get a full redesign as well with a wrap-around, horizontal theme replacing the former car's attractive but more diminutive and curvaceous style. It gets a new, double 4.2-inch display with full color, better seats, some classy stitching, and better materials to bring its look upscale. An optional heads-up display keeps some crucial information in front of the driver as the main instrument cluster remains in the center as in the outgoing car. Materials are both better quality and more stylish with some two-tone color schemes and more contrasting hues.
The new Prius is a couple inches longer and just about a half inch wider with better cargo space. The batteries are under the rear seat allowing a more efficient use of the available space resulting in an impressive 24.6 cubic-feet with rear seat backs in place. A spare tire is not included. Regenerative braking continues to contribute to efficiency and new aluminum brake calipers contribute to the weight loss.
Notwithstanding the Prius' slightly higher curb weight the new car's mpg ratings go up nicely. The EPA estimates 54 mpg in the city for most models and 58 mpg for the new Eco grade car that reduces weight even more and adds some aerodynamic efficiency without compromising too much in other areas. Toyota proudly claims this to be the best fuel mileage for any car without a plug. Being just a smidge lower, wider and longer than the outgoing car, and with some underbody covers, it measures a remarkable 0.24 coefficient of drag. That helps incrementally with fuel mileage as does the automatic grille shutter.
Power continues to be generated by the same 1.8-liter, Atkenson-cycle, four-cylinder engine with two motor/generators and an electronically controlled planetary-type CVT. It's now rated at 121 horsepower. Some of these components have been lightened a bit but the big news is the use of a new lithium-ion battery replacing the heavier traditional nickel-metal hydride units. The latter is still used in the Prius Two non-Eco model. A selectable Power mode will improve acceleration, they say, but switching between that and Normal mode I felt no difference. The conditions under which you will feel that are limited, I think. This is not a speedster in any sense and a 0-to-60 mph time of around 9 seconds will verify that. It is still enough power for most driving conditions including a merge onto the freeway on a short ramp.
Available on most Prius models is a new "Safety Sense" system with automatic pre-collision braking. We tested the system at a nearby abandoned airport where they set up a couple of demonstrations of how the system will intervene and come to a complete stop under certain circumstances if the driver fails to take control in time. It was a bit disconcerting at first as instinct told me we were going to hit the barrier. But when I was finally able to let the car control the situation it came to a sharp, hard stop just inches from the simulated van and pedestrian. The system will cost about $600 extra, but for some folks might be worth the cost. Also standard on all models is a rear-view camera.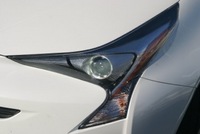 All models come with alloy wheels, but that's not what you think. They are not styled alloys. Rather they appear much like a stamped steel wheel and all have styled plastic wheel covers designed for aerodynamics. Low rolling resistance tires are provided. While Toyota claims they are "optimized for grip" we did not find them particularly grippy on the handling course.
We did, however, find the overall handling quite good with decent steering feedback and surprisingly flat cornering - due, probably to a combination of the new rear suspension and the much more rigid chassis. We also found it remarkably quiet inside as they've added much more sound deadening material under and around the cabin.
Prices for the new Prius range from $24,200 for the bottom-end Prius Two to $30,000 for the Prius Four Touring. Lots of high-end option will now be available like self-parking, lane departure warning, pre-collision system, pedestrian detection, automatic high-beam control and adaptive cruise control.
Toyota's new car warranty will cover the car for 3 years or 36,000 miles and the powertrain for 5 years or 60,000 miles. Hybrid components are covered for 8 years or 100,000 mile.
The new Prius will be at dealers early next year – 2016.
© Steve Purdy, Shunpiker Productions, All Rights Reserved
The Most In-Depth Toyota Vehicle Shopper's Research - Anywhere!