2016 Acura MDX AWD Review By Carey Russ
DRIVING DOWN THE ROAD WITH CAREY RUSS
• SEE ALSO: Acura Research and Buyers Guide
If the 2016 version of Acura's crossover flagship MDX looks just like the 2015 or 2014 models, it is. On the outside. Underneath its distinctive skin, the previous six-speed automatic transmission has been replaced by a new nine-speed. This is not readily visible, but, once inside, its interface most definitely is. The shift lever on the console has been replaced by buttons, as in the similarly-equipped TLX.
The new transmission and enhancements to the "Super-Handling All-Wheel Drive" (SH-AWD) system mean improvements to both performance and fuel economy. The lower low gears and wider spread of gear ratios in the transmission means quicker acceleration and more economical highway travel. Counterintuitively, the new transmission is lighter than the old six-speed, and changes to the SH-AWD system reduce its weight while improving efficiency as well.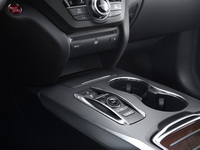 There are added trim levels since the current MDX's debut, no surprise. "Base" version is as well-equipped as expected for a luxury machine. Acura Watch Plus adds electronic safety systems including Collision Mitigation Braking, Lane Departure Warning and Lane-Keep Assist, and active cruise control. The Technology Package gives you a navigation system with real-time traffic, enhanced audio, a blind-spot and cross-traffic monitoring system, and more. The Advance Package means upgraded leather, heated and ventilated front sports seats and heating of second-row cushions, and more. The Entertainment Package puts a screen for DVD entertainment on the ceiling behind the front row. Package combinations are offered, and this week's test car was the top of the lineup, an SH-AWD with the Technology, Advance, and Entertainment packages.
Improvement from earlier examples of the current generation is incremental but noticeable. Less weight and the new transmission mean it's a bit quicker when needed or desired, and uses less unleaded premium. Especially as equipped as my test example, it has all of the contemporary luxury features, and everything is easy to use. Unlike many a largish crossover SUV, but in keeping with its heritage, the MDX is a driver's machine, and is much more competent than its size may appear to indicate. Yes, it's as practical and comfortable and luxurious as expected of a luxury crossover, but it also likes to be driven, as opposed to merely operated.
APPEARANCE: Recognition is important, and the MDX is recognizable. There are no major changes outside for 2016, and none necessary. A bit longer and narrower than its predecessor, that length is accentuated by the sloping "fastback" line of the side windows and the hood-to-cabin proportions. Subtle sculpting on the hood and sides breaks up any large expanses of sheetmetal, but without excessive, baroque, detail for a clean look. Chrome accents in front on the grille, headlight trim, and bumper fascia, on the sides around the windows and on the door handles, and across the tailgate and around the reflectors on the rear proclaim its luxury status. Technology proclaims itself with "compound eye" LED headlights, five per side. LEDs are also used for the taillights, but less obviously. Interestingly for a performance-oriented vehicle, the exhaust is hidden in front of the rear lower bumper fascia. Preparing customers for a hybrid or EV at some point? Don't be surprised.
COMFORT: As outside, the MDX's interior strikes a fine balance between simplicity and complexity. Visual boredom is banished, but function is never sacrificed for form. Even in "base" trim all of the expected contemporary luxuries are standard, and there should rarely be a reason to take the "key" fob out of your pocket with pushbutton start/stop and proximity door un/lock. The main instruments are brightly lit and easy to read. An information display between the speedometer and tach shows fuel, range, tire pressure, and other useful information; further information and data features are available through the display at the top of the center stack or another one below it. Yes, you could think of your MDX Advance as a large mobile deviceā€¦ The interface to the navigation, Bluetooth phone, audio, and information systems has been simplified, with hard buttons for main features and a touchscreen interface for details. All contemporary audio choices are available -- AM/FM/SiriusXM radio, CD, hard disc, external player via jack or USB, and streaming audio via the Bluetooth connection. Looking for the shift lever? There isn't one -- it's been replaced by a series of buttons, with a lift switch for reverse. It takes up the same amount of space on the console as a traditional shifter, but does allow easier access to the front of the console and lower part of the dash. Access is a little easier than previously as the new MDX is lower in both step-in and hip point measurements. Front seats give luxury class support and comfort and support, and at Advance level are both heated and cooled. The second row is business class, a 60/40 split contoured bench each part of which has six inches of fore-and-aft travel and multi-position back angle adjustment. Spring loading makes for easy third-row access when needed, and some of the wheelbase increase makes itself felt even back there. The space-saver spare is located in the traditional SUV spot, outside and underneath, all the better for cargo capacity.
SAFETY: The 2016 MDX uses the latest development of Acura's Advanced Compatibility Engineering (ACEā"¢) unibody design and construction to channel crash energy around the passenger compartment in a controlled manner. An expanded-view driver's outside mirror and multi-view rearview camera are standard in all models. Lane Departure Warning, Forward Collision Warning, Collision Mitigation Brake System, Blind Spot Information, Lane Keep Assist, and Adaptive Cruise Control systems are available in various option packages.
RIDE AND HANDLING: From its debut, the MDX has been one of the best-handling crossovers on the market. It's now even better, thanks to the improved unibody structure with redesigned MacPherson strut front, multilink rear suspension, longer wheelbase, and lower ride height. Its 7.3 inches of ground clearance is when empty, and will drop as weight is added. So anything more "offroad" than a well-maintained dirt or gravel road or cleared snow will be out -- but how many MDX owners have ever done even that? The electric power steering has a good touch and is not overly numb. Braking ability is very good. The Integrated Dynamics System has three settings: Comfort, for that soft 1970s ride, Normal, still soft but with somewhat less body motion, and Sport, firm but not overly so and perfectly comfortable with much less body roll and heave than Comfort. I tried the other two and then left it in Sport, which fits the MDX's character perfectly. Aerodynamic improvements and acoustic glass keep the interior pleasantly quiet. The SH-AWD system unobtrusively ensures optimum traction in all conditions.
PERFORMANCE: Less weight is always better than more power, and it can mean greater efficiency as well. The MDX's 3.5-liter V6 is lighter than the old 3.7, and is unchanged, still with 290 horsepower (at 6200 rpm) and 267 lb-ft of torque peaking at 4500 rpm. Direct fuel injection allows a high 11.5:1 compression ratio for efficiency, meaning more power with less fuel. i-VTEC valve management improves torque and horsepower delivery, and cylinder deactivation when appropriate ensures further gains in fuel economy. The new nine-speed automatic is lighter than the old six-speed, and its lower low gear ratios and higher highs mean both quicker acceleration -- 0-60 time drops about half a second to 5.9 -- and better highway mileage. The 21 mpg average I got during my test week was despite a bias away from highway travel -- some highway stints returned 25 to 27 mpg, not bad at all for a near-300 horsepower, two-plus SUV.
CONCLUSIONS: A new nine-speed transmission and less weight keep the 2016 Acura MDX at the front of the large-midsize luxury crossover class.
SPECIFICATIONS
2016 Acura MDX AWD
Base Price			$ 57,080
Price As Tested			$ 58,000
Engine Type			aluminum alloy 24-valve SOHC V6 with
				 direct fuel injection and i-VTECĀ® valve 
				control
Engine Size			3.5 liters / 212 cu. in.
Horsepower			290 @ 6200 rpm
Torque (lb-ft)			267 @ 4500 rpm
Transmission			9-speed multi-mode automatic with
				 manual-shift mode
Wheelbase / Length		111.0 in. / 193.6 in.
Curb Weight			4268 lbs.
Pounds Per Horsepower		14.7
Fuel Capacity			19.5 gal.
Fuel Requirement		91 octane unleaded premium gasoline
				 recommended
Tires				P245/55 R19 103H
				 Michelin Latitude Tour m+s
Brakes, front/rear		vented disc / solid disc,
				 ABS, EBD, BA standard
Suspension, front/rear		independent MacPherson strut /
				  independent multilink
Ground Clearance		7.3 inches
Drivetrain			transverse front engine,
				 full-time all-wheel drive

PERFORMANCE
EPA Fuel Economy - miles per gallon
    city / highway / observed		19 / 26 / 21
0 to 60 mph				5.9  sec
Towing Capacity				3500 lbs.

OPTIONS AND CHARGES
Destination Charge			$ 920


The Most In-Depth Acura Buyer's Research - Anywhere!