2016 Toyota 4Runner In The Desert Review By Steve Purdy
2016 TOYOTA 4RUNNER IN THE SONORAN DESERT
From a Shunpiker's Journal
Review and Travel Story by Steve Purdy, Senior Editor
The Auto Channel, Michigan Bureau
The Sonoran Desert covers most of Southwest Arizona, Southern California and parts of Mexico including most of the Baha Peninsula. Having visited Arizona and Nevada many times we've always wondered where the line of demarcation is between the Sonoran and Mojave Deserts and what makes those dry regions distinct from one another. We'll explore that this time.
The good folks at Toyota provided a new off-roady 4Runner mid-size SUV for this trip, now in its fifth generation and significantly refreshed just a couple years ago. We picked it up at the Phoenix airport and cruised north to Scottsdale, our base of operations for this tour.
First impressions of the 4Runner remind us of something we might find on a civilized safari, that is, high off the ground, bulging hood and wheel arches, meaty tires, and tough, boxy shape along with modern amenities for comfort and functionality. The truck's most recent styling updates included a more aggressive front fascia, LED taillights, projector beam headlights, integrated fog lights and enough graceful elements to make it feel urbane. Our Barcelona Red (nearly maroon) test truck is the Premium 4X4 Trail model, third of four trim levels, and it is loaded with all the hardware and software that will allow us to go wherever we want in the desert.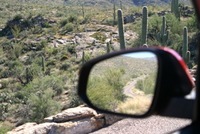 The 2013 refresh included an entirely new interior – functional and more modern, not necessarily pretty. The small navigation screen is not easily managed and we were stymied trying to input a destination and reconfigure the display. I'll admit, though, I'm not particularly adept at that sort of thing. Materials inside are of good quality. Fit and finish are excellent. The leather seats fit me well and were comfortable on our long jaunts. Interior space is generous with 47.2 cubic-feet behind the rear seat and 89.7 with the 60/40 seatbacks folded. In the rear we have an optional slide-out shelf that adds considerably to the utility. We can use it for our desert picnics. The full-size spare tire, by the way, is mounted beneath the rear of the truck like on a pickup truck.
When we think of Sonora flora the saguaro cactus comes first to mind, and for good reason. This is the only place on earth where that magnificent plant grows naturally. The saguaro has a most unique and unusual structure as a dry-land plant. Standing tall and straight with a bony substructure we find them in varying densities throughout the region. They do not begin to develop the characteristic arms until they are about 60 years old then they sort of go wild with varied shapes after that. Among the saguaros are many other dry land bushes we find in the Mojave as well like barrel cactus, Teddy bear cholla and the nearly ubiquitous creosote bush.
Near Tucson the Saguaro National Park celebrates and annotates the entire Sonoran ecosystem and protects large, dense stands of the saguaro. Both sections of the park, one southeast of Tucson, the other just a few miles west, offer well-maintained loop drives with spectacular views. In the eastern section of the park we see how the saguaro's density varies and how much they can look like crowds of stylized people. We can also see the entire lifecycle of the saguaro from the first babies the size of a small melon hiding beneath bushes and trees to the spiny wood carcass of those long dead.
From the western park we noticed Golden Gate Road, a dotted-line road extending northeast off the loop road. We asked the ranger about it, hoping it would be a challenging segment along which we could test the 4Runner. The ranger only knew it was not maintained and was pretty rough. So, of course, that was all we needed to hear. Though it turned out not to be particularly challenging our nine-inches of ground clearance came in handy through a couple segments. We'll look for a bigger challenge elsewhere.
We promised our benefactors at Toyota we would not work the 4Runner too hard or risk hurting it, though that would certainly be fun sometime. This press loaner was newly minted with only 1,200 miles on the odometer. Later, a short drive northeast of Scottsdale got us away from the city where we found some more wilderness to sample. The small towns of Cave Creek and Carefree are rapidly developing with upscale subdivisions, golf courses and service businesses. But, as we took Cave Creek Road east well past the edge of the development out into the Tonto National Forest ("forest" might seem like a misnomer) toward Bartlett Lake we found solitude and a suitable wash.
Not too many miles after the pavement ended we found Rackensack Wash. From the dusty roadway it looked like any desert wash with rocks and gravel where an intermittent stream passes. It appeared passable but pretty rough. We drove a couple hundred yards up the wash through sand, gravel and rocks using most of that ground clearance again, but not accessing the skid plates. There we found a lovely spot to photograph the truck near an old crumbling bridge abutment. Then we saw a two-track wandering up the bank of the wash. We used our low range and rear differential lock as we drove in a couple of miles. We could have done it without the extra mechanical advantages but it was fun to use them anyway.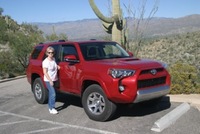 The basic rear-wheel drive 4Runner SR5 will only set you back $33,510 and you'll find it a well-equipped, tough and modern, full-frame SUV. Our Premium 4X4 Trail version starts at $39,095 with leather, power sunroof, navigation and all that other stuff we've talked about plus a lot more. Options on our test car are that slide-out rear cargo deck and the Kinetic Dynamic Suspension System. Bottom line on our sticker is $41,345. You'll probably find some decent incentives at your local Toyota dealer.
Our exploratory drives took us all around central Arizona - all over Phoenix and Scottsdale, along the Rio Verde, down to Tucson, over to Payson and up to Sedona. On previous trips we've visited most other parts of the state as well. We appreciate and celebrate the variety of Native American tribes and their influence on art and culture. I always need to understand the geology and geography of an area as well and find Arizona endlessly fascinating in all those categories. What a beautiful state!
Out on the mountain roads we never felt like we had too little power. Under the hood of the 4Runner is a tried-and-true, technologically up-to-date, 4.0-liter V6 making 270 horsepower and 278 pound-feet of torque mated to a tough 5-speed automatic transmission with manual mode. Steep slopes headed up past Payson at the northeastern limits of the Sonoran Desert barely made the truck work. Downshifting to third gear and even second on a couple of hills was not a problem. The EPA estimates this 4,400-pound truck will get 17 mpg in the city, 21 on the highway and 18 combined. We experienced all sorts of conditions with two big highway jaunts and averaged 19.1 mpg. The 23-gallon fuel tank is good for an excellent 400-mile range.
Toyota rates the 4Runner with a towing capacity of 5,000 pounds and the payload capability at 1,700 pounds. These are not bad numbers at all adding icing to the off-road cake. After all, we have a tough body-on-frame chassis with low-range transfer case, locking rear differential, electronic assistance for a variety of terrains, crawl control, downhill descent control, stabilizer bars that adjust and can disconnect themselves to accommodate more suspension travel, skid plates, lots of ground clearance and plenty of power.
The northern limit of the Sonoran Desert is essentially half way between Phoenix to Oak Creek Canyon then to just below Lake Mead and down to the middle of the California/Mexico boarder, plus most of the Baha Peninsula and the Mexican province of Sonora. The Mojave extends from Las Vegas though Death Valley and into rest of Southern California. The characteristics of these ecosystems – flora, fauna, geology and ecology - are marginally different and we find these nuances fascinating. But, we need a guide to properly understand it all. (Maybe next time.) A good rule-of-thumb: if you see the saguaro cactus you're in the Sonoran. If you see the Joshua tree you're in the Mojave.
We have explored much of the Mojave with our friend and desert guide Mojave Moses from Blue Diamond, Nevada. (See these stories: HERE and HERE. Next time we visit Arizona we'll enlist the services of a Sonoran guide and do a more serious and well-annotated tour.
Before we close out this narrative allow me to comment on the food scene. Scottsdale and Phoenix are among the best culinary destinations ever. The variety of Southwestern and other creative, upscale cuisines is amazing. We found a great place at the Promenade Center near the corner of Bell and Scottsdale Roads called Cantina Laredo we liked so much we went back three times for the amazing happy hour specials. But for the old-timey ambiance you'll want to go a few miles north on I-17 to the New River exit where you'll find the rustic Roadrunner, a cowboy and biker bar where its own rodeo arena with six bulls caged within, a bandstand, a dirt parking lot that has not experienced the business end of a grader for 20 years at least, outside tables and the most colorful assortment of miscreants you can imagine. Good food – great desert ambiance.
The 4Runner turned out to be just the right vehicle for this tour. We found its ride, handling, performance and overall ambiance surprisingly pleasant to live with. If we lived here in the desert, or near any wilderness area, we would find this a great daily driver. While the fuel mileage isn't great, it is decent particularly when we think about what it was a few years ago. If we were not interested in going off road, some other crossover or more sedate SUV might be in order. In our case, though, we would want something with this level of capability so we could do really challenging drives whenever we wanted.
ęSteve Purdy, Shunpiker Productions, All Rights Reserved
The Most In-Depth Toyota Vehicle Shopper's Research - Anywhere!