2016 Honda Pilot Elite AWD Review by Carey Russ +VIDEO
Featuring significant improvements for 2016
DRIVING DOWN THE ROAD WITH CAREY RUSS
• SEE ALSO: Honda Research and Buyers Guide
Since its debut for 2003, the Honda Pilot has become a benchmark in the "small" three-row crossover class. The third generation debuts for 2016, and life for the competition just got harder. The 2016 Pilot offers seating for up to eight passengers, higher standard equipment levels and more upscale options, a greater degree of refinement, and improvements in both performance and fuel economy.
Like its predecessors, the new Pilot is designed and built in the U.S. for the North American market. The engine is still a 3.5-liter V6 with Variable Cylinder Management™ cylinder deactivation for improved highway economy, but direct fuel injection and other internal upgrades increase power from 250 hp to 280, on less unleaded regular. I got 22 mpg for my recent week; the 2013 equivalent I tested was good for 19. A nine-speed automatic transmission and 300-pound weight decrease help there, too.
New styling is the most apparent change. Hidden by that is a two-inch stretch in wheelbase and three-inch increase in length -- in a vehicle that looks smaller. The size increase translates directly to improved legroom and cargo area. Standard and optional infotainment systems take advantage of the latest advances in electronic technology. All current physical safety technology is standard, with sophisticated electronic systems available on higher trim levels.
Trim level are standard Honda nomenclature, base LX, well-equipped EX and further-upscale EX-L, Touring, and the new Elite. Touring used to be the top of the line. Elite adds a panoramic moonroof, LED headlights, heated and ventilated front seats and heated second-row captain's chairs (leather of course), a heated steering wheel, blind-spot and cross-traffic monitoring, and multiple interior enhancements. A revised six-speed transmission is found in LX, EX, and EX-L models, with Touring and Elite getting the nine-speed. Which also includes auto-stop/start at stoplights for further improvements to fuel economy.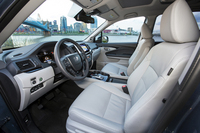 My test car for the past week was, unsurprisingly, the Premium Pilot, an all-wheel drive Elite. No options, everything is included. Meaning luxury appointments, conveniences, comforts, and gadgetry without luxury ostentation. At a saving from a luxury-brand price. Most of the basic useful features are found in all trim levels, and if you don't need a rear entertainment system, navigation, illuminated cupholders, and the like, there you go. There are reasons the EX and EX-L are popular. If high-value luxury is what you want, the Elite will deliver. I found it to be comfortably spacious but not too big -- it's still parked, not docked. No power shortage, although the drivetrain is programmed for economy over performance, fittingly. My 22-mpg average might not impress hypermilers, but is commendable for a seven-passenger (in this configuration) family hauler. It won't be on any posters in a teenage gearhead's bedroom, but at a party I was at the young mothers (daughters of friends…) were all over it.
APPEARANCE: It almost looks like someone at Honda's Los Angeles design studio brought up a CR-V on the CAD-CAM system and pressed the "bigger" button. Not quite -- the grille and headlights are most similar but far from identical, and the overall shape is a bit boxier if far from the box that was the second-generation Pilot. Even parked next to one of those, the styling fools the eyes into thinking "it's smaller". And it is most definitely a Honda. It's lower and narrower than the previous generation, so frontal area and the coefficient of aerodynamic drag are lower for improvement in fuel economy and interior quiet.
COMFORT: The 2016 Pilot is even newer inside than out. There's plenty of space, and plenty of spaces to store things. In the usual multiple configurations. Lesser trim levels use a second-row bench for an eight-passenger configuration; the Elite has captain's chairs (with cushion heat) that have eight inches of fore-and-aft adjustment, electric servo movement for third row access, and a walkthrough-friendly low center console. Access to the second and third rows is easier thanks to a lower step-in height and longer rear doors. Second-row accommodations are equal to the front -- very good -- and the third row will hold medium-sized adults if forward passengers are of similar size. Storage spaces include a locking glovebox, gigantic front console box, and multiple spaces in all doors. There are no supersize drink bottle holders, but there is at least one cupholder per passenger, often more. Interior styling is much upscale than before, especially in the Elite. It's changed a bit, in an evolutionary way. Surfaces likely to be touched are of textured soft-touch material, with gloss "piano black" panels and matte-silver trim. Yes, it's all plastic. Do you need wood and metal for $15,000 more? Seating is leather. The front seats are power-adjustable with two-position memory for the driver's and heating and ventilation for both. The steering wheel rim is heated, and the wheel features manual tilt- and reach-adjustability, audio, information, cruise, and phone controls. The main instrument cluster is electronic, and brightly-lit with the central Multi-Information Display flanked by the tach and speedometer. The center touchscreen is the interface to audio (all current varieties including streaming), HondaLink, and app systems. The steering wheel interface is easier to use than the tiny virtual buttons around the screen. EX-L and Touring models have a tilt-and-slide moonroof. The Elite trumps that by adding a rear fixed panoramic panel with a power sunshade. The tailgate is power-operated. A space-saver spare is found underneath the rear of the Pilot.
SAFETY: In the Pilot, Honda starts with responsive handling and strong four-wheel disc brakes for active safety. The Vehicle Stability Assist™(VSAŽ) system integrates braking, traction control, Motion-Adaptive Electric Power Steering, and in AWD versions the new i-VTM4 all-wheel drive system add assistance there. Honda Sensing™, consisting of electronic collision warning and mitigation systems and adaptive cruise control, is standard in Touring and Elite models, and a package option in EX and EX-L. The LaneWatch™ passenger-side rear-view camera is standard in EX through Touring models and replaced by a blind-spot and cross-traffic alert system in the Elite. A multi-angle rearview camera is found in all, and the driver's side mirror has a convex section on its far edge for a wider field of view. Passive safety is addressed by the newest version of Honda's Advanced Compatibility Engineering™unibody structure to protect both passengers and pedestrians, and a full complement of airbags and safety harnesses.
RIDE AND HANDLING: It's no Civic Si, but the Pilot is more maneuverable and enjoyable to drive than your basic three-row crossover. Calibration of the fully-independent MacPherson strut front, multilink rear suspension is moderately firm and correctly-damped for a supple, comfortable ride and quick response to driver inputs. Assistance from the electrically-augmented steering is not overdone. Brakes are good, and the Elite's nine-speed transmission keeps in lower gears when descending long grades to save the brakes. The all-wheel drive system now vectors torque to the rear wheels as well as adjusting the front-rear split for optimum traction.
PERFORMANCE: Less weight, more power… for improvements in both performance and efficiency. Some of the weight loss comes from the unibody structure, and more comes from the drivetrain. The engine is still a 3.5-liter V6, of single overhead cam architecture with i-VTEC control of intake valve lift and duration to optimize power delivery and efficiency. It makes 280 horsepower at 6000 rpm, with torque peaking at 262 lb-ft at 4700 and increased compared to the old engine throughout the rev range. Direct fuel injection is new this year, allowing higher compression (11:1) on regular unleaded gasoline for further improvement in efficiency. Variable Cylinder Management seamlessly deactivates three cylinders when maximum power is not needed, as in light-throttle and steady-speed driving. Fuel is not delivered to deactivated cylinders, so saved for when it is needed. In Touring and Elite models, the engine automatically stops when the Pilot does, saving more gas in 0 mpg situations. The six-speed automatic in lower-level models is new, and more efficient than the one it replaces. Surprisingly the nine-speed in the Touring and Elite is 66 pounds lighter than the six-speed. Gear ratios are closer-spaced and it shifts more quickly -- and sometimes so unobtrusively it feels like a good CVT. Basic shift functions are done by a series of buttons and switches on the console, with manual shifting by means of paddles behind the steering wheel.
CONCLUSIONS: Honda has significantly improved the Pilot for 2016.
SPECIFICATIONS
2016 Honda Pilot Elite AWD
Base Price $ 46,420
Price As Tested $ 47,300
Engine Type aluminum alloy 24-valve SOHC V6 with i-VTEC variable valve lift and timing control, Variable Cylinder Management cylinder deactivation, and direct fuel injection.
Engine Size 3.5 liters / 212 cu. in.
Horsepower 280 @ 6000 rpm
Torque (lb-ft) 262 @ 4700 rpm
Transmission 9-speed automatic
Wheelbase / Length 111.0 in. / 194.5 in.
Curb Weight 4317 lbs.
Pounds Per Horsepower 15.4
Fuel Capacity 19.5 gal.
Fuel Requirement 87 octane unleaded regular gasoline
Tires 245/50R20 102H m+s Continental Cross Contact
Brakes, front/rear vented disc / solid disc, ABS, BA, EBD standard
Suspension, front/rear independent MacPherson strut / independent multilink
Drivetrain transverse front engine, full-time all-wheel drive
PERFORMANCE
EPA Fuel Economy - miles per gallon city / highway / observed 19 / 26 / 22
0 to 60 mph 6.1 sec
OPTIONS AND CHARGES
Destination and handling $ 880