2015 Ford F-150 SuperCab 4x4 with 2016 Update Review by Carey Russ +VIDEO
Increased abilities with a new 2.7-liter turbocharged and direct-injected engine
DRIVING DOWN THE ROAD WITH CAREY RUSS
• SEE ALSO: Ford Research and Buyers Guide
Crossovers may have replaced body-on-frame SUVs for most personal use, but there will always be a need for a real truck. Which means full-size pickup. Which almost is synonymous with "Ford -F150", as that vehicle has been at the top of the sales charts for something like 38 years and counting.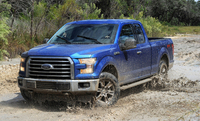 It's misleading to think of an F-150, or any full-size pickup, as "a" (singular) vehicle. Part and parcel of pickup popularity is the wide range of cab styles, bed lengths, and drivetrains available, for uses ranging from comfort-oriented luxury car replacement to serious down-and-dirty work vehicle. Need to tow, whether a boat, trailer, or fifth-wheel? Pickup. Need to haul things that you wouldn't want inside of an SUV that you were in? Pickup. A camper shell is another popular after-sale item, useful if your outdoors preferences tend to be away from civilization or if you need to be as self-contained as possible during travel but don't fancy a larger motorhome. Or you can tow you boat behind your camper-equipped pickup… possibilities are endless just for "personal" or "leisure" use, never mind professional construction, maintenance, survey, utility, and near-endless other possibilities.
Pickup design and construction has heretofore been conservative. Style, as opposed to purely functional design, was introduced by Dodge on its Ram pickup in 1994, and followed by Ford for the 1997 F-150. Although not immediately apparent, the 2015 Ford F150 is a major change in direction. It looks like a truck, works like a truck, its body sits atop a separate frame… what could be changed?
Run a magnet over the body panels. It doesn't stick. The body and bed are made of high-strength aluminum alloy, to save weight and increase efficiency. Engine choices are the familiar V6 and V8, but two of the vee-sixes are turbocharged, again for efficient power. The frame is still a steel ladder type but increased use of lightweight high-strength steel and modifications in design save up to 60 pounds. Even the wheels and tire jack mount were designed with weight savings in mind, an engineering mindset more commonly associated with racecars than trucks. Corporate Average Fuel Economy (CAFE) is behind this high-tech 21st-Century pickup.
The base engine is Ford's 3.5-liter naturally-aspirated V6, with 282 horsepower and 253 lb-ft of torque. Above that is a new 2.7-liter EcoBoost turbo V6, 325 hp and 375 lb-ft at your service. The V8 is Ford's newest 5.0-liter, 385 hp and 387 lb-ft. But even with a maximum payload capacity of 3,300 lbs (2WD, 3,060 4x4) and towing ability of 11,000 lbs, that's not the top performer. That role goes to the 3.5-liter EcoBoost V6, 365 hp and 420 lb-ft. Torque is what counts here, and it has plenty. All can be had with rear- or dual-range four-wheel drive, in regular cab, extended "SuperCab", and SuperCrew bodies with 6.5 or 8-foot beds for the first two and 5.5 or 6.5-foot for the crew cab. Don't plan on parking in tight urban spaces, though -- the 8-foot bed Super Cab is 250.5 inches long, while the 6.5-foot crew is merely 243.7. Twenty feet is 240 inches…
My test truck for the past week was in the middle of the lineup, a 4x4 SuperCab with the short bed and 2.7 liter engine. Which felt far larger than its specification, and could haul the still-hefty beast up to highway speed right quickly. A six-second 0-60 time is none too shabby for a sports sedan, never mind a truck that can haul over a ton or tow 8400 pounds. Comfort? If you were blindfolded and put inside, it would be hard to tell you were in a truck instead of a sedan, and a pretty upscale one at that. Fuel economy? 18 mpg. mostly short to medium trips around town and to neighboring areas. Automatic engine stop-start at stoplights helped there, and remember that this is a large truck that weighs well over two tons -- the sort of vehicle that not all that long ago would have been doing well to break into double digits. My main complaint was lack of close-in visibility to the front, as the hood is so high and my narrow driveway is guarded by a couple of 4x4 posts. There is a surround-view camera arrangement offered, but not fitted to this one.
2016 changes: Unsurprisingly, no major changes for the new F-150's second year. Available Pro Trailer Backup assist makes backing a trailer easier, there are the usual changes to colors and new appearance packages, and CNG and propane preparation packages are available for V8-powered trucks to reduce (mostly fleet) operating costs and CO2 emissions.
APPEARANCE: In style, the newest F-150 is evolutionary. It's big, brawny, and boxy, with a bold grille and sturdy bumpers in bright chrome, body color, or matte black depending on model and trim package. The fender flares and lower side window line are familiar from the previous generation, but this one looks more fully-developed. C-shaped headlights are distinctive.
COMFORT: In this trim, which is far from line-topping King Ranch full-luxury, the biggest difference between the F-150 and an upscale middle-class sedan (like a Taurus) is that you climb up into the cab and can see over everything except other trucks. The running boards are handy here, but in real off-road use would be the first things crunched. Front seat space is as close to unlimited as you'll get, with all the contemporary amenities. It's also a good office space, useful for those whose truck is the office. There is plenty of organized storage space, and multiple power outlets. Front seat comfort is very good, and the driver gets power cushion controls and power-adjustable pedals, so with the manually tilt- and telescope-adjustable steering wheel the perfect driving position is easily achieved. Interior styling mimics exterior, bold and angular. And functional. Instrumentation is beyond complete, with amusing details in the information system including yaw and pitch and 4WD power distribution. Audio choices are AM, FM, and SiriusXM radio, external players via jack and USB, and Bluetooth streaming.
The extended-cab SuperCab has rear-hinged doors on both sides. As is the norm for that body style, the appropriate front door must be opened first. Passenger space is excellent for headroom, but compact for legroom, dependent on front seat position. Extended cabs are often more about secure inside storage than extra passenger carrying, and so the 40/20/40 split bench is convenient as the cushion may be folded up or the back down, and there is storage under the cushion when in passenger configuration. If the 6.5-foot bed is not long enough, there's an eight-footer.
SAFETY: The 2015 Ford F-150 uses safety cage body construction and front, front side, and full-length side curtain airbags to protect passengers. AdvanceTrac® electronic stability control is standard, as are pretensioning front seat belts and LATCH anchors. Strong four-wheel antilock disc brakes offer further protection. The Securicode keypad may be an ancient bit of technology, but it's still useful as it allows you to keep keys and other valuables hidden inside when you go somewhere like the gym or swimming where keys and wallet might not fare well.
RIDE AND HANDLING: Combining passenger-friendly ride comfort and secure handling with serious cargo and towing ability is not a simple task. Ford's engineers succeeded here, admirably -- especially considering that the high ride height that exaggerates any roll or pitch. There are plenty of cars that are not as comfortable as this truck. Credit good suspension calibration and the cushioning effect of 275/65R18 tires. Yes, the solid rear axle sometimes makes its presence known. So? This is a truck. You want that solid axle and fully-boxed frame when you need to tow 8400 pounds. A 47-foot turning circle means that care needs to be taken when maneuvering. Fortunately the electrically-assisted steering is light at low speeds and firms as speed increases, with no numbness to feedback.
PERFORMANCE: How to define pickup performance? Acceleration? 0-60 in around six seconds, and you'll be going faster than that before you realize it. Braking? Ditto, excellent stoppers. Cargo? 2160 pounds. Towing? 8400. Fuel economy? EPA says 18/23/20. I got 18 in regular daily use, no long highway trips, so that seems actually close to real. In comparison, looking back at my records the 1997 F-150 with a 5.4-liter V8 that made 235 horsepower and 330 lb-ft got 15 mpg, 8200-lb towing. The `99 F250 (6.8-liter V10) was good for 275 hp and 410 lb-ft -- and 12 mpg. Careful design with twin turbochargers, direct fuel injection, and the high compression (10:1) that allows means the the 2.7-liter (164 CID) DOHC 24-valve V6 makes 325 hp (at 5750 rpm) and 375 lb-ft (at 3000 rpm) -- more than the 5.4-liter V8 18 years ago, on less fuel and with better cargo and towing ability. Longevity? Can't tell from a week, but my neighbor got a previous-generation F-150 with the 3.5-liter EcoBoost engine as a work truck a few years ago. This after many years of Brand C V8s. He was expecting a disaster. So far, no problems except when the shop mechanic didn't get the oil filter on right. One small example, and anecdote is not data, but the technology works.
CONCLUSIONS: Ford again increases the abilities of its F-150 pickup with its new 2.7-liter turbocharged and direct-injected engine.
SPECIFICATIONS
2015 Ford F150 4x4 SuperCab
Base Price $ 37,005
Price As Tested $ 43,480
Engine Type DOHC 24-valve turbocharged and intercooled V6 with direct fuel injection
Engine Size 2.7 liters / 164 cu. in.
Horsepower 325 @ 5750 rpm
Torque (lb-ft) 375 @ 3000 rpm
Transmission 6-speed multi-mode automatic
Wheelbase / Length 145 in. / 231.9 in.
Curb Weight est 4900 lbs.
Pounds Per Horsepower 15
Fuel Capacity 23 gal.
Fuel Requirement 87 octane regular unleaded gasoline
Tires 275/65R18 116T m+s Goodyear Wrangler
Brakes, front/rear vented disc, twin-piston calipers / solid disc, single-piston calipers
Suspension, front/rear independent double-wishbone / solid axle, leaf springs and Hotchkiss linkage
Drivetrain front engine, on-demand dual-range four-wheel drive
PERFORMANCE
EPA Fuel Economy - miles per gallon city / highway / observed 18 / 23 / 18
0 to 60 mph est 6 sec
Payload 2,160 lbs
Towing Capacity 8,400 lbs.
OPTIONS AND CHARGES
Equipment Group 301A -- includes: XLT Series, rear-window defroster, Sirius/XM satellite radio, rear-view camera $ 2,150
Ruby Red Metallic paint with tinted clearcoat $ 395
2.7-liter EcoBoost V6 engine $ 795
Class IV trailer hitch, manual-folding power-glass mirrors, remote start $ 195
LED side-mirror spotlights $ 175
Tailgate Step $ 375
Integrated Trailer Brakes $ 275
XLT Chrome Appearance Package -- includes: 275/65R18 all-terrain tires, chrome step bars, 18" chrome-like PVD wheels $ 1,695
Cloth 40/console/40 rear seat $ 125
Spray-in Bedliner $ 475
Destination and Delivery $ 1,195
XLT Discounts ($ 1500)