BFG g-Force Comp2 T/A Tire Test 5,000 mile Road Test, Like Tony, They're GRRReat!
By Thom Cannell
Senior Editor
Michigan Bureau
Selecting new tires is a compromise. Do you shop on price alone? Compare wet weather and dry weather handling? Are you willing to buy both winter and summer tires, or are you convinced that your location will allow safety for your self and family with "All Season" tires? In the last five years compromise has diminished, safety and longevity increased, and a tire's ability to deliver fuel economy and road grip under all conditions improved.
Earlier this year we described BF Goodrich's all-new Comp2 T/A, its flagship consumer tire. We were mightily impressed by its grip, its wet weather handling, and other desirable attributes. But one day's testing cannot compare to using the tire at home, attached to a familiar car or truck. We were impressed enough to order a set for a real world, months-long test. Bottom line, we're convinced the Comp2 T/A is a great tire.
One of the most important reports is how different, better or worse, the tire feels compared to its predecessor. In this case it was the most highly rated (by us and Tire Rack) ultra-performance tire available just a few years ago, so the comparison should have been tough. It was not. Our first impression created a conundrum. The new BFG Comp2 T/A felt both softer than the outgoing premium tire they replaced, yet much grippier on the pavement. Normally a soft tire (not a soft compound) delivers far less grip. In comparison there was a clean difference, the Comp2 T/As felt like they rolled better, smoother, quieter, yet offered better road feel.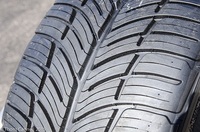 A bit of tire science needs to fit in here (much more in our original story). For decades if you wanted a grippy tire it would wear quickly, and the vice-versa. Now Low Rolling Resistance tires can deliver good grip and long wear. If you wanted wet weather handling you couldn't have solid, long lasting dry pavement attack. Because tread, compound, and tire body designs are so much better, the compromises have been minimized.
When we tested these tires back in March we were at a race track, very different from the roads each of us drives daily. Thus, on some rough pavement traveled once or more times per day, the tires reacted more softly. That is, we didn't feel as sharp an impact from the pavement edges as we normally do. What we got was more cushioning, less noise, overall less chatter-jiggly sensations. Also, the bumps produce a more muted sound from the tires and suspension. It wasn't huge, but noticeable.
We didn't recreate the panic stopping tests done at the track, local police frown on that kind of thing and we didn't have the equipment to gather data. Quoting from our earlier review, "Finally we sped down a straight track in Audi A5s to a velocity of 50 mph and nailed the brakes. A full two-footed panic stop! There, too, against the Hankook Ventus S1 Noble2, the BFG tire prevailed, stopping shorter in almost every case (there were occasional brake application failures), wet or dry. Averaging about 60 events, the results showed several feet shorter stopping distance wet, or dry. The company attributes this to the squared tread design that stores and expels water, and the amount of silica in the tread. We thought the Hankook felt smoother and softer, the BFG more granular, more mechanical, delivering more connection with the road. It also had more control."
Equally important to daily driving, the g-Force Comp2 T/A has more biting edges, more spaces (voids) to evacuate water, and a newly designed tread pattern to minimize noise and deliver more stability. That's important in our test region of mid-Michigan where many roads are need of repair, a condition more common than not. We'd describe the way the new g-Force Comp2 T/A deals with frost heaves, potholes, and expansion strips as having less impact harshness. With a new carcass design to enhance stability, it also steers differently than our old tire. Directionality is excellent, not that the previous Bridgestone Potenza tire was anything but an excellent and highly rated tire.
Another noted difference, one we're still not clear on, is how can there be less impact harshness and better road feel? These are normally mutually exclusive. We noted excellent steering response and more feedback, at the steering wheel we could feel more of the road surface.
Most telling was driving a stretch of pavement we normally avoid because of nasty frost heaves every few meters. While that road section still wasn't pleasant, we didn't have to change to a smoother lane to keep fillings in our teeth. Our notes say "The tire reacts to impact with smoothness and softness that belies its great steering response and improved road feel".
What all this means, after testing for several months in dry and monsoon conditions is that we highly recommend the BFG g-Force Comp2 T/A for anyone who is looking for a premium tire, one with grip, smooth and quiet driving characteristics, and great stopping power.