2016 SCION iM and iA First Look and Drive by Steve Purdy +VIDEO
By Steve Purdy
Senior Editor
The Auto Channel
Michigan Bureau
Toyota added the Scion brand to its portfolio about a dozen years ago to sate the appetite for an affordable line of entry level cars appealing to young, often first-time, buyers. The goal was to please them enough that they would graduate to the myriad of Toyota products and ultimately to Lexus. That's not unlike Billy Durant's philosophy of building General Motors progression of brands from inexpensive Chevrolet's to pricey Cadillac's.
Well, that seems to have worked reasonably well in that the Scion brand is still around, though its line of cars now includes a rear-wheel drive sports car that only peripherally fits the brand philosophy. And, they just dropped the little city car, iQ, so popular in Europe. Folks here just did not take to it. Tastes in most everything change quickly, particularly with the younger set, and that includes automobiles. The Scion lineup began to get a bit stale so most of the original lineup is gone and we now have two new entries that appear at first blush to take another strong run at the youth market.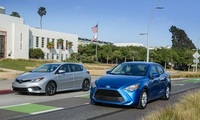 The new iM 5-door hatchback and iA compact sedan will show up at dealers in early September and we were treated to a preview in Grand Rapids, MI recently. After a reasonably thorough tech briefing on each car we took to the back roads of west Michigan where fruit groves, wetlands and forests near the Lake Michigan shore mix with productive fields of corn and soy beans offering some good roads and photo ops.
First, let's talk about what they have in common.
The marketing philosophy for both new Scion products is to offer what they call "mono-spec" cars that come reasonably well equipped but without many options or choices. You'll choose your color and transmission and not much else.
Both cars get lots more high-strength steel to reduce weight and increase chassis rigidity. Both get much improved aerodynamics. And, both get much more standard content. All that happens without much of a bump in price from the models they replace.
Both cars get surprisingly up-scale interiors, vastly better than earlier Scions. Materials and design are so much improved, in fact, they no longer look like entry-level cars at all. Leather seating is not offered but steering wheel cover and shifter boot are stitched leather. We see enough real stitching, including across the dash and around the seats, to know the designers wanted something special. Seat bolstering is good and the single durable seating material is attractive enough. Piano-black trim, brushed metal surfaces and good quality plastics compliment the more stylish and interesting shapes the designers have provided. Ergonomics work well and simple controls and gauges did not annoy.
Both cars feel a bit underpowered to those of us who review cars regularly. The tuner guys are not going to be interested in these cars but that's not the market Scion is after. Heart-thumping acceleration is not of interest to these youngsters, we speculate, so the powertrains offered in both will be fine for them. Scion believes these youngsters will be more interested in fuel mileage and efficiency than 0-to-60 times. I think they are right.
Ride, handling and NVH rank well with everything in the class that we have reviewed. We found good agility and poise during our not-too-demanding first drives. While we experienced only a few miles of rough roads on our west Michigan drive we've not given them a thorough challenge yet. That will come with a full review.
2016 SCION iA
The Scion iA is based on a Toyota of Europe front-wheel drive, 5-passenger, compact sedan but with details focused on the U.S. market. It is the first conventional 4-door sedan ever offered by the brand. The gaping grille reminds me of the Mitsubishi as it appears to gulp air. Evil, slanted headlight bezels integrate with deep cheek and chin creases to present a remarkably aggressive front view. The side offers modest, subdued character lines and a modern, conventional profile. We see some obvious similarities with Corolla on the sides and rear. Halogen headlights are standard.
The iA gets a new high-compression, direct injected, 1.5-liter engine, making just 106 horsepower, attached to either a six-speed manual or six-speed automatic transmission. Scion claims a highway mpg of 42, with 33 in the city and 37 mpg combined. Fuel capacity is 11.6 gallons. Push-button start is standard as are 16-inch alloy wheels. It weighs just 2,400 pounds.
Accent, Fiesta, Versa and Sonic are direct competitors, they say, and the iA stacks up well in that category. For such a small sedan it feels roomy inside, I thought, though interior volume is about the same. It gets a 60/40 folding rear seat backs for extra load versatility and trunk space is good for this small car class.
2016 SCION iM
Scion iM 5-door hatchback has a less aggressive front fascia but it is wedge-like and striking. A narrow v-line across the hood shows the round Scion badge in the center. Sharp-edged jowl openings and deep, black lower air dam make for a modern and attractive front view. Side and rear views get lots of well-placed character lines to make it look bigger than it really is. The standard 17-inch alloy wheels add both heft and style. We'll see no tacky plastic wheel covers with these new cars.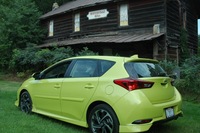 The iM, shares much with the Mazda2 including a Mexican assembly line. It comes with a 1.8-liter engine making a tepid 137 horsepower. You can have either the standard 6-speed manual transmission or an all-new CVTi-S. That's a continuously variable transmission with 7 shift points programmed into its range and a 'sport' mode that allows more aggressive shifts. The EPA rates the CVT at 27 mpg in the city, 37 on the highway and 32 mpg combined. With the manual transmission just subtract a click from those mileage numbers. A 14-gallon fuel tank makes for a good cruising range. And space is good with 20 cubic-feet of cargo capacity under the hatch and an impressive 90.4 cubic-foot passenger volume. Focus, Elantra, Golf and Mazda3 are the iM's closest competitors.
As we mentioned earlier options are nearly non-existent but the iM will offer a few dealer accessories and a line of TRD (Toyota Racing Development) accessories – no turbo kit though.
Scion's warranty covers the cars for 3 years or 36,000 miles and the powertrain for 5 years or 60,000 miles.
The iA sedan starts at just $15,700 with manual transmission and $16,800 for the automatic. The iM hatchback starts at $18,460 with manual and $19,200 for the automatic. Scion firmly believes in a "no haggle, no hassle" pricing strategy so don't expect to dicker and deal much with these prices. You can even make a purchase entirely on-line if you like. (These prices do not include the $750 destination charge.)
Neither car offers integrated navigation (but you can use your smart phone as a source) CD drive. Both get standard low-speed pre-collision safety system, tire pressure monitors, back-up camera, USB ports and AUX audio jack, apps capability, Bluetooth, 7-inch display and all the other stuff we expect.
We'll have more to say about these two once we've had more time with them. Judging from our sneak peek it looks like Scion is back in the game – but the competition is mighty stiff.
ęSteve Purdy, Shunpiker Productions, All Rights Reserved
The Most In-Depth Scion Shopper's Research - Anywhere!