2015 Ford Mustang Convertible Review by Larry Nutson +VIDEO
2015 Ford Mustang Convertible
Open-air entertainment
By Larry Nutson
Senior Editor and Bureau Chief
Chicago Bureau
The Auto Channel
A convertible is a life stage vehicle. It's a car for you and also your spouse or significant other to enjoy on the weekend or perhaps on a casual mid-week day. But at the same time a convertible should provide the appropriate daily transportation you need. Some recent industry data on convertibles says that more folks are giving convertibles consideration.
Sixty-eight percent of consumers feel that soft-top convertibles, compared to folding hardtops, are the best open-air option. Between 2009 and 2014 there has been a ten percent increase in the number of convertible models offering soft-tops and a 28 percent increase in the number of soft-top convertibles built. It is forecasted that between 2014 and 2016 there will be another 10 percent in the number of soft-top convertible options and a 47 percent increase in the number of soft-top convertibles produced.
Ford's redo of the iconic Mustang was introduced to the market in Spring of 2014. Keeping with the 50-year tradition both a coupe and convertible are offered. New for this all-new 2015 Mustang is an expansion of its sales outside of North American and the introduction of a third engine choice for buyers.
I enjoyed a sometimes-sunny week of driving a 2015 Mustang convertible Premium model finished in a very noticeable Triple Yellow tricoat. Powering my media-loan Mustang was the optional all-new 310 HP 2.3 liter turbocharged EcoBoost 4-cylinder mated to a 6-speed Select Shift automatic.
The 4-seat Mustang convertible is offered in base and premium models. Prices start at $29,300 and range up to $41,800 for the GT. My media-loan Mustang Premium drop-top with the EcoBoost Turbo had a base price of $34,800, and with options and shipping the bottom line hit $41,790.
Powering the Mustang is a standard 300 HP 3.7-liter V6 on the base model. On the EcoBoost Premium you get the 310 HP Turbo 4-cylinder, or a 435HP 5.0-liter V8 powering the Mustang GT. Either engine can be mated to a six-speed manual with hill start assist or a six-speed automatic with paddle shifters.
The best Mustang convertible EPA test fuel economy rating is with the 2.3-liter EcoBoost model equipped with the automatic transmission at 24 mpg combined or 4.2 gallons per 100 miles, with 20 city mpg and 30 highway mpg ratings.
A big change on the 2015 Mustang is the independent rear suspension. Ride and handling are markedly improved. The front suspension has been improved too, for more precise steering control. My around-town Chicagoland driving experience was a good demonstration of the Mustang's ability to soak up the road surface deficiencies.
I have to admit, the thought of a Mustang with anything other than a V8 runs counter to my thinking and the way I like a car like this to be equipped. We once had a 2001 V8 Mustang GT convertible in the family fleet. That said, the 310HP turbo 4-cylinder is one very impressive engine. You don't need more horsepower to get around very quickly. This engine did not disappoint in giving the Mustang the performance I expected.
Ford kept the Mustang convertible very traditional with a folding soft top. They were not tempted to go the folding hard top route as some have.
The Mustang's convertible top material is Twillfast RPC which is an acoustically enhanced three-layer topping material with acrylic twill weave facing, rubber inner-layer and polyester dobby backing. Supplying the top material is the U.S.-headquartered Haartz Corporation, a world leader in highly engineered and uniquely designed convertible toppings and interior surface materials.
Plastic and textile technology has progressed to allow drivers to enjoy the benefits traditionally associated with coupes and hard-tops while maintaining the unique convertible look. Haartz products are engineered to provide year-round driving with safety, comfort and acoustics in mind. Soft-tops are much more compact; leaving owners with more use of trunk space. The Mustang's trunk on the convertible is 11.4 cuft, which is about 2 cuft smaller than the coupe. The volume spec is not always the best for judging. You have to try the trunk and see if your roll-aboard luggage or golf clubs will fit. Ford says the trunk holds two golf bags.
For driver comfort, new developments in acoustical topping materials have improved the sound blocking performance of the top covers by over 3dB(A). And for ease of care and continued good looks, modern convertible tops are treated to keep fabric looking new for the entire life of the vehicle with simple regular care and cleaning.
If a Mustang convertible seems a little pricey, Ford has an interesting new program along the lines of car-sharing that will help offset ownership costs. A pilot program between Ford Motor Credit and San Francisco-based Getaround is aimed to help owners make extra money each month. About 14,000 customers who have financed their Ford through Ford Motor Credit and who are located in Chicago, Washington, DC. Portland, OR, or Oakland, Berkeley, and San Francisco, CA are being offered the chance to participate.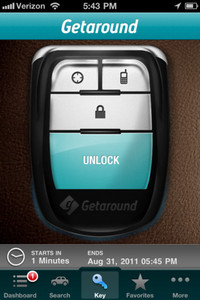 The program will allow owners to make their car available for others to use during times when they themselves are not using it. For example, if you only use your car on weekends you could arrange a car-share during the week. I took a good look at the details of this program and Ford and Getaround appear to have done a good job in covering all the possibilities and ramifications to make this program a win-win for all parties. For example, car insurance is switched from your own to coverage by Getaround during a loan. After the pilot we'll see how this progresses to wider areas of implementation.
More on this car-sharing program can be found here.
Ford offers a long list of options and choices on the new Mustang. If you want to compare the 2015 Ford Mustang convertible to other convertibles you can do that here on the Ford Buyers Guide or check out more details and specifications and configure your own 2015 Mustang on www.ford.com.
The 2015 Mustang is also offered as a fastback coupe. But, if you are up for wind in your hair and the joy of open-air driving you might take a look at the 2015 Mustang convertible.
© 2015 Larry Nutson, the Chicago Car Guy
The Most In-Depth Ford Brand Research Anywhere!